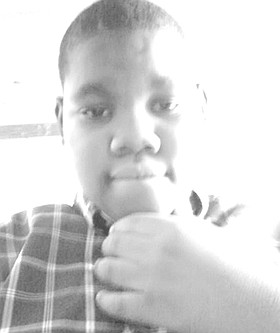 Da'Ron Elbert Pickstock
unknown - unknown
Funeral Service for Mr. Da'Ron Elbert Pickstock 
Age 14 of Flamingo Drive #5, Sunset Park will be held on Saturday December 30th 2016 at 1:00pm at First Baprist Church, Market Street.
Officiating will be Apostle Nelson Strachan, J.P., assisted by Ministers of the Gospel. Interment will be made in Woodlawn Gardens Cemetry, Soldier Road.
Pre-deceased by his father Dale Livingston Pickstock, Sr.  
Let to cherish found memories are his loving mother, Minister Elscene Coleby-Pickstock, three (3) brothers Perez, Dale Jr., and Joel Pickstock, one (1) sister Deandrea Rahming; grandmothers, Ortlise Lewis-Coleby and Olive Pickstock; adopted parents Apostle Nelson and Prophetess Valleria Strachan, JP., and Mr. Edison and Mrs. Patricia Newry; uncles  Rendal (Pauline), Dennis (Marvalyn), Attorney Lennox (Joy), Elcott (Sharon), Dwight, Carson (Mickelle) Coleby; Wilton (Janice), Edward, Franklyn (Maude) Pickstock; aunts Martha Pickstock, Christine (Johnathan) Woods, Barbara (Gerreth) Roberts, Cynthia (Michael) Colebrooke, Arlene (Reynold) Brown, Tiffany and Sophia Pickstock; grandaunts Laurel Lewis, Hazel, Dorothy and Pamula Coleby, Lillian Roberts, Anne Adderley, Deborah Johnson, Emma Pickstock; granduncles Herman Coleby, Ian Allan, Craig, David, James Lightbourne: great grandaunts Carnetta Mcghee and Ida Dean; great granduncles Thomas Whittington, Albert and Carter Lightbourne; Godparents Melvern Davis, Terrance Moss, Barbaralyn Thompson, Sherry Williams, Rodney Mackey, Kimberly Saunders, Larry and Margaret Johnson; numerous cousins Bridgette,  Carlos, Renell Coleby, Jasmine (Devaughn) Wilkinson, Dennis (Brooke) Coleby, Lennox Jr, Lennoshka (Neil) Munroe, Lernox Coleby, Shaquille (Anthonique), Dwikita, Kadeem, Dwight Jr., Devon Coleby, Jahleel, Tyler, Carson Jr and Carelle Coleby and Lashandra (Kenneth) Black,  Andrea Coleby, Varnette Coleby Mandy Major, Lennishka Rolle,  Lenneka Coleby, Anesto and Marlo Armbrister, Anishka (Kevin) Turner, Tarna, Stacy, Keino, Tekio (Jonecka) Pickstock, Janelle (Michael) Donaldson, Tameka Pickstock, Omar and Mesha Woods, Alisha (Howard) Lewis, Aalijah and Aniah Brown, Torrie Storr, Jamar Miller, Tineisha Clarke, Carlas Taylor, Jada Hall, Madra (Kentwood) Higgins, Gerard and Jordan Roberts, Anetra and Justin Pickstock, Artena (Renard) Miller, Cyntyech and Fernando Colebrooke; other relatives and friends including Officers and Members of True United Fellowship Ministries International, Ms. Lorraine Taylor and Family, Mrs. Alice Mortimer and Family, Rev. Patrick and Myrtle Levarity and Family, Mr. Cyril Strachan and Family, Attorney Ramona Farquharson-Seymour and Family, Mr. Berkley Williamson, Mr. Julian Hall, Mr. Jumino Miller, Mrs. Dionne Rolle – A Mother's Heart Nursery and Pre-School, Sybil Strachan Primary School, S.C. McPherson Junior High School, Principle Princess Fawkes, faculty, students and PTA of C. V. Bethel Sr. High School, Homeroom Teacher Ms. Cleare, the Community of Golden Gates #2, Windward Isles, the entire Coleby, Lewis, Evans, McDonald, Pickstock and Lightbourne Lineages.        
Relatives and Friends may pay their last respects at SERENITY FUNERAL HOME AND CREMATORIUM. #153 BAILLOU HILL ROAD (DIRECTLY OPPOSITE BAHAMAS POWER AND LIGHT.) ON FRIDAY FROM 12:00NOON TO 5:00PM AND AT THE CHURCH ON SATURDAY FROM 12:00NOON TO SERVICE TIME.
FUNERAL ARRANGEMENTS ARE BEING HANDLE BY SERENITY FUNERAL HOME AND CREMATORIUM.