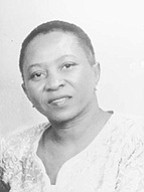 Yvonne Coakley
unknown - unknown
Funeral Service for Yvonne Coakley Age: 67 of Blue Hill Road South, Sunshine Park who died on January 14, 2017
will be held on Sunday January 29th , 2017 at 11am at Philadelphia Seventh Day Adventist Church Elizabeth Estates.
Officiating will be Pastor Leonard Rahming Assisted by Other Ministers. Internment will follow in Southern Cemetery, Cowpen and Spikenard Road
She is survived by her: Son: Byron Jones, 2 Sisters: Denise & Yvonne Johnson of Miami, Florida, 1 Brother: Anthony Johnson of New Orleans 3 Aunts: Delores Williams of Nassau and Louise & Gloria Williams of Freeport, Grand Bahama, Cousins: Veronica Pratt, Eleanor Simmons, Janeth Culmer, Sherrill & Brad Hanna, Myra Ferguson, Roderick Armbrister, Dwayne Armbrister of Charlotte, North Carolina, Clintona, Portia , Mahalia (Yokie) Williams, Corey, Ricardo Saunders, Bridgette Knowles of Lenexa, Kansas, Charmaine Saunders of Harlingen, Texas, Keith Saunders, Johnny Saunders of McDonough, Georgia, Vernon Williams, Ernestine Dean, Betty Hepburn, Rosalie Prescola McPhee, Victor Jr., Roderick & Barrington Johnson, Andrea Johnson, Vincola Henfield, Hyacinth Russell, Natasha Johnson & Beverly Johnson, Ersley Johnson Jr., Joyce Sapp, Carolyn Tate, Janet Edge, Kenneth of Haines City, Florida, Special Friend: Barry Jones, and
A Host of other relatives and friends including: Ellerton, Darryl, Dario & Devane Pratt , Phillip Smith, Chiniqueka, Isheka (Kenny), Tisa, Pauline, Katress, Shaneen, Mario, Anya Jefferson of Naples, Florida, Shazarah Humes, Lisa Armbrister of Charlotte, North Carolina, Hosea Ferguson, Shacanta Burrows, Viola Rolle & Family, Enid Saunders & Family, Diane Ward & Family, Kenneth Ward & Family, Cynthia Riley Sargent & Family, Nathalie Griffin & Family, Izetta Bartlett & Family , Corrine Duncombe & Family, Agatha Newton & Family, Wendy Miller & Family, Pearlmae Stubbs & Family, Pastor & Mrs. Jacob & Judyanne Moss, Pastor Leonardo Rahming & Sister Majorie Rahming & Family, Betty Adderley & Family, Hedda Evans & Family, Mary Moxey & Family, Louise Williams, Leandra Higgs & Family, Pandora Bannister & Family, Brother Vincent Simms & Family, Joel Hinsey & Family, Gilbert Pachoute & Family, Jasmine Balfour & Family, Ferron Barnwell & Family, Anthlanaya Thompson & Family, Travis McPhee, Anderson Alexis, Teresa Rolle & Family, Jennifer Anderson & Family, Mother Laura Benson, Ms. Catherine Mackey & Family, Mrs. Jacklyn Chisholm-Lightbourne & Family, Carlisa, Carlita, Donna Fisher & Family, Patrick Lightbourne & Family, Kedon Capron & Family, Larain Smith & Family, Sylvia Hamilton & Family, Wilbert Bonimy & Family, Lashae Storr & Family, Deborah Jolly & Family, Delray Davis & Family. Friends & Straw Vendors of the Bay Street Straw Market, The Pastor, Elders, Officers & Members of the Philadelphia S.D.A. Church , Dr. Indira Grimes, Staff of Female Medical II P.M.H., and many other relatives and friends too numerous to mention.
Viewing will be held in the Legacy Suite of Vaughn O. Jones Memorial Centre , Mt. Royal Avenue & Talbot Street on Saturday from 10am to 5pm, and on Sunday at the church from 10am to service time.