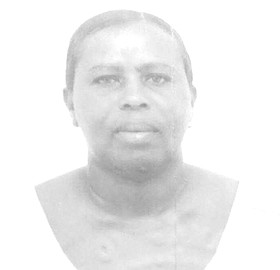 Beverley Esmelda Farquharson nee Ferguson
unknown - unknown
Funeral Service for the late
Beverley Esmelda Farquharson nee Ferguson, 56
of Key West Street, who died peacefully at the Princess Margaret Hospital on Tuesday, 24th October, 2017, will be held at Church of God Cathedral, East Street and Lily of the Valley Corner on Saturday, 11th November, 2017 at 11:00 a.m. Reverend Tyrone Greene assisted by other Associate Ministers will officiate. Interment will follow in Lakeview Memorial Gardens, John F. Kennedy Drive and Gladstone Road.  
 
 
Precious memories will forever linger in the hearts of her Mother: Deaconess Cornelia Gloria Coakley Children: Karen, Leasha, Laresa, Tamar, Alexis Sr. & P/C 3961 Cordero Rolle Adopted Son: Destin Grandchildren: Indea, Alexis Jr, Alexio, Saffyyah & Aleah Sisters: Aldyth & Hopelyn  Brothers: Kingsley & Austin  Nieces:  Chanel, Katisha, Denise, Lashonna, Tyiece, Kendrinique, Shawnette, Collette, Niyoka Nephews: Dale, David Jr., Orlando, Christopher, Dolfus & Darien McIntosh of New Jersey Grandnieces: Demetria, Asheena, Jada, Princess & Shameika, Tammia, Tashina & Rekeisha Grandnephew: Trebort & Jermaine; Godchildren: Lithera Knowles, Lakeisha Laing, Roderick and Rhodreka Strachan; Sister-In-law: Marie Jermaine Nephew-In-law: ASP Tony Austin; Special friends: Ann Strachan, Kayla Smith, Irene Sawyer, Estell Gray, Rochelle Sands, Christine Strachan & Chilion Whyte; A host of other relatives and friends including: John Rolle & family, Presley McIntosh & family, Rashanda Key, Jennifer Sturrup & family, Yvette Williams & family, Elkin Black & family, Wendell/Judy Williams & family, Dr. Marsha Bethel, Bobby Stubbs & family, Harry Knowles Sr. & family, Phillip "Bubba" Bethel & family, Mark Pierre & family, Darren & Evelisa, Stacey/Kenrick & family, Maswill & family, Nancy & family, Albert Rahming, Dino &Terry, Debra & family, Sarah, Kathy, Jimmy, Prezzie, Jimmy & family, David Pinder & family, Herbert Glass & family, Kenny Reckley & family, Anita & family, Delicia Sweeting & family, , Delcine & family,  Cynthia & family, Donald Ambrose & family, Elvis Cartwright & family, ASP McClure, Sammy Chisolm, Shavon Smith & family,  Ruthnell Strachan & family, Cecile Wilson and family, Anthonique Black & family, Julian Orneus & family, , Sharmaine Munroe & family, Henrietta Murray & family, Francita Smith & family, Miriam Bullard, Yanick Jacques & family, Dennis Forbes, Gareth & family, Steven Mckenzie, Bolie Lloyd & family, Kevil Farquharson & family, Sharon Pringle of Atlanta Georgia, Coralee Sands & family, Emily Rolle & family, Christon, Ramona & family, Mrs. Wendy Rolle & family, Christopher, Garth,  Ricky, Arlene Brennen & family, Bobby Ambrose & family, Jennifer Binns of Orlando Florida & family, Wet Money Family, Doctors & Staff at Princess Margaret Hospital, Dr. C. Eugene Gray, Rev. Harvey Cash, Rev. Tyrone Green & In Christ Ministries family, Bishop Dr. Carlton Stuart & Church of God  Cathedral East St. & Lily of the Valley Corner, New Bethany Baptist Cathedral Family, Glenys Hanna-Martin (MP) for Englerston, Key West Street family, Da' Pink Porch Crew, Englerston Community.
 
If you have impacted Beverley's life in a meaningful way, but your name was inadvertently omitted please accept our sincere & humble apologies.
 
 
Relatives and friends may pay their respects at Grace Funeral Home, #36 Rosetta Street, Palmdale, on Friday from 10:00 a.m. to 6:00 p.m. and on Saturday at the church from 10:00 a.m. until service time.