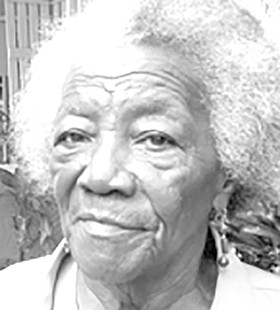 Estella Jane Edith Lightbourne
unknown - unknown
Funeral Service for the late Estella Jane Edith Lightbourne age 99 years of #9 Hutchinson Street off Jerome Avenue and formerly of Cedar Harbour Abaco will be held on Saturday 11th November, 2017 at 10:00 a.m. at New Lively Hope Baptist Church, Jerome and Cheasepeake Avenue. Officiating will be Rev. Dr. A. Shelton Higgs assisted by Rev. Hilbert Flowers, Rev. Lavardo Duncanson and Minister Junior Robinson. Interment will follow in Lakeview Memorial Gardens, John F. Kennedy Drive.
She was predeceased by her husband Lewis Lightbourn, Mother and Father Samuel and Cecelia and  baby brother Freddie Russell, Sisters Merle, Tina and Nethilee Bodie.
 
She is survived by her daughter: Veronica Gale Delvera Wallace; grandchildren: Cecelia Ann (Norman) Bedford, Julian (Joann) Wallace, Corey Wallace Sr., Ellsworth Cumberbatch, Nakia Donaldson; great grand children: Tramine Bedford, Rashard (Tia) Bedford, Isreal Bedford, Samuel   Adderley, Julian Wallace Jr, Selena Wallace, Sasha, Corey Jr. and Johnathan Wallace, Ellsworth Cumberbatch Jr., Kadijah Cumberbatch, Shiolah Cumberbatch; adopted grandsons and daughters: Barry Rahming, Cody, Cameri and Camera
great great grandchildren: Nehvea and Payton Bedford and Amia Cumberbatch; nephews and nieces: Idell (Willard) Hepburn, Freddie (Beverley) Russell Jr., Lindsay Bastian, Tyrone (Manette) Russell, Anthony (Nancy) Russell, Patricia, Kim, Sidney, and Jim Russell, Ingrid, Samuel and Karen Russell, Fredericka Neely, Cheryl Bastian, Sharmmaine (Sidney) Hart, Pastor Emma (Don) Forbes, Steve (Tamika) Fynes & Christine Gibson, Dec. Craig (Wendyann) Knowles, Deaconess Christine Knowles, Rabbi Yeshoua (Jean) Collins; grand and great grand nephews and nieces: Freddie (Annette) Russell Jr. of Orlando  Florida, Keith Russell Jr, Kelly Noel, Ryan, Cassandra Russell, Michelle Thompson, Carla (Brian) Wallace, Emily (Marvin)  Pearce, Jennie Lloyd, Patrice Lloyd-Dames, Sonia and Tonia Miller-Cartwright, Latoisa,  Tamara (Richard) Harrison, Marvin (Nyoka) Hanna, Patrick (Erica) Gardiner, Albert (Shara) II, Thorne Bastian, Sidney Russell II, Indira Fawkes, Samantha, Danielle and Savannah Russell, Bartlett Keith Russell Jr., Barkeira (Clarlthorn) Strachan, Lashan and Burkley Thompson, Raymond Russell, Brian and Bryson Wallace, and Jordon Noel, Dr. Arnette Stuart,  James Roberts, Albert and Avery Bartlett, Mikail Bastian II, Craig Knowles, Shanna Knowles, Bianca Malcolm, Loviania McDiarmid, Kristin Watson, Thomas Alexander III, Emanuel Collins, Cheli Collins, Shekimah Collins; a host of other relatives and friends: Former Prime Minister Hubert A. Ingraham, Hon. Bradley (Hartlyn) Roberts, Bishop Sheldon and Lady Ingrid Higgs, The Members of the New Lively Hope Baptist Church and Prayer Group, Sybil Spence and family, Dr. Robin (Carolyn) Robert, Marsha Roberts, Darnell (Montgomery) Ward, Sonia Chipman-Godet, Donna and Mitzie Chipman, Phyllis (Peter) Garraway, Aileen Knowles, Delvera Knowles, Kent Knowles, Darleen Knowles-(Edison) Sumner, Japheth an Jane Musgrove and family, Pastor Edward, Leonard, Charles and Clint Laroda, Genevie McIntosh, Killann Hestie,  Monica Mills, Neville Kemp, Doris Cash, Zelma Albury, The Entire Hutchinson Street Family, Myrtle Fawkes and Family, Miss Netta and Family, Jerry and Red and Family, The Paul'sFamily, Coakley Family,  Gertrude Feuz and Family, Mrs. Pearl Wallace and Family, Ann and Lorriane Johnson and Family, Dianne Mullings and Family, John Chipman and Family, Ellabee Rolle, Prayer Group of Lively Hope Baptist Church,  The family of the Late Daphne Laroda-Laing, The Cornish, Bootle, Russell, Laroda, Roberts, Fox, Mills, McIntosh families of Coopers Town, Cedar Harbor, and Little Abaco, Doctors Chinn and Johnson, Nurses and staff from Female Medical I, Keva Nethersole, Donna Robert, Linda, The Team of doctors and nurses on  Female Medical at Princess Margaret Hospital,      Former Staff of Radison, Retirees of Hotel Association.
Friends may pay their last respects at Bethel Brothers Morticians #44 Nassau Street on Friday from 10:00 a.m. to 6:00 p.m. and at the church on Saturday from 9:00 a.m. until service time.