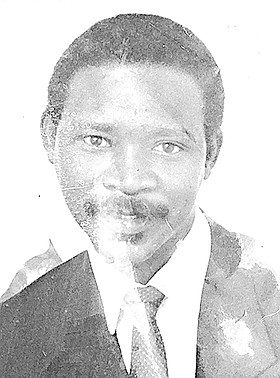 Melbourne Nathaniel Coakley
unknown - unknown
Funeral Service For
Melbourne Nathaniel Coakley, 65
of Gardens Hills Estates, who died at the Princess Margaret Hospital on Monday, September 25, 2017, will be held on Saturday, October 7, 2017 at 10:00 a.m. at Bahamas Harvest Church, Prince Charles Drive. Officiating will be Pastor Mario Moxey assisted by other ministers. Interment will follow in Old Trail Cemetery, Old Trail Road.
Left to cherish his memories are his wife: Duran Yvonne Coakley; Children: Melanese Coakley and Shameka Burrows (Avery); Mother: Marietta Margaret Coakley; Grandchildren: Matthew Gay and Avian Burrows; Stepchildren: Barry Wilson, Danalee Williams and Charlene Fox; Stepdaughter-in-law: Laquel Wilson; Step grandchildren: Rico Wilson, Rashad Ferguson, Tayla Carter, Aleeiah Wilson, Gabrielle Ferguson, Ashley Ferguson, Kaidyn Wilson and Liam Wilson; Step Great Grandchild: Rico Wilson Jr.; Siblings: Zenovia Coakley-Mills, Theodore Coakley and Jannifer Thurston; Nieces and Nephews: Amina Coakley, Makeda Makonnen, Meneluk, Tafari, Judah and Dawitt Thurston; Grand Nephew: Tyler Penn; Brothers-in-law: Ronald Lloyd, Gilford Lloyd and Dion Hanna; Sisters-in-law: Nyomie Hanna and Denise Lloyd; Cousins: Isabella Thompson, Mae Spencer, Rosalie Hall, Larry Sawyer, Marjorie Archer, Maria Neely, Ethel, Earlymae and Sheila McPhee, Raynard, Ernest, John Kendal, Marlon, Lindlop, Sidney(Moon) and Gladstone (Moon/Coach) Arnold McPhee, Juanita Armbrister, Susan Demerit, Phyllis Albury-Garraway, Deborah Rose Munnings, Sharon Rose Hutcheson, Christopher Cooper, Sharon Cooper-Mulgrave and Deborah Cooper-Symonette; Other Relatives and Friends Including: Patricia Coakley, Peter, Stephanie and Robyn Armbrister, Betty Mildred (Mae) Brown, Pamela Symonette, Euleuce Pratt, Lorenzo Deveaux, Sharon Ferguson, Kevin Ferguson, Lorraine McKenzie, Craig Nichols, Peter Ferguson, Pastors Mario and Erica Moxey, Elders David and Ursula Rolle, Bernard Miller, Mr. Arthur, The Poitier Family, Laverne Butler and Camille Smith.
Friends may pay their last respects at Butlers' Funeral Homes and Crematorium, Ernest and York Streets, on Friday, October 6, 2017 from 1:00 p.m. - 4:30 p.m. and at the church on Saturday, October 7, 2017 from 9:00 a.m. until service time.