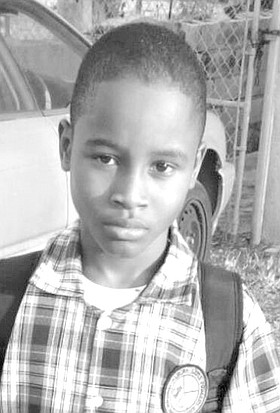 EUGENE ANTONIO WOODSIDE III
unknown - unknown
Funeral Service for the late EUGENE ANTONIO WOODSIDE III age 8 years of Rose Bud Street will be held on Friday, October 13th, 2017 at 11:00 a.m. at Holy Trinity A.M.E. Zion Church, Fire Trail Road West & Jubilee Garden. Officiating will be Rev. Ordette Cherie Wells-Simms assisted by Rev. Kendal Mackey and Rev. Jennifer Carey. Interment will follow in Lakeview Memorial Gardens and Mausoleums, John F. Kennedy Drive & Gladstone Road.
Loving memories will forever linger in the hearts of his Parents: Eugene Antonio Woodside Jr. and Kendera Woodside; Grand Parents: Michelle Rolle and Genevieve Richardson, Kendal Lightbourn Jr. and Mrs. Camsuse Lightbourn, Eugene Antonio Woodside Sr.; Great Grand Father: Kendal Lightbourn Sr., George Wellington Woodside; Great-Grand Mothers: Mispah Rolle, Doreen Lightbourn, Florence Richardson; Great-Great-Grandmother: Zella Saunders; Sisters: Tanae and Shavontae Woodside; Aunts: Baranique Rolle, Tishka Richardson, Chaurina Lawson, Kenmara, Kenrea, Kendesha, Christina Lightbourn, Tesha, Eugeana, Kendy, Kendra; Uncles: Jamel Spence, Joshua, Rashard, Devon Newry; Grand Aunts: Rochelle Major, Nikita Rolle, Deborah, Shavon, Christina, Patricia, Charmaine Julieth, Vernia, Jacquay Saunders, Natasha Seymour, Mrs. Shawn Gordon; Grand Uncles: Angelo Saunders, Jameko Allen, Kevin Richardson, Ivan Gray, Kenton Ken-Lightbourn, Anthony Major, Godfrey Swann, Keano, Kenworth Lightbourn, Dwight Bullard. Great-Grand Aunts: Yvonne Styles, Estermae Swan, Jacqueline Rolle, Rosemary Toote, Catria Sherlene, Claudia, Cecily, Marcia Rolle, Katie, Daphne Saunders, Nathalie Barton, Irene Moss, Ruth Collie, Ethley Gibson; Great-Grand Uncles: Glen, Dereck, Gerarad, Prince, Anthony Rolle, Rodney Miller, David Gibson; Cousins: Tekera, Shamika, Shanino, Daphne, Deborah, Adrian, Tameko, Alfred, Trevor, Darvin, Deserie, Toya, Demetria, Shanice, Deandra, Johntae, Elvis, Christopher, Tanique, Tara, Renaldo, Thaliya, Tashard, Iantae, Ivan Jr. Tonya, Annshanique, Anthony Jr. Antinique, Anthor, Frankesha, Etoy, Chiquia, Tanesha, Trevado, Kishlene, Kendora, Keyshawn, Kelson Jr., Kenrick Christopher, Tiskera, Perez, Tishon, Makayla, Cedrianna, Alicia, Chummy, Detima, Andrea, Alex, Lashanna, Kevon, Leroy, Shirley, Andrew, Christonia, Chrystal, Nathan, Toya, Shawn, Ronnie, Brian, CJ, Mama, Ricka, Asia, OJ, Alexandria, Kari, Aaliyah, AJ, Shawn, SJ, Shayne, Leandra, MJ and Arianna, Michael, Willy Lafrance, Kela, Kaylisa, Renaldo; God-Sister: Shanell; Other Relatives and Special Friends: Rev. Ordette Wells-Simms and Family, Rev. Jennifer Carey and Family, Godfrey Saunders, Rev. Kelson Lightbourn and family, Sheila Daxon, Daxon Family, Rona Gibson and Family Maxine, Pearl Clarise, Monique, Raquel Burrows, Azaria Gordon, Portia Taylor & Family, Rolle Family, Weir Family, McDonald Family, Ferguson Family, McKenzie Family, Wells Family, Deaconess Lucille Kelly and Family, Rev. Dr. Charles & Prophetess Iris Culmer and Family, Wright Family, Dean Family, Newry Family, Rev. Mary Louise Barr & Family., Minister Natasha Bosfield; Heart Felt Thanks: Prime Minister, The Honourable Hubert Alexander Minnis and Mrs. Minnis, The Hon, Marvin Dames, Minister of National Security, The Hon. Jeffery Lloyd, Minister of Education, The Hon. Mark Humes, Member of Parliament for Fort Charlotte Constituency, Mr. Alfred Sears-former M.P. Fort Charlotte, Mr. Jack Thompson Permanent Secretary, Ms. Donella Bodie, Permanent Secretary Ministry of Education, Principal and Staff, Albury Sales Primary School, Nicole Martin, President Hotel Union, Belinda Wilson, President Teachers Union, Sonia Rolle, Principal and Staff Center for the Deaf, Ms. Russell, Department of Social Services, Pastor Ordette Cherie Wells-Simms and the Holy Trinity A.M.E. Zion Church Family including: Rev. Jennifer Carey & Members of the Trustee Board, Deaconess Yvonne Rolle & Members of Steward Board, Minister Natasha Bosfield, Christian Education Director (for Honoring EJ on Youth March), Tina Foster, Buds of Promise Superintendent of the Women's Home and Overseas Missionary Society and teachers of Camp Trinity. Pastor Kendal Mackey and A.M.E. Zion Conference of Churches, Ms. Lillis Zonicle- President of the Missionary Society and the entire A.M.E. Church Family, Pastor Rahming-Johnson Park Seventh Day Adventist Church, Ms. Strachan-Classroom teacher, Darold Miller Live-ZNS, ASP Officer Clayton Fernander, W/DCPL 2037 Young, W/DCPL 3133 Wallace, Mr. & Mrs. Roxbury, T-shirts, Mrs. Margo Smith, Mrs. Crystal Holder, President of BAF, Ms. Nicole Wallace, Una Williams, Special Thanks staff and relative of TT's Beauty Salon, Ms. Angie-Dress Maker.

Viewing will be held in the Celestial Suite at Restview Memorial Mortuary and Crematorium Ltd., Robinson and Soldier Roads on Thursday (TODAY) from 10:00 a.m. to 6:00 p.m. and at the church on Friday from 9:30 a.m. until service time.