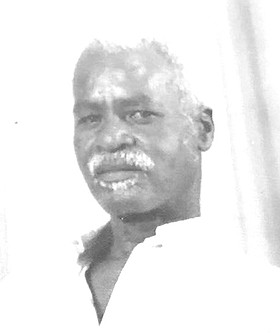 Charles Murray Sawyer
unknown - unknown
Funeral Service for Mr. Charles Murray Sawyer, age 63 years, a resident of Florida Court and formerly of Harbour Island, Eleuthera, will be held on Saturday, August 18th, 2018, 11:00 a.m., at Kemp Road Ministries, Kemp Road. Officiating will be Rev. Tyrone Green, assisted by Pastor Ivan Butler. Interment will follow in Old Trail Cemetery, Abundant Life Road.
Memories will forever be held in the hearts of his: Wife: Irene Sawyer; Children: Tyrone and Kentry Williamson (and family), Pastor Agatha Evans and Sammy Evans Sr,, Cochese, Melvern Sawyer (Shawn) and Merissa Sawyer; Sister: Mildred Roberts, Carol Gilbert, Marissa Winder and Theressa; Brothers: Andrew, Anthony, Lester (predeceased) and Theophilous; Adopted Children: Mishan Jacobs and Arnal Philip; Grandchildren: Danagz, Kayvonnia (predeceased), Ajeneque and Charlton Higgs, Jamal, Shaketra, Samamtha, Sammy Jr, Micheal, Tysheron, Tyrone Jr, Samiya, Tyler, Tyrieck, Nakyle Morley; Great Grandchildren: Rashad, Jah'Mya, Carmallia and Malaysia; Aunts: Farnette Albury and Edith Sawyer; Brothers in law: Cedrick Pratt, Larry Winder, Elkanah Gilbert, Kenith Nrown, Fire Simon and Leslie Gaitor; Sisters in law: Gloria Sawyer, Malvise Simon, Michelle Brown, Isabelle Lightfoot, Althea Gaitor, Ena Sawyer and Luella Pratt; Nieces: Kendra Wells, Thomassa, Crystal, Kenyanna, Bridgette, Pasliey Roberts, Keisha Percentie (predeceased), Maydon, Antoinette Sawyer, Lamanda Winder, Martina Bosfield, Petrinka Charlton, Lestina and Season Sawyer, Erica, Shantell Stubbs, Cleo Stubbs, Pamela Moss (and family), Cedricka and Raquel; Nephews: Anthony Sawyer Jr, Kippkeno Gilbert, Anthon, Lathoero Winder, Valentino, Leslie, Clifford Whitfield, Shorn and Sidney Lightfoot, Alvarez Rigby, Terrance Bain, Donald and Glenroy; Cousins: Franlyn Rox, Kermit Harris-Smith, Sharon Brown, Tyrone Johnson, Stephanie Bodie, Sandra Johnson, Erskine Johnson, Sharmaine Smith, Santoisha Brown, Samuel, Micheal and Andrew Higgs, Pandora Gordon, Ralph Romer, Dereck Cyril, Charles Cox, Melonie Jones, Patrice Charlton, Pastor Andrew Burrows, Darlene Deveaux, Wendy Butler, Tommy Pratt, Jarnell Albury, Dawn Gaitor, Londell Albury and Delmar Sawyer; Godchildren: Shanika, Shantell, Lynnaire and Terez; Other Relatives and Friends including: Milton Newbold and family, Deborah McMlaure, Regina Thompson, Maria Forbes and family, Patricia Brown and family, Wilfred Forbes and family, Lorrie Williams and family, Sharon Forbes and family, Jocelyn Ferguson and family Evelyn Knowles and Family, Christine Strachan, Majorie Forbes, Linda Hall and family, Tamalia Morrison and family, Faye Newbold and Family, Sylvia Musgrove and family, Eartha Pyfrom and family, Tanya Edgecombe and family, Virgil family, Rose McPhee and Family, Yvette Linden and family, Constance Evans and family, Tishura Mills and family, Ronda Bethel and family, Estella Gray and family, Yvonne Williams and family, Philip Bethel and family, Gladys Lightfoot and family, Kala and family, In Christ Ministries and pastor Tyrone Green, Ivan Butler Jr, Kemp Road Ministries, Harbour Island Community, Key West Street and Florida Court Community.
Relatives and friends may pay their respects at Cedar Crest Funeral Home and Crematorium Ltd, Robinson and Baillou Hill Roads, on Friday from 12:00 noon to 6:00 p.m., and at the church on Saturday, from 9:30 a.m. until service time.