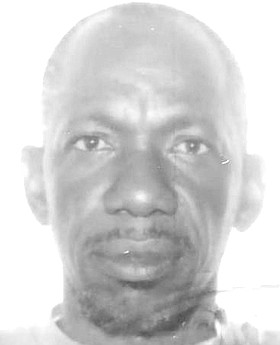 Charles "Zeek" Rolle
unknown - unknown
Funeral service for the late Charles Rolle affectionately called "Zeek" age 66 years of Carmichael Road and formerly of Old Bight, Cat Island will be held on Saturday, September 1st, 2018 at 11:00 a.m. at Grant's Town Wesley Methodist Church, Baillou Hill Road and Chapel Street. Officiating will be Rev. Lester T. Ferguson and other Ministers of the Gospel. Interment will follow in Lakeview Memorial Gardens, John F. Kennedy Drive and Gladstone Road.
Left to cherish his memories are his Wife: Albertha Patricia nee (Williams); Loving Companion/Partner: Doreen Johnson; Children: Charlesetta Rolle, Counsel and Attorney-at-Law Omar Charles Rolle, Corporal 530 Charles Leslie Rolle and Lavardo Nikitta Rolle; Daughters in-Law: Counsel General to Atlanta Astra Armbrister-Rolle and Latisha Rolle; Adopted Children: Tamica McPhee and Samantha Ferguson; Grandchildren: Louquesha Roker, Lashantae Roker, Ayden-Omar Rolle and Aaliyah Rolle; Adopted Grandchildren: Jessica Newbold, Shanice Woodside, Angelo Morley; Step Daughter: Alexya Rolle-Woodside; Brothers: Captain Garnett Rolle and Joseph Rolle; Sister: Rowena Albury; Brothers-in-Law & Sisters-in-law: Samuel Romer, Henerietta Rolle, Edward, Thomas (Cheryl Kim), Mark (J. Latanya) Houston, Texas, R/Sgt. 1051 James Derk (Valderene) of Grand Bahama, Mario (Denise) Williams, Eugene (Albertha) Brice, Lindburge Rolle, Maria Frazer, Beres (Samuel) Strachan, Marsha (Paul) Clarke, Norma (Sidney) Francis, Gale Sheryl (Leslie) Forbes, Debbie (Quinn) McCartney, Shasta (Andre) Major, Sonya Williams and Tanya (Ivan Miller, Jacqueline Williams and Dwight Gibson; Aunt: Grace King; Nieces and nephews: Ryan Rolle and Raquel Huyler, Maryann Rolle, Karen Johnson, Aretha Thompson and Garnell Williams of Freeport, Grand Bahama; Godchild: Anja Rolle; Other Family and Relatives: Racquel Huyler & Family, Ruth Pratt and Family, Phyllis Demeritte, Paul Maynard and Family, Frank, Benjamin, Dennis, John, Edward, Cynthia and Edna Armbrister, Pretta Roker and Family, Bethram Roker and Family, Genesta Moss, Rachael Russell, Jenny Johnson, Wilsetta Baillou, Carla Rose, Amelia Rolle and Family, Albert Rolle and Family, Montgomery Johnson, Ekron Pratt and Family, Ellerton Pratt and Family, Falcon Pratt and Family, Elrise Hart and Family, Rifort Rolle, Syria Pratt and Family, Clarrington Wallace, Roland McPhee and Family, The Francis Family, The Hemmings Family, Elcima Johnson and Family, Atwell Pintard and Family, The Wallace Family, The Pintard Family, Caree Pinder and Family, Dave Ashe and Family, Yvette Lockhart and Family, Anishka Culmer and Family, Nakara Miller and Family, Garvin, Megan, Richard, the Pratt, Hepburn and Archer Families, Lennis and Keva Wood and Family, The Royal Bahamas Police Force, Traffic Division, Deloitte and Touch Accounting Firm, Bahamas Electricity Corporation/Bahamas Power and Light, Wellington Emmanuel, Barry Bain and Family, BEC Clifton Pier Family, Godfrey Higgs and Dan Carey and many others too numerous to mention.
Viewing will be held in the Serenity Suite at Restview Memorial Mortuary and Crematorium Ltd., Robinson and Soldier Roads on Friday from 10:00 a.m. to 6:00 p.m. and at the church on Saturday from 9:30 a.m. until service time.