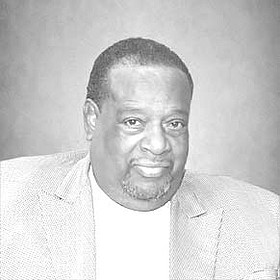 Godfrey Eugene Dean Sr
unknown - unknown
Funeral Service for the late Godfrey Eugene Dean Sr. age 69 years of Perrine Close off Pine Barren Road East will be held on Saturday 8th December, 2018 at 12:00 noon at St. Francis Xavier Cathedral, West Hill Street. Officiating will be Fr. Glen C. Nixon assisted by other ministers of the Clergy. Interment will follow in the Western Cemetery, Nassau Street.
Left to cherish his memories are his CHILDREN: Janis, Jason, Jessica, and Godfrey Jr. SONS-IN-LAW: Vernal & Renard GRANDCHILDREN: Darrenique, Levante, Verneka, Nathaniel, Nathan, Ethan, Reniko, and Raphael GREAT GRANDDAUGHTER: Saniyah SIBLINGS: Viola Donna Morris; Henry, Edward, Willamae, Pecola & Amos Dean; Tamiko Brown; Gaynell Johnson; Sheila Culmer; Delores Delancey; Audrey Russell; Mavis Dean; Elaine Goodman; Merle, Cecil & Theophilus Dean; Theresa Rigby; Pamela & Hesketh Dean; Valencia "Agnes" Harris; Vernly, Clement, Holly, Rudy, Geraldine, Bethsheba "Beverly" & Lester Dean. BROTHER-IN-LAW: Milton Russell SISTERS-IN-LAW: Gina, Anne, Pat, Sharon, Yvette, Paulette & Wanda Dean. NIECES & NEPHEWS: Sheanda Cooper, Kadra Johnson, Janiece Rolle, Keino Morris, Kenya Wells, Lidvene, Kivarlo, Jacouya Smith, Allison, Donovan & Kristina Dean; Eddyka, Davinia & Danae Dean; Richenda Dean; Tynique & Tyreek Brown; Dwaine, Caleb & Candice Johnson; Donillo, Asheka & Vanta Culmer; Tammy Francis; Samantha Kemp; Monalisa McPhee; William & Demetri Delancey, Dolan, Dannielle, Darvin, Damonn & Dawnette Russell; Daree Goings; Keith & Karen Rolle; Sharon Farrington; Sharnique, Sharmaine; John Jr. & Radjiv Goodman; Sgt. 1921 Carrington Dean Sr.; Catherine, Simeon & Mario Dean; Olivia Austin; Crystal Brice; Cecilia, Cecilee, Cecil Jr., Ashley & Shantell Dean; Terrance Sawyer; Tywaina & Therron Dean; Jacqueline Wallace, Antoinette Jotis; Carolyn Brown; Jake & Juvette Rigby; Verera Grant; Cleotha & Lavern Forbes; Patrick Burrows; Arnold & Elian Strachan; Dedrieanna Smith; Andrea & Adrian Dean; Valencia Harris; Pamily Hut; Bernadette, Bernard, Erick, Millie & Ashley Dean; Clement Jr., Ronnie, Chandria, Shayla, Yolanda & Christopher Dean; Patrice Dean; Theresa, Mario & Rudolph Dean; Aelicia Burrows; Nadia Pratt; Darrel Duncombe; Shantel Johnson; Shanelle Dean; Lester Jr., Stacy, Christian & Christopher Dean; Anita, Mark, Donalee; Janet, Renee, Lafornia "Ginger", Juliet, Marcus, Allison; & Jacqueline Bowe; Cody; Jeffery; Gerald Jr., Kathy; Anthony; Stephan & Dwight Dean; Drexel Jr., Shandalique, Anwar, Rio, Rajiv & Elvington Dean; Dwayne & Sarah Dean; Winston Jr., Jarett, Karen, Lamanda & Antoine Dean; Robert Jr., Omar & Ashley Sands; Duquesa "Donni" Dean; Dominic Colebrooke; D/Insp Martin Roberts; Sgt. 2310 Valencia Roberts Conliffe; PC 1059 Van Farrington; Alonzo, Bernard & Dwain Pratt; Vaughn Minnis; Carla "Cosmas" Edwards; Michelle, Derek, Karla, Karla, Alfred, Walter & Patrice Dean; Ronald Jr., Perry, Winston, Arthur, Trevor Seymour; Eileen White; Ronnise Heastie; Bernise, Linda, Benjamin, Carol & Gardell Brennen; Brendalee Moss; Psyche Wright; Inza Young; Edgar & Cherisa Sweeting; Cathran & Larry Albury; Dwayne, Harrison Jr., & Omalateisha; and Keyon Dean; NUMEROUS GRANDNIECES & GRANDNEPHEWS COUSINS INCLUDING: Evan, Franklyn, Dennis, Vernon, Carol, Barbara, Paula, Denise, Elizabeth, Brian & Dee Dee Dean; Louis & Edward "Joe" Black; Kenneth Woods; Gregory, Tasha and Janatte Dillette. OTHER RELATIVES AND FRIENDS INCLUDING: Denise Cockburn & Family; Myrna Wilson & Family; Rosetta Haven & Family; Eleanor Conliffe & Family; Graham Wilson; Kenron Braynen; Kyle, Ramon & Ria Pinder; Anthony Higgs; Wilbert McDonald; Tyrone Archer; Sam & Cecil "Star" Cummings; James Clarke; Nat Adams, Gilda Strachan; Margo Rodgers; Vernell Richardson; Valderine Kemp; Scorpio Evans; Linda Evans; Marcus Wilkinson; Derek Dean; the Christie, Goodridge & Dillette Families of Augusta Street; Robert Sands; Marion Strachan; Lawrence Smith; Gordon "Bubbles" Christie; Sam Adderley; Dr. Eugene Gray; Theadora Rahming (private nurse); Marion Rose Sturrup (caregiver), and the taxi drivers at the Nassau International Airport.
Friends may pay their last respects at Bethel Brothers Morticians #44 Nassau Street on Friday from 10:00 a.m. to 6:00 p.m. and at the church on Saturday from 11:00 a.m. until service time.