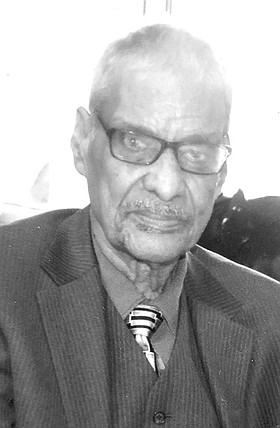 Catechist Theodore Alexander Quant Sr, JP
unknown - unknown
Funeral service for the late Catechist Theodore Alexander Quant Sr., JP age 90 years of #364 Baillou Hill Road and formerly of East Harbour, South Caicos, Turks and Caicos Islands will be held on Saturday, July 7th, 2018 at 2:00 pm at St. Agnes Anglican Church, Baillou Hill Road & Cockburn Street. Officiating will be Rev. Fr. I. Ranfurly Brown. Interment will follow in Woodlawn Gardens, Soldier Road.
 
Left to cherish his memories are his Children: Alexandra Hasan, Donna Quant-Mullen, (Terry), Theodore Quant, Jr., (Rev'd. Dr. Portia), Lilian Quant-Forbes, and Barry Quant; Grandchildren: Karima, (Chris), Rashidah, (Randi), Siddiq (Tricia), Ezel Jr., Desiron (Shawn), Terye (Jonathan) and Theo (Brittney), Mia (David), E'lia, Yalvaten (Leo), (Annie)', Dimitri (Paige) and Dominic (Ashley); Great grandchildren: Zaire and Makala; Ezelle; Auviana and Delayna; David, Abi and Dylan; Rachel, Leo and YaLena; Foster daughters: Mrs. Elvy Smith, Ms. Dorothy Godet and Ms. Cheri Hanna; Sisters-in-law: Eva (Langton), Naomi, Maggie (George), Rose Mae (David), Ruby, Rose, and Hannah (Garfield); Brothers-in-law: John (Theda), Rev. Edward Jr. (Mary), George, Ralph, and William (Sherry); Nieces: Anne, Lynda, Dorother (Go-Go) Barbara-Anne, Doneita, Carlotta, Joanie, Janel, Margaret, Louise, Sylvia, Dorothy, Stephanie, Daphne, Beth, Donna, Camille, Paulette, Dien, Rosa, Esther, Paula, Naomi, Bergit, Candace, Delza, Diedre, Allison, Georgette, Rochelle, Karatesha, Geneen, Deena Denise and Monalisa; Nephews: Sterling, Maxwell, Douglas, Timothy, Charles, Claude, Clifford, Maurice, Dudley, Desmond, Dervent, Shervin, Stephen, Eddie, Vernon, Steven, Deryck, Gregory, Theophilus, Ian (Godchild), Melvin, Woodrow, Adrian, David Jr., Jonathon, Duncan, DeSheild, Rashad, Scottie, Orey, Alverro, Bernard, Kendal, William, Diego, Johann and David Hanna, Ted will also be missed by his numerous grand-nieces and grand-nephews whom he loved dearly; Special Mention: Ms. Sonya Williams, Mr. C. Allen Johnson, Mr. Victor Hutcheson, Mrs. Sabria Rolle, and Mr. Jeffrey Henfield; Godchildren: Mrs. Lillian Strachan, Ms. Katherine Rahming, Ms. Andrea Moultrie, and Mr. Neville Cox; numerous relatives and friends including: The Quant families, Mr. Alec Astwood and family, Mrs. Joyce Quant, The Godet families, Mr. and Mrs. Roy Rodgers and family, Mr. & Mrs. Roosevelt Godet, Mr. and Mrs. Nigel Bowe, Mr. and Mrs. Charles Mackay, Mrs. Joan Bowe-Mckay, Mrs. Priscilla Thompson, Mr. and Mrs. Blaise Taylor, Mr. Peter Bowe and family, Mrs. Sydney Godet and family, Mrs. Sylvia Godet, Mrs. Rosalie Minus, Mr. Frank Thompson, Mr. and Mrs. Cecil Swann and family, Mr. and Mrs. Vernon Symonette and family, Mr. Leroy Williams and family, Ms. Myrtis Clare and family, Ms. Kimberly Abdullah and family of Texas, Mr. Carl Hasan, and the Lloyd family, The Rt. Rev'd Bishop Laish Boyd and Mrs. Boyd, Archdeacon I. Ranfurly Brown and Mrs. Brown, Archdeacon Kingsley Knowles and Mrs. Knowles, Rev'd Wittish Nottage-Johnson and family, Archdeacon James and Rev. Angela Palacious, Rev'd Father Sebastian and Mrs. Campbell, The family of Christ the King Church inclusive of the ACM, ACW, the Prayer Band, the Visiting Committee, Organist Jeffrey Sturrup, and the Altar Guild, Ms. Marion Taylor, Mrs. Olive Pinder, Ms. Pearl Symonette, Mr. & Mrs. Warren Rolle, Ms. Helen and Rhonda Rolle, Mr. & Mrs. Moses Major, Mr. & Mrs. Dudley Seifert, Mr. Charles Williams and Mrs. Maryjane Moxey; The families of: Ms. Catherine Mullen, the Myers, Mr. Ashley Smith, Mr. Adam Munroe, Mr. Audley Bain, Mr. Carl Carter, Ms. Sheila Johnson-Smith, Mrs. Maxine and Simmone Butler, Ms. Agnes Bonaby, Mrs. Patrice Rodgers, Mrs. DeAnna Ako-Asare, Mrs. Evelyn Shelto, Mrs. Giselle Fielder, Mrs. Tsehay Stefanos, Ms. Barbara Bontrager, Friends 4 Life, Bahamas Harvest Church, The staff of the Ministry of Social Services and Urban Development inclusive of the Department of Social Services, Mrs. Hamilton, staff and Seniors at the Yellow Elder Senior Citizen's Day Care Centre, Mrs. Jewel Cartwright Dr. Robin Roberts, Dr. Alexia Dorsett-Williams and the staff of the Male Orthopedic Ward, at Princess Margaret Hospital. For those whose names we may have inadvertently omitted we acknowledge and appreciate the support you gave to our Dad and family.
Viewing will be held in the Serenity Suite at Restview Memorial Mortuary and Crematorium Ltd., Robinson and Soldier Roads on Friday from 10:00 a.m. to 6:00 p.m. and at the church on Saturday from 12:30 p.m. until service time.