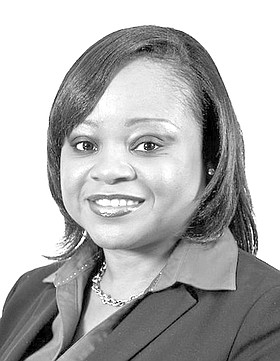 RAMARCA SHENIQUA SMITH
unknown - unknown
Funeral service for
RAMARCA SHENIQUA SMITH, 45
a resident of 158 Bamboo Blvd., South Beach will be held on Saturday, June 16, 2018 at 12:00 noon at the Transfiguration Baptist Church, Market & Vesey Streets. Officiating will be Rev. Dr. Stephen E. Thompson, Rev. Sherma Bowe, Rev. Brazil McDonald, Rev. Colyn Thompson, Rev. Alphonso Newry and Rev. Terrance Morrison. Interment will follow in Lakeview Memorial Gardens & Mausoleum, John F. Kennedy Drive, Nassau, Bahamas.
Left to celebrate her legacy of a life filled with love and service to others are:
Her Parents: Franklyn & Karen Smith; Daughter: Tonesha Smith; Grandfather: Gladston Brissett; Special Friend: Supt. Frederick Sands; Brother: Frank (Elena) Smith; Sisters: Kayshonta Smith & Sara Smith; Niece/Nephew: Sole & Matteo Smith; Aunts/(Spouses): Carol Roberts, Faye Delancey, Sally Thompson, Grace McIntosh, Rosemarie (Charles) Gaitor, Gaylene (Mark) Pinder, Marlene (Anthony) Hall, Jaun (Christian) Carroll; Carol Reid, Carol (Kurtz) Ritchie, Linda Smith, Cynthia Taylor, Patrice Rolle and Valderine Gervais; Uncles/(Spouses): Michael (Sheila) Smith, Durie Smith, Craig (Denise) Smith, Bertram Smith, Dr. Sidney Smith, Dr. Larry (Dr. Charlene) Smith, Leo, Cyril and Phillip Robert and Arthur (Naomi) Roberts; Grand Uncle: Samuel (Hester) Brennen Cousins/(Spouses) incuding: Barry (Shonda) Stuart; Lynette Roberts; Kaleatha Roberts; Shantell Munroe; Olivia (Alex) Brown, Mark Munroe; Daphne McMinns, Kori (Laura) St. Cyr, Kordero & Kyle St. Cyr; Ciara McIntosh; Reynard & Resean McIntosh; Frederica, Gerrard & Germaal Gervais, Terrenique, Gernell Paul; Onike & Gervonte Gervais, Donavan Mingo, Charles Jr., Charlise & Charnae Gaitor, Mark & Tamara Pinder; Anthony Jr. and Antonique Hall, Cohen Carroll, Safyie 'Veneice', Lorraine, Christopher, Lavardo, Mark & Richard Reid, Tavaris, N'Shae, Avona Stuart, Vernon; Brian, Brynette & Brandon Conliffe, Alyssa Rahming, Tamico Lafleur, Savannah, Dwayne, & Devon Charles, Blessings Brown; Aliyah, Phylicia, Shaniah & Marcus Munroe; Bryan; Jayden & Chloe St. Cyr; Kaliyah Ferguson & Kahlil; Koen, Kai McIntosh & Julian Bain, Durie Jr., Daria, Durieanne, Dremico, Damarius, Darren, D'Angelo, Sophia, Demetrius, Patrick Jr., Dominique, Lakeisha, Lashawn, Synteche, Osborne, Danielle, Sherwin, Lloyd, Robert, Christavia, Olivia, Daziel, Devon, Shannon, Shyan, Sharan, Monesha, Lawrence, Miklye, Lynn, Vanda, Kimberlene, Catherine, Sandreen, Miguel, Malachi, Clifton, Ranschau, Maximillian, Deacon Jayson, Darron, Adrian, Minister Jeremy, Elvargo, Vanda and Shaw; Other Relatives & Friends: Sophia Hepburn, Silbert Evans, Moses Deveaux, Shirley McKinney & family, Sheila Demeritte & family, Andrea & The Farrington family; Mavis Douglas & The Kemp family, Doreatha Seymour & family, Mable Newton & The Woods family, The Mackey family, The children of the late Louise Jones, Almeda Brooks & The Brooks family, Prince Hepburn; Dudley McKenzie & family; Erma Moncur & family, Erma Smith & family, other descendants of Zephaniah & Sofia Hepburn of the Cove Cat Island, The Brennen family, Mark & Gladys Hall & family and Petrona Dawkins, Maria King & family, The Coopers family, Marsha Knowles & The children of the late Cecil Smith, The Bullards, The Gaitors & The Archers, Delores Nottage & family, The Huyler family, Patricia Roberts & family; Sylvia Roberts & family, Andrew Smith & family, Debbie & Cyril Johnson & family, Leotha Clyde & family, Antoinette & Maurice Williams & family, Gertrude & David Flowers, Theresa Johnson & family, Iva Butler & family; The Charlow family; Leonard Nairn, Elva Nairn, Brent Stubbs & Family, Olga & Hesley Stubbs, Paulette & Floyd Wilmore, Henrietta Turnquest & family, Beverley Bethel, Hilda Johnson, Roland Kinlock & family, Deborah Pearce & The Pearce Family, Frank Campbell & family, Arthur Dean & family, Mavis Sands & family; Lana Levarity & family; Eddie McKenzie; Robert & Cindy Munisteri & family of Alabama, Kamar Matthews & family, Huey McPhee & family, Jackie Rolle, Dianne Miller, Janet Thompson, Valdrie Roberts, Andrea Saunders, Rosemary Moss, Martha & James Rolle, Carnetta Poitier, Janet Rolle, The Bamboo Blvd. neighbours including Karen & Marvin Archer & family, Mr. & Mrs. Hubert Rolle & family, Esther Lloyd, Tamara Evans & family, Tasia Ferguson & family, Andrewnique Knowles, Stephen Clarke, Sharlene Roberts & family; Lateisha Smith; Simone Coakley; Todney Marsh; Kurt Bonamy; Indira Sands, Richard Coleby; Cheryl Seymour & family, Audril Farquharson & the Finance Dept of Colina Insurance, Audra Bethel, Sonia Rolle, Rochelle Rolle & The Queens College Class of 1990, Bahamas Baptist College Class of 1991; Nadia Watson & family; Nadia Minnis & family; Shenique; Kim and family; Joey Pugh, Renando Fawkes, Keisha Winters, Management & Staff of Colina Insurance, Zeta Phi Beta Sorority, Management & Staff of the Warwick Hotel, Mrs. Arthellia Isaccs & the staff of Jordan Prince Williams High School; Helen Campbell & the BGCSE Mathematics team markers, Richard Sands & the TBC Usherboard, Lillymae Johnson & the TBC Choir; Bishop Laish & Mrs. Joann Boyd; Rev. Dr. & Mrs. Stephen Thompson; Rev. & Mrs. Brazil McDonald; Rev. Sherma Bowe; Rev. Alphonso & Dec. Patricia Newry; Rev. & Mrs. Colyn Thompson, The Transfiguration Baptist Church family including Dec. Arlington & Arementha Winters & family, Richenda King & family; Evang. Rhonda & Dec. Rawson McDonald; Lilith Butler & family; Drucilla Rodriquez; Donna Higgs & family; Shantell McDonald & Tasha Johnson; Frances Carroll; Christine Taylor; Nellie Walkes, Dorothy Sands & family, Dec. Cathleen Johnson, Joanne Stubbs & family, Andrenique Brown, The teams of doctors, nurses, clinical partners, administration and medical staff of Baptist Hospital, Kendal; local doctors and nurses who provided support and home care, Mikus Mikula, the Doctors Hospital ambulance team and a host of other relatives and friends too numerous to mention.
Friends may pay their last respects at Demeritte's Funeral Home, Market Street, from 12-6:00 p.m. on Friday &n on Saturday at the church from 11:00, a.m. until service time.