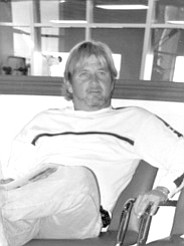 Stephen Kemp
unknown - unknown
Stephen Kemp was born in Nassau, The Bahamas on the 20th December 1956. He was the last of three children born to Garth and Faye Kemp.
Steve attended St. Thomas More Primary School and then Saint Augustine's College and then began to work in landscaping with his father. From there he branched off and started his own landscape company, Native Touches Landscaping which he grew from that point till today.
Steve married Bridget O'Sullivan on 3rd August 1996 in Hopetown, Abaco. Together he and Bridget had two beautiful daughters, Kaitlyn and Kacey. His girls were his pride and joy.
He was predeceased by his parents, Garth Kemp and Faye Kemp and his brother, Tommy Kemp.
He is survived by his wife, Bridget O'Sullivan-Kemp; two daughters, Kaitlyn Michelle Kemp and Kacey Alexis Kemp; two sisters, Sharon Kemp and Leslie Colclough; Uncles, G. Wayde Sands, William "Billy" Sands, Billy Kemp and Allan Albury; aunts Joey Kemp, Agnes Roberts, Priscilla Sands and Jeanne Sands; nieces, Kimberley Sweeting, Stacy Albury, Shannon Kemp, Courtney Kemp and Nicolette Kemp; nephews, Tyler Kemp and Nicholas Colclough; brothers-in-law, Donald Kemp, Timothy Colclough and Brandon Hill; sisters-in-law, Candy Kemp, Eileen Hill and Kathleen O'Sullivan; grandnephews, Evan Sweeting and Mason Sweeting; grandniece, Kennedy Albury; and many other relatives and an abundance of good friends that are too many to name.
A Memorial Service for Stephen Kemp, will be held at Evangelistic Temple, Collins Avenue, Nassau, on Monday, 18th June, 2018 at 4:00 p.m.
Family is requesting friends and family to wear bright colors and come comfortable (jeans, tennis shoes, etc).
In lieu of flowers the family request that donations be sent to The Bahamas National Trust, P.O. Box N. 4105 Nassau, The Bahamas (393-1317) in memory of Steve Kemp.
Arrangements by Kemp's Funeral Home Limited.