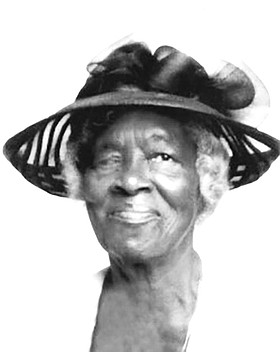 Nettlie Mary Fynes
unknown - unknown
Funeral service for
Nettlie Mary Fynes, 89
a resident of Water Street, Big Pond & formerly of Fox Town, Abaco, will be held at First Baptist Church, Market Street, on Saturday, March 3, 2018 at 11:00 a.m.  Officiating will be Rev. Diana Francis, assisted by other Ministers of the Gospel. Interment follows in Southern Cemetery, Cowpen & Spikenard Roads.
Left to cherish her memories are her daughters: Ms. Eleanor Williams, Mrs. Debbie (Deleno Carter Sr.), Antoinette Sawyer and Karen Barton-Williams; sons: Mr. Edward (Barbara Barton) of Freeport, David Ward, Demetri, Carlos, Cordero Williams and Harman Sawyer; grandchildren: Tiffany Barton, Maxwell Daniels, Mannix Barton, Manesha and Montayo Barton  Kevin (Monique) Barton, Kava and Keyshan Barton, Deleno Jr. (Constentina) Carter and D'Kayla Carter; Destiny Carter, Leroy Stuart III, Mrs. Shekia Saunders, Asherann Barton, Ronaldo Barton, Krishna Williams, Jason Williams, Dajah Ward, Demetri, Deangelo, Danerio, Chavado and Ethan Williams, D'endra Sands, Camron Newton and Lashando McIntosh; nieces: Birdie McIntosh-Curry (Johnathan Curry), Gregory Rolle, Pamela Brunette, Yontalia Adams, Tyrice Curry, Johnell Russell; Pat McIntosh, DaShawn Brown, Patrick McIntosh; Deloris McIntosh Russell (Ralph Russell), Shanasco Campbell, Vandie, Samaell and Laqunita Russell; Joiclen McIntosh, Lazario and Uthan Cornish, Leslyn Gibson; CeCelia McIntosh, Jamado Curry, Demetrius Edgecombe and Shantara Parker; Shannrie McIntosh-Armbrister (Glen Armbrister) Keyon Russell, Mere, Ferlon Huyler, Shawnalee and Shaquail Armbrister, Eleanor McIntosh-Bowleg (Kevin Bowleg), Cruze McIntosh, Eranna Delancy, Kandice McIntosh and Kevin Bowleg Jr.; Raffelette McIntosh-Russell (Jeffrey Russell), Shantara, Chazie and Thage Russell; Malinda Greenslade, Latony Adams; Winifred and Edith Oliver; Dianna Ward, Wayde, Nicola, Peaches and Trevor Ward; Shanny Ward, Tiniyah and Sara Rubins; nephews: Jeremiah McIntosh, Rokanna, Jermaine and Jemasses McIntosh; Sean (Nugget) Ward, Sean Jr. and Anwar Ward, John and Timothy Ward; godchildren: Carmel Wilson, Olympra Morris, Tiffany Cash, Yontalia Adams Godrey Burrows, Tanisha Dunn, Jahmero Edgecombe, Donnette and Irene; other relatives & friends: Rev. Diana Francis, the First Baptist Church family, Kendal Arthur, Tyrone and Ricardo Deveaux, Kenja and Kenva Deveaux, Barbara and Brenda, Viola and Goldie Rolle & family, Cynthia Taylor, Pearl Gardiner & family, Marlo Gardiner & family, Trevor Butler & family, Joey Knowles & family, Corey Higgs & family, Brenda Ward & family, Kenneth Ward & family, Mr. James Bain & family, Mrs. Karen Marshall & family, Vernetta Walkes & family, Estella King & family, the Hanna & Major families, the Burrows family, Mrs. Garrie Carter & family, Mr. Ricardo Knowles, the Gaitor family, Mr. Harman Sawyer & family of Eleuthera, Ms. Martha Ferguson, Louise Morris & family, Martha Sturrup, Rosie & Michael Curry, Shirley Dean & family, the Evans family, the Stubbs family, the Edgecombe family, Reggie Miller & family, Bahamasair Navigation Service Division, Christopher Williams Sr. & family, the Armbrister family, Shirley Dunn & family, Ms. Outten (caretaker), Mr. Maxwell Daniels & family, the Grand Hyatt Culinary Dept., the IRD team, Mary Ferguson & family,  Big Pond Community, Fox Town Abaco community & other relatives & friends too numerous to mention.
Friends may pay their last respects at Demeritte's Funeral Home, Market Street, from 12-6:00 p.m. on Friday & on Saturday at the church from 10:00 a.m. until service time.