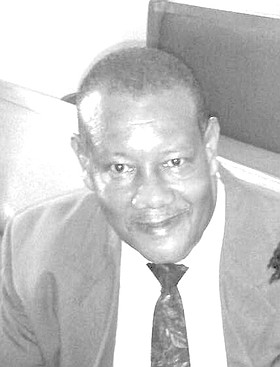 Deacon Robert Samuel Llewelyn Thompson
unknown - unknown
Funeral Service for Deacon Robert Samuel Llewelyn Thompson age 62 a resident of Hanna Road and formerly of Wemyss Bight Eleuthera, who died at his residence February 25th, will be held 11:00 a.m. Saturday March 17th, 2018 at Judaea Baptist Church Tonique Williams Darling Highway. Pastor Rev. Dr. Marina P. sands J.P. MBE will officiate and interment will follow in the Old Trail Cemetery Old Trail Road.
Precious memories are held by: Sons: Roberto and Amos Thompson and Caswell Evans; Grandchildren: Roberto Jr., Gabriella Thompson; Ravon, Makli, and Kamari Thompson of Washington DC. Brothers: Leroy, Roscoe and McArthur Thompson; Sisters: Louise Coleby, Judy Cartwright, Theolinda Laing, Jennifer Symonette and Joan Patrice Thompson; Jennifer, Helene, and Cleare Delancy Brother- in- Laws: Locksley Cartwight, Wellington Symonette, and Whitney Laing ; Sister in- Law: Scharlene Thompson; Adopted sister: Alberta Gibson and Michelle Butler; Aunts: Jennie Basden, Sally Hutchinson, Gladys Seymour and Helene "Baby " Taylor of Turks and Caicos, Audrey Lyttle of Clearwater, Florida, Sharon Thompson, Madge Williams and Dorothy Malcolm. Uncles: Robert Taylor, Henry Lyttle of Clearwater Florida, and James Williams Grand Aunt: Lois Taylor of Turks and Caicos: Numerous nieces and nephews: Cadrington (Karen) , Stephen (Beverley) and Antonio Coleby, Jasmine (Jerome) Bastian and Judeen Cartwright, Lerdon (Bruno) Barr, LaShay, Lasalle and Scharlee Thompson, Britney and Twila Laing, Jenna, Jamie and Jessica Symonette, Taushiana, Taushiana, Melissa, Clarissa, Rhonda, Gulliano, Luchiano, Charlo, Rohan, Ileana, Brandon, Ketheria, McFabio and James Thompson, Percival Sweeting Jr, A'Leithia, Charlisa, Charity-Opal, Harrice, Charles Jr. and Jullian Delancey. Grand Nieces and Nephews: B' Anthony and Bettany Barr, Aviah, Aydan Wallace ,Omari, Lamont Knowles, Daron Culmer Jr., Jatinda and Jatinique Butler, Johnae Forbes, Leron Jr. and Terell Jr. Jada, Jaden and Jaren Bastian, Sharese, Sarja, Shelby, Catherine , Aniya, D nari, Orion, and Coleby. Godchildren: Leticia Anderson, Julius Kemp, Shama Jordon, Palacia Hepburn Host of other relatives and friends including: Michelle Nixon, Willamae & Mervin Sweeting, Wellington Taylor, Marina Sands and family, Descendants of Tina Brown Chatters, Rowena Rolle, mary Hall, Emily, Samuel, Charlie and Ellick Young, Georgiana K. Symonette, Adline Gibson, Elizabeth McKinney, Clotilda Thompson, Rosetta Jones, Hilda Malcolm, Eliza Haven, Gloria Prosper, Mary Forbes, John, Alexander, Albert, Benjamine, and Jack Taylor, Sarah E Taylor-Skippings, Helene Missick Winnifred Miller, The Unity House family, The Wemyss Bight Association, Nassau Branch, The communities of Wemyss Bight, Waterford, Deep Creek, Green Castle and Rock Sound.
Relatives and friends may pay their last respects at THE CHAPEL OF MEMORIES THE NEW COMMONWEALTH FUNERAL HOME INDEPENDENCE DRIVE Friday from 11:00-7:00 p.m. and at the church Saturday from 10:00 a.m. to service time.