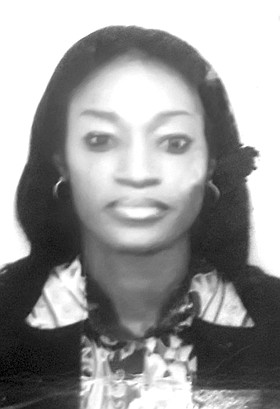 Glendamae Black
unknown - unknown
Funeral Service for Glendamae Black age 42 affectionately called "Nenee" a resident of Dignity Gardens and formerly of Munson Village, who died at the Princess Margaret Hospital February 25th will be held Saturday March 17th, 2018 10:00 a.m. at Evangelistic Temple Collins Avenue. Rev. Dr. Vaughn L. Cash assisted by Pastor Dave Cash, Pastor Bradick Cleare and Pastor Keno Smith will officiate and interment will follow in the Old Trail cemetery Old Trail Road.
Left to cherish her memories are:
Daughters: Robyn Savannah and Nicole Cartwright
Adopted mother: Cora L. Clarke
Brothers: Glenderon and Corey Clarke
Sisters: Shantell, Wandamae and Samantha Black
God mother: Cheryl
Adopted sisters: Vanessa Smith, Sophia Winters-Forbes, Allison Bain(Cola) Deidre Gardiner, Rose Newman, Gina Scavella, Melissa Dean, Tanya Fox and Nicole Culmer of Texas
Grand father: Emmanuel Johnson
Uncles: Hansel Black, Bishop Zendal Dalton Jr. Sergeant Orenvell Thomposn of the Royal Bahamas Police Force, Calvin Russell, Brandon Russell of Switzerland, Austin Campbell, Herman Walker, Hings Russell, Dave and Erling Johnson, Dencil and Deacon Ednal
Aunts: Magnolia Russell, Morlette Uvie and Ivy Johnson, Christell Gibson, Anita, Dianne, Elimae Russell, Minister Karen Dean, Dr. Pastor Cindy Ferguson, Danina and Vaneta Black, Betty Russell of Switzerland and Mildred Russell
Special friend: Gino McEwan
Nieces: Shantia Black, Shaunda Sturrup, Alexia Davis, Camille Campbell, Elisha and Amber Moxey
Nephews Brodrick Deveaux, Andre, Tonis, Rashard, Glenderson II, Anthorn, Corey Jr., Logan, Jamerson, Cameron Black, Kemal Jr., Daley. Elvis Moxey Jr.
Cousins : Renee Johnson, Kayla and Davon Stubbs, Crystal Johnson, Ancilla, Michael, Shonell, Tamara, Gary Jr., George Black, Angel Reckley, Lashara and Javon Moss, Tamika and Sigma Shepherd, Kendi and Dudley Richards, Calvin Kemp, Angel and Star Bain
Other relatives and friends include: The Munson Alley family, Samantha(Cara) Foster of West Palm Beach Florida, Chris and Michellle Missick, the Nesbitt family, Leonard Forbes and family, Renaldo Winters, Dr. Austin Davis and family, Dr. Davianne Cartwright, Dr. Charmaine Bodie, Hadassah Hall and family, Tina Motts and family Sheena Darling and family, Evangelistic Temple family, Nicholo Cartwright and family, Anthony, Miriam and Kenturah Clarke, Hensel and Pastor Pauline Turnquest and family, the Baptist Bible family, Julie Wilson and family, Rothia Ferguson, the Campbell family, Madame Justice Cheryl Bethel, P.S. Marco Rolle, Attorney Stephanie Pintard, Dla Antoinette Bonamy, the Former Attorney General Allison Maynard, Attorney General Carl Bethel and the Staff of the Attorney General's Office, Dr. Moss and Staff of the Intensive Care Unit and Nurses and Doctor's of Princess Margaret Hospital, the Russell and Evans families of Andros, Dream Nation, family, Yvonne Williams and family Lottie Polambo and family, and others too numerous to mention.
Relatives and friends may pay their last respects at THE CHAPEL OF MEMORIES THE NEW COMMONWEALTH FUNERAL HOME INDEPENDENCE DRIVE Friday from11:00-7:00 p.m. and at the church Saturday from 9:00 a.m. to service time.