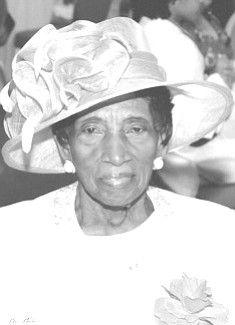 Former Senator Clara Rose Hall-King
unknown - unknown
State Recognize Funeral Service for the late Former Senator Clara Rose Hall-King age 86 years of #1 Samana Drive, Marathon Estates will be held on Friday May 11th, 2018 at 11:00 a.m. at St. Agnes Church, Baillou Hill Road. Officiating will be Fr. I. Ranfurly Brown assisted by other ministers of the Clergy. Interment will follow in St. Agnes Cemetery, Nassau Street.
Left to cherish her memories are her children: Sir Burton & (Camille Lady) Hall; Bernadette & (Rev. Dr. James) Moultrie;; Catherine Johnson; Donnalee & (Matthew) Stuart; Alverne King and (Creswell Sturrup); Celestine & (Willis) Dorsett; Pastor Percival & (Christina) King; Carol & (Hawett) Ingraham; Pauline Johnson, Audrey & (Rudolph) Williams, Larry & (Christiana) King; grandchildren (33): Alfred, Alexandra & Augustine Hall, Sean & (Stacey) Moultrie; Shelly & (Franon) Wilson; Sherrell &(Christopher) Cartwright; Jethro & (Raquel) Johnson; Juliet & (Granville) Brown; Jonathan Johnson; Cherisse King; Jade & (Antonio) Duncombe; Mattisse, Matthew Jr. (Sukova) and Mattinique Stuart; Koreh King; Christophe Sturrup; Brittany Turnquest; Dominica Lloyd, Nakia, Jamaal & Erica Williams, Keenan & (Tara) Johnson; Lamardo, Latrice, Latrisha, Christoff (Jessica), Katrell, Kamrenn, Lauren, Aneka, Shameka, Kristoff, Kia & Tatiana King: great grandchildren (46); great-great grandchildren (2)in-laws: Ferstina Hepburn; Ruth Outten; Alice Moncur; Lee King; Isadora Bethel; Husen & Angel King; Paul King; cousins: Victor Sr.,Vanessa and Victor Jr. Gittens, Juliet, Johnathan & Ashley Neymour, Frank Grant, Dorothy Horton, Edison, Elieen, Victor & Joan Squires (Barbados), Alvin Miller & Family, descendants of the late Leon Forbes and descendants of the late Mary Toote and Stanley Sweeting; adopted siblings, children & grandchildren : Jackie Wallace, Margaret Smith; Patricia Murray; Verna Elcock; Rosemary Archer; Andrea & (Frankie) Sweeting; Patricia Mitchell; Paulette Beneby; Veronica Cooper, Nora Newbold; Stephanie Bethel, Ruth Hutcheson, Patrice McDonald; Inez Johnson, Rudolph King; Keith &(Cher) Strachan; Michaela Whylly; Mitzi Swaby; Omese Allen; Paulette Taylor, Delvin Johnson and the LaFianza Family of New Jersey; god-children: Eric Hepburn; Ida Darville-Moxey; Berthamae Higgins; Andrea Dawkins; Margaret McKay; Anastacia Thompson, Eulie Elliott and Lorraine Francis; god-brothers & sisters: William Roosie Godet, Rev'd Fr. Delano Archer, Anthony & Lambert Archer, Florinda Clarke ,Persephone McQuay, Valerie Smith, Rosemond Stubbs and Angela Archer; numerous nieces and nephews in law; other relatives & friends inclusive of, but not limited to: The Halls; The Aranahs; The Moultrie Families; The Stuarts(Bimini); The Johnson's. Mrs. Helen Coverly, Mrs. Whitlean Dorsett; Mrs. Ophelia Ingraham, Debbie Sturrup & Family, Dolly Foster; Ruth Millar & Family; Jane Adderley & Family; Althea McCartney & Family, Mellie Dillett & Family, Patricia Roberts & Family Christine Rolle & Family; Evangeline McFall & Family, Rosamund Williams & Family; descendants of Kenneth & Sybil Nairn; descendants of Charlie & Eldica Moss, Alex Gibson, Elaine Butler; Iva Simmons, Maggie Major; Charles & Rita Sweeting, Eloise Armbrister; Chuck & Verlene Harris; Carlan & Patricia Johnson; Michelle Fox; Rosemarie Thompson, Kyron Strachan, Daphne Williams; Denise Fountain; Mercelita O'Brien, Ethel Johnson, Paula Cunningham, Ed Fernander, Reno Brennen; Dwight Pratt & their families. Gwen Hepburn; Hugo Brown; Shelagh Strachan & Family; The Hepburns; The Bethels; The Outtens; The entire King family; The Seymours; The Bowlegs; The Thurstons; The Brown's, Pat Clarke; Mary & Errol Ingraham; Karen Johnson, Paula Bethel; Sandra Young & their families; Stanley Turnquest, Jennifer Cox, Jackie Knowles, Shannah Davies, Sandra Gray-Moss, Burkett Turnquest; Trevor Whylly, Alphanette Grant, Rev. Revie & Berniece Francis, Nicky Ferguson-Johnson, Agnes Bethel, Shirley Rolle & their families. Dr. Indira Minus-Grimes; Dr. Bimal Francis, Dr. Ian Kelly, Dr. Conville Brown & Dr. Corinne Sinquee; Dr. Elizabeth Darville; Bishop Drexel Gomez; Bishop Laish Boyd; Reverend I. Ranfurly Brown; Canon Warren Rolle and their families; Bishop Neil C. Ellis and the Mount Tabor Family; the St. Agnes Church Family, inclusive of the various Church ministries she served in; the entire Anglican Church Community; St. Patrick's Anglican Church. Hon. Philip 'Brave' Davis (Leader), and the entire Progressive Liberal Party; Hon, Dr. Hubert Minnis, Hon. Dr. Duane Sands,The entire Mason's Addition Family; The Marathon Community, Bimini & Palmetto Point Communities. The Saxons and the Valley Boys Hillside Junkanoo groups; John Musgrove & Staff, The Staff of The Post Office Department; The Staff of Air Traffic Control; The Staff of The Bahamas Heart Center & Medical Pavilion; The Staff of Amber Bank; The Staff of Tommy Guy Construction, The Staff of Unique Village;(Eleuthera). Her beloved pets Rebecca, Zoie, Sweet Cheeks, Ginger, Snowflake II, Blue Bird, Goldie and Ariel. Please forgive us if your name may have accidently been omitted, this was not intentional.
The Body of the late Clara Rose Hall- King will lie in State in the Foyer of the Senate, Parliament Square, Bay Street on Thursday May 10th, 2018 from 1:00 p.m. to 7:00 p.m.
There will be no viewing at the church.