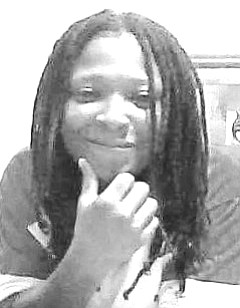 Kendra Leshelle Newry
unknown - unknown
Funeral Service for Kendra Leshelle Newry, age 47 of Cox Avenue who died on Tuesday, May 1st 2018 will be held on Saturday, May 19th, 2018 at 11 a.m. at Good Shepard Church of God, Ida Street. Officiating will be Bishop Sherwin Smith assisted by Rev. Franklin Rolle and other Ministers of the Gospel. Interment will follow in Lakeview Memorial Gardens, J.F.K Drive.
She is survived by her Mother: Yvonne Campbell; Father: Randolyn Newry; Stepfather: Metlan Campbell; Stepmother: Florence Newry; Grandfather: Nehemiah (Vera) Rolle; 2 Sisters: Mikelle Coleby of Atlanta, Georgia & Nickera Newry of Philadelphia, Pennsylvania; 3 Brothers: Randolyn Jr., Ethan & Renardo Newry of Amarillo, Texas; 3 Nephews: Renaldo Smith, Remond & Randolyn Newry III; 4 Nieces: Carelle Coleby of Atlanta, Georgia, Mabrien & Mavin Newry of Amarillo, Texas & Kenrine; 7 Aunts: Valderine (Ernest Sr.) Winters, Diane (Keith) Fernander, Brenda Sawyer, Karen Francis, Ethlyn (Irvin) Armstrong, Florence (Andrew) Pedican & Yvonne (Richard) Sands; 9 Uncles: Kevin, Sterling & Wendel (Alice) Francis, Dr. Eugene (Francois), Alphonso (Patricia) & Derek (Louise) Newry, Ken, Ian & Darren Rolle; 7 Grandaunts: Cynthia Armbrister, Rebecca Munnings, Christine Robinson, Corine Brennen, Myrtle Knowles, Naomi & Viola Rolle of Exuma; 1 Brother-In-Law: Carson Coleby of Atlanta, Georgia; 2 Sisters-In-Law: Sherine Newry & Elizabeth Newry of Amarillo, Texas; Numerous Cousins including: Ernest Winters II of Exuma, Christa Bowe, Valentino Gibson, Valene Winters, Shakera Conyers, Charenda Armbrister, Terell Farrington, Chavez Sawyer, Alindell Francis of New Orleans, Louisianna, Phylicia and Wendell Francis Jr., Sterling Francis Jr. of Freeport, Grand Bahama, Anthony Miller, Alain (Azalita) and Eugene F. (Yvette) Newry, Mitsico Bernard of Indianapolis, Indiana, Pascal (Michael) Guy of Ottawa, Canada, Katra, Cecily, Llewellyn, Garfield, Rhonda and Sheldon Armstrong, Burton Armstrong of Barbados, Hollis (Barry) Lightbourne, Claudia Bain, Natasha Seymour of Salt Lake City, Utah, Shawn Gordon, Eugene Woodside, Dwight Bullard, Camille Ferguson, Chandra Grant, Antonio, Everett, Clarence Jr., Natasha, Antonique, Krisna, Mario, Mariette, Merrell, Toyell, Cyprianna, and Kijanna Newry, Cyprian Jr., Troy and Antonio Newry of Florida, Reginald Cunningham, Tricia Butler, Soniqua Pedican, Orthneil and Alphonso Jr., Aisha, Derek Jr., Antonio, Tamika and Shamika Newry, Shakera and Caryn Sands, Cecil Newry, Marjorie Gilbert, Rev. Ezekiel Munnings, Joyce Munroe, Marina and Donald Munnings, Daniel and Reginald Robinson, Myrtle Stubbs, Genesta Armbrister, Rosalee Dean and Bridgette Armbrister; And a host of other Relatives and Friends including: Bishop Shervin and Mother Smith, Good Sheppard Church of God, Pastor Oladipupo and first lady Onolola Amoran of Snellville, Georgia, House of Joseph Church family of Stone Mountain, Georgia, Sydney and Yvonne Bootle, the Usher Family of Snellville, Georgia, PMH Engineering and Building Department, the Coleby family, Mother Geraldine Ferguson and family, Bishop Hosea Cox and family, Pastor Ednal Minnis and family, Ella Jane Neely and family, Amanda Ferguson, Brenda Turnquest, Marlene Poitier, Mother Norma Dawkins and family, teachers and staff of McKendree UMC Preschool, Lawrenceville, Georgia, Anthony Penn, Rodriquez King, China Ferguson, Sheila Hepburn, Zellie Minnis, Olga Wallace, Washington and Natasha Gordon, Kay Adams, Bishop V. G. Clarke and Elder Beverly Clarke, Sis. Juliette, Calvary Deliverance Church family and numerous other well-wishers.
Friends may pay their last respects at East Sunrise Mortuary, Baillou Hill Rd. & Cordeaux Avenue from 10 a.m. to 6 p.m. on Friday and again on Saturday from 10 a.m. at the church until service time.