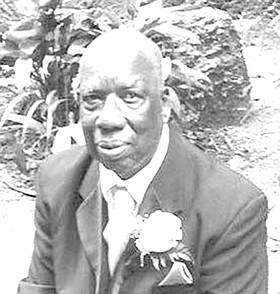 Ret. Sgt 134. Irrington "Fish" Dean
unknown - unknown
Full Military Funeral Service for
Ret. Sgt 134. Irrington "Fish" Dean, 82
of Pinewood Gardens will be held on Wednesday May 30th 2018 at Abundant Life Bible Church Abundant Life Rd at 10am. Officiating will be Pastor Cranston Knowles Assisted by Pastor Gill Maycock. Interment will follow in Lakeview Memorial Garden, J. F. Kennedy Drive.
 
Left to cherish his memory are his wife of 45 years Iva Bell Dean, one (1) sister Nathalee Dean Wallace; 2 sons Brian and Dwight Dean; 8 daughters: Shaesie, Janasi, Brenda, Margo, and Latoya Dean, Valerie Ferguson, Patricia Culmer and Vanessa Bowe; 4 sons in law: Ashton Ferguson, Carlington Bowe, Shelton Culmer, Cameron Smith; 2 daughter in law: Dr. Miriam Dean and Vanessa Davis; 26 grandchildren: Shaneeka, Shavargo and Geno Miller, Pachino Dean, O'nequa Williams, Shareka Smith, Michael Johnson, Ashton and Valentino Ferguson, Christae, Chavantae, Dwight Jr. D'Marion and Dwaysia Dean, Shelton, Pashawn, Parez and Shantalee Culmer, Shantee William, Danicia and Denae Bain, Cameo Smith, Carlisa, Carlea, Kaylee and KhyleeBowe; 8 great grand: Tianna Knowles, DeShawn Newbold, Shaquan Miller, Nawal Mackey Jr. Shamyah Dean, La'Niyah and Shiloh Smith, Ta'Brea Williams; 2 grand sons in law: Lavon Smith and Teron Williams; 1 granddaughter in law: Ashante Dean; Brothers and Sisters in law: Janet & Simon Storr, Zendell & Eyvette Evans, Caston & Jacqueline Evans, Henson & TenceeEvans, Stafford & Mildred Evans, Robert (deceased) & RosenellEvans, Victoria(deceased) & John Wilson; Nieces and Nephews: Randa, Prescott and Natasha Wallace, Wellington & Carnetta Edgecombe, Deborah, Quelisa, Brent, Darron Nela, Gabrielle, Leonardo, Fernando, Janice, Sanford, Kenva, Kevin, Kelvin, Kimberley, Shervin, Mervin, Zachary, Ian, Rashad, Ricardo, Jamaine, Jamal, Jillian, Javon, Lynn Lloyd, Lavalinco, Jean, Michelle, henry, Shanez, Lashan, Jeffery; Grandnieces and Nephews: Typhany Clarke (Mario), ShaniqueEdgecombe, Chantel Fischascher, Lenesia Knowles, Alayah Musgrove, Preston Knwles, Avery Musgrove, Luck & PrecottWallace Jr.; Cousins: Minerva Pratt. Ednal McPhee, Bernard McPhee, Elouise Gibson, Mack Dean, Peggy Dean, Mervin Dean, Agatha Adderley, Craig Pratt, Cassandra Pratt, Cherry Martin, Eugenie Smith, Jennifer Smith, Bridgette Smith, Roslyn Taylor, Alison Haynes of Delray Beach FL, Glen Dean, Retta, Kevin and Michelle Dean; Other relatives and Friends: Alphonso Glinton, Eddie & Celina Burrows, Ruthie Wallace, Dennis Bain, Christopher Cox, Edris & Cherry Bethel and family, Florence Bethel, Naomi Cumberbatch, Pastors Harris & Barbara Evans, Derry, Masie, Shonell,  Justice Milton and Thomas QC Evans, the Evans, Colby and McDonald families of Nicholl's Town Andros, Byron Robinson, Hugh Shearer, Chris Newbold, Keith McSweeny, Rodney Gibson, Mario Simms, Willard Gibson & family, Rowena Gibson & Family, Thelma Gibson, Cleophas Gibson & Family, Orian Simmons & Family, Elizabeth Reid & Family, Rowena Gray & Family, Members of the Royal Bahamas Police Force, Phillip McDonald and Family, Leslie Bowe, Alex & Arenthia Johnson, Nathalie Dorsette, The Rosewood Street family, Conch Hill crew, Nurses and Doctors of the Male Surgical III,  Bahamas Fire &Welding, Kiesha Pinder, Shadika& Denton Bain, Crystal Stuart and Klassy Kuts family, Caretaker Nurse Laverne Charlton, Kendra Deveaux and Family, Sgt. 2310 Valencia Conliffe and Family, Vernelsha Moss Sr. and Family, Jacqueline Smith, Veronica Moss, Management and Staff of Family Guardian, Management and Staff of Exquisite Cutz, Nikia Smith and Family, Dr. Fredrick Smith, Roland McPhee, Lickety Split, Kelly's Home Center, Auto Mall Staff, Management and Staff Island Luck, Neil Gardener and Family, Sgt. 1714 Theresa Stuart, Ricardo Adderley, Edwin Rolle, Carey Family. 
Relatives and friends may pay their last respect at The Paul Faqurharson Centre East Street on Tuesday May 2nd 2018 from 11am - 6:00pm and again at the church on Wednesday from 9:00am until service time.