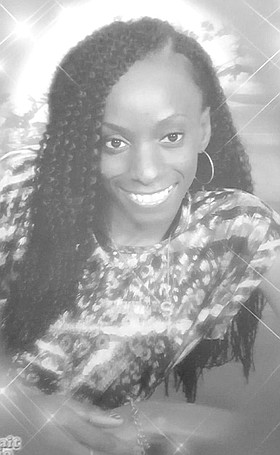 SHEKIRA SHERIMA MISSICK
unknown - unknown
Funeral Service for the late SHEKIRA SHERIMA MISSICK age 32 years of #26 Wilson Track will be held on Saturday, November 3rd, 2018 at 8:30 a.m. at Zion Baptist Church, East and Shirley Streets. Officiating will be Rev Pastor T.G. Morrison assisted by Rev. Anthony Sampson. Interment will follow in Woodlawn Gardens, Soldier Road.
Left to cherish her memories are her loving Mother: Rosemary Missick. Five Sisters: Carmen Williams, Shenicka, Colamae, Leanamae Missick, and Iona Charlton. Six Brothers: Dennis, Shefford, Edison, Alexander, Sterling, and Jerome Missick. Four Sisters-In-Law: Carmen, Margaret, Cathy, and Ruth Missick. Brothers-In-Law: Roy Charlton Alonzo Rolle Sr. Six Nephews: Cameren White, Cassan and Patro Cartwright, Elricko, Elvardo, Javan and Ian Missick Fourteen Nieces: Shania, Jada, Sheena, Nickesha, Camisha, Laverne, Valencia, Unetha, Jeanamae and Joyann Missick, Shamara Evans, Tanaz King, Rodeisha and Desiree Charlton. Four Grand Nieces: Crystal, Sapphire, Shanae, Seriah. Three Grand Nephews: Deante, Kadari, and Damargio. Five Aunts: Marion Brown, Roxanna, and Joan Higgins, Pearl Thompson, and Ceola Missick. Five Uncles: Charles, Shervington, Prince Higgins Sr., Rudolph Missick, Joseph Thompson, and Craig Tony Gomez. Cousins: Andrew, Stacey, Shantell, Decoda, Valencia, Sidnicka, Stephonya, Donovan, Prince Jr., Rachard, Dellerese, Elvin, Anthony, Marvin, Kenwood, Linkwood, Coralee, Marguerite, Joyclyn, Louise, Leona, David, James, John, Arlington, Nevis, Constance, Sylvia, Dianne, Shaneka, Bruce-lee, Kermit, Bennet, Nelta, Nadeen, Jason, Annamae, Lovinia. Godmother: Althea Morley. Godchildren: Azariah Deal, Tyler Adderley. Other Relative and Friends: Leonard Panza and Family, Joseph and Melinda Williams, Rhonda Smith, Vandisha Suckra, Jasmin Taylor, Vargo Bain, Jamal Bethel, Pamela Lett, Dawnette Russell, Alicia Dean-Christie, Kenya Ferguson and Family, Phillip Edgecombe, Eulamae Armbrister and Family, Ashley Armbrister and Family, Petrona Powell and Family, Cleophas Cooper and Family, Gladys Lightfoot and Family, Shirley Adderley and Family, Tanyinka Adderley and Family, Oratio Whylly and Family, R.M. Bailey Class of 2003, Vernamae Solomon and Family, Inez Ferguson and family, Nesbit Higgins and Family, Veronica Capron and Family, Valerie Lowe, Candise Rahming, and The staff of Lowe's Wholesale, The staff of Baker Tilly Gomez, The staff of Abaco Shipping Two, The Wilson Track Family and a host of other relatives and friends too numerous to mention.
Viewing will be held in the Irenic Suite at Restview Memorial Mortuary and Crematorium Ltd., Robinson and Soldier Roads on Friday from 10:00 a.m. to 6:00 p.m. and at the church on Saturday from 7:30 a.m. until service time.