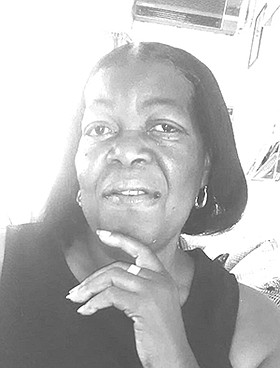 Bernadette Joseph Francois
unknown - unknown
Funeral Service for the late:
Bernadette Joseph Francois
Age: 69 years
A Resident of Prince Charles Drive, Nassau N.P.,The Bahamas and formerly of Borgne Haiti who died on the 2nd of November 2018, will be held on Saturday, November 17th, 2018 at 10:00am at St.Francis Xavier Cathedral,West Street.Officiating will be:Father Glen Nixon Assisted By: other members of the clergy. Interment will follow in Lakeview Memorial Gardens and Mausoleums,John F.Kennedy Drive and Gladstone Road.
She is Pre-deceased by her Husband:Berto Francois
Her Memory will forever live on in the hearts of her SON:PHILIP DECAS
DAUGHTER:NULISE FRANCOIS

DAUGHTER IN LAW:ISEMY DECAS
GRANDCHILDREN: IKIAH, ISAIAH , ISABELLAH;
BROTHER AND SISTERS : Mne Luphette MESIDOR[Pre-deceased], Mne Jarelus JEUNE [Pre-deceased], Mr Aresanse JOSEPH[Pre-deceased], Mr Egzaly JOSEPH [Pre-deceased], Hermilio JOSEPH [Pre-deceased], Tikam JOSEPH [Pre-deceased], Mne Marie-Therese ANTHONY, Abraham JOSEPH;
NEPHEWS: JEANNOT,ARENOLD ,ANTONIO, JOHNSLY , ANGELO, KENSLEY ,JIMMY, TERRY,EVENZ,GARY,VILSER JOSEPH ,BERTHONY FRANCOIS ,OLIVER,KEVIN,QUEVIN RENEL ANTHONY;
NIECES: MARLINE ,NADIA, ALICHA ,MAJORIE ,JUDETTE ,YANIK JOSEPH , DIEVINA THERVIL, EVAN JOSEPH , NANOUSE ,ISLANDE ,TRACY , DAPHNE MERLINE ,MILANDE , JANINE JOSEPH , GURELA ,GERTHA JULES ,MEKA , VANESSA PAUL
DJHENNIE-FLORE ,SHUD-LOVE,GUERDINE ,EXANIE,SHELLA ,SOUSELIE,BERLANDA,ANNACA,REYSHA ,NELSIE YANICK ANTHONY
COUSINS: MORALEX, SILVOIN ,DUEGRON,CONSTAMA,ACEDI ,DUEFET,NORIUS,NORE ,HEMILIA,CLEYONE;
A HOST OF RELATIVES AND FRIENDS INCLUDING: SOLANGE , BLEYETTE ,ALIDA,FRIDA,DANIEL BOSS DA, SOUSOU,PREVILUS,MARSEL,ROLAND,LUCIEN,FRANK CHRISLAINE JACQUES , TECHLET CHERIBIN ,RODREK CAPITA ,ADLAINE TIMAR , TI BERTO,DONNY ALEXANDER . SAUNDERS FAMILY MINNIS FAMILY , CARTWRIGHT FAMILY DOREEN AND MANY OTHERS THAT ARE TOO NUMEROUS TO MENTION.
Friends may pay their last respects at REST ON FUNERAL CHAPEL LTD. #19 Kenwood Street and Mount Royal Avenue from 10:00 a.m. to 5:00 p.m. on Friday 16th November and at the church on Saturday from 9:00a.m until service time.