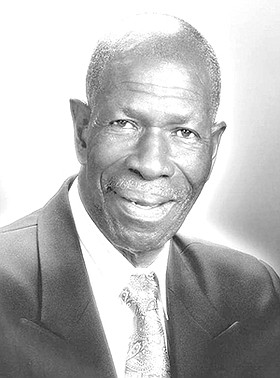 Shadrack Collins Jr.
unknown - unknown
Funeral Service for the late Shadrack Collins Jr., age 80 years of Rolleville Exuma will be held on Saturday November 17 2018 at Ebenezer Baptist Church at 11:00a.m. Officiating will be Rev. Dr. Adam Brown assisted by other ministers of the gospel. Interment will follow in Rolleville Public Cemetery.
He is survived by: Precious, loving, unforgettable memories are held by:
Wife of 52 years: Loretta Collins Daughters: Veronica, Marva, Collette Collins and Lazanta (Arthur) Thompson. Son: Stephan Collins (grandson) Brothers: Raymond and John Collins Sister: Rena McPhee Sister-in-law: Gloria Smith
Grandchildren: Gia Styles, Gabrielle Davis, Garreth Merlander, Komali and Shadven (Ryneishae) Boateng, Azante' Thompson, Christazia Saunders.
Great Grandchildren: Zuri and Stephan Jr.
Nieces and Nephews: Alma, Olive, Melvinia, McCola, Benjamin, and Ira Mchpee, Lincoln, Stanley Jr., Theresa, Edroy Collins, Basil, Ted, Edmond, Prince, Sherry and Babara Collins, Helena Collins-Vickers, Vernesta and Brookes Collins. Christian, Charles Jr, Justino Saunders, Roosevelt, Solomon, Franklyn and Crystal Miller, Leola Smith, Deangelo, Shanique and David Taylor. Numerous grandnieces and grandnephews
Other Relatives and Friends: Patrice Ramsey (adopted daughter)
Mae and Alice Munnings and Family, Florence Rolle, Freddie Davis and Family, Terry Collins, Garth Merlander, Bill McPhee and Family, Dwayne Rolle and Family, Spence Burrows, Yvette and Shavargo, Lessiemae, Clarence, Pastor Douglas Rolle and Family, Pastor Terry Tanis and Family, Catherine McKenzie and Family, Ida Rolle, Edna Baker and Family, Fredrika Knowles, Christopher Hanna and Family, Jacintha Kelly, Maria Roberts, Sharon Brice, Phyllis Woodside, Kimberly Minors, Aniesha Thompson, Warren Johnson, Kenvard Major, Big D, Akuamah Boateng, Everet Hart and Family, Rev. Dr. Ivan F. Butler and Family, Iggerina Taylor and Family, Angerine Curtis and Family, Elvis and Maryanne Rolle, Charles Saunders, Cora McKenzie and Family, Anja Farquharson, Michelle Rolle, Lisa Kemp, Kenneth Carey and Family, Howard Carey and Family, Janet McDonald and Family, Betty Knowles, Julie Swaby and Family, Lynden Gardener and Family, Althea Neely, Masie Rolle, Sharon Gibson, Elaine Cartwright, Janet Sands, Paula Bain, Heather Fowler, Inez Antonio and Family, Nathan Ferguson, Less Rolle, Valencia Thompson and Family, Staff of C and K, Bristol, Exuma Building Supplies, J. S. Jonson Insurance Company, Doctors Hospital, Ministry of Education, Exuma District, Exuma Market, Rev. Valderine Pinder (Pastor of St. Mary's Union Baptist Church and the Community of Little Farmer's Cay), Rolleville and Barretarre Communities, the Exuma District of Seventh-Day Adventist Churches, as well as Neighbor's and Friends of Hillside Estates in Nassau.
Relatives and friends may pay their last respect at Evergreen Mortuary located on Collins Ave & 5th Terrace on Thursday from 10:00a.m. – 5:00p.m. and again at the Church on Friday in Rolleville from 11:00a.m. until service time.