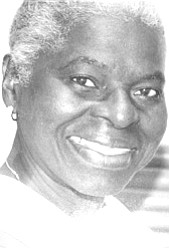 Marilyn Andrea Strachan
unknown - unknown
Funeral Service for the late Marilyn Andrea Strachan aged 64 years of #36 Marlin Drive, Highland Park will be held on Friday September 7th 2018 at 10:00 a.m. at St. Agnes Church, Baillou Hill Road. Officiating will be Rev'd Fr. I. Ranfurly Brown assisted by other ministers of the Clergy. Interment will follow in St. Agnes Cemetery, Nassau Street.
Left to cherish her memories, but to celebrate the life of this Christian Woman Extraordinaire are her husband: Courtney Strachan, Jr; daughters: Da'Shanda and Desiree Pinder-Strachan, Dr. Josephine Bartlett; grandchild: Charlie Bartlett; godchildren: Too numerous to name; siblings: Rodney (Grace) Lightbourne, Jennie (Lowell) Fernander, Judith Blair, Ishmael (Sharlene) Lightbourne, Erica (Michael) Reckley, Jeffrey Lightbourne, Carolyn (Allan) Wright; sisters in-law: Kyron, Michaella and Zandra Strachan and Flora (Ricardo) Moss; special friends: Jennifer Camille (Clement) King; Gina (Henry) Dean; Sis. Sandra Moncur; nieces and nephews: Desiree (Wheatly) Wilson, Rodney Lightbourne, Marlene (Donald) Edwards, Allister (Charmaine) Fernander, Tieschka (Edward) Archer, Junann (Theodore) Lewis, Jennifer (Maurice) Edwards, Kayus Fernander, Dr. Lowell (Candace) Fernander, Steve, Julian (Antoinette), Marvin, Timothy, Paul, Dr. Peter Blair, Jamal, Jasmine, Jayson (Erica), Janelle Lightbourne, Michael (Aliya), Michelle, Johann (Monica), Anthony, Erica-Antoinette Reckley, Ternia, Averia, Davina Wright, Litisha, Latina, Corey, Stacy, Ira, Donanvan, Sophia, Shavonne, Dennis, Delano, Marissa, Candace, Jennifer-Ann and Desiree Lightbourne, K'von Strachan; grand nieces and nephews: Wheatly, Thomas, Timothy, Dianthia and Joshua Wilson; Jarod, Gabrielle and Savannah Lightbourne; Lowell, Saschara, Brian and Charisma Edwards; Adonis, Ajani and Alijah Fernander; Elicia, Erica and Ethan Archer; Samuel and Sari Lewis; Maurice, Kharys and Aden Edwards; Moses, Sierra, Ashton, Chastity, Julianne and Jonathan Blair; Mikhail, William, Madison, Morghan and Malayna Reckley; great-grand nieces and nephews: Micah and Dimitri Symonette; Wheatly Wilson; aunts and uncles in-law: Flora Hanna, Stafford (Joan) Coakley, Ursula and Catherine Coakley, Arthur Chase, Sister Agatha Hunt, Martin (Virgil) Hunt and Rosemarie Hunt, Erma Thompson, Roosevelt (Joann) Colebrooke, and Rhonda (Charles) Johnson (U.S.A.); Coakleys of King Street; cousins: Nelson, Grace, Melony and Jackie Windor; Jackie, Joseph, Ignatious and John Symonette; Shirley (Steve) Burrows - Laverne, Lisa, Linda, Laurel, Felice, Faye and Steve; Etta Feaste - Dana, Monique, Valerie, Alfred, Dwayne, Dion; David Dean – Tracee and David Dean; The Basden Family - Kevin, Debbie, Allison, Godfrey Jr., Kenneth, Kirk; Lashan Coakley; Patrick, Eddison, Patrice, Marsha, Perry, Bernadette, Ken, Adrian Smith; The family of Lionel Dean Jeffrey, Enidth, Audrey and Clayton; Diedre Dean; The family of Val Dean – Valeria, Margo, Ameace, Valderia, Torkell, Camille, William, Michael, Lamont, Tyler and Julian; Myrtle, Andy, Perry, Roger, Anita, and Veronica Gomez; The Family of Lean Fowler - Bloniva, Patsy, Princess, Beverly, Mervin and Oswald; other relatives and friends inclusive of, but not limited to: St. Agnes Senior Choir, St. Agnes ACW, St. Agnes ACM, St. Agnes Christian Formation & Evangelism Ministry, St. Agnes Parish Vestry, St Agnes Church Family, inclusive of the various Church Ministries she served in; Holy Spirit Monday Morning Mass; Arch- Bishop Laish (Joann) Boyd; Retired Arch- Bishop Drexel (Carol) Gomez; Bishop Gilbert (Olga) Thompson; Bishop I. Ranfurly (Olga) Brown; Canon Warren (Thelma) Rolle; Reverend James (Bernadette) Moultrie; Rev. Joseph (Mary) Mycklewhyte and their families; Sisters of St. Martin's Convent; Alvera Johnson, Juanita Carey, Veronica and Rudolph Cooper; Mrs. Bloneva Darville and Family; Claude (Melony) Hanna and Family; T. Craig Gomez and Family; Nathaniel Adderley and Family; Don (Sue) Demeritte; Whitney (Beverley) Rolle and Family (USA); Daphne and Troy Clarke; Friday Night Group & their Families; Late Sen. Clara Rose King Family; Pros Sporting Club; Grand Lodge of Scotland; St. Michael Lodge Chapter; Tuesday Lunch Bunch Members; PixiXi Chapter of Omega Phi Psi; Dr. Beverton Moxey; Dr. Indira Grimes and Accident & Emergency PMH; Faithful Gardiner – Rocheny; Claudis Blanc and Agatha Sewell.
~In lieu of flowers, a special offering will be collected in aid of the various outreach ministries that Marilyn was involved in.~
A collection will be take to establish a Memorial in the name of Marilyn A. Strachan to support the various Ministries she has been involved in, i.e,
The mass Tape Ministry, The Shut-in Ministry and The Elderly Wednesday Mass Lunchen.
Family and friends may pay their last respects at Bethel Brothers Morticians, #44 Nassau Street on Thursday from 10:00 a.m. to 6:00 p.m. and at the church on Friday from 9:00 a.m. ‬until service time.