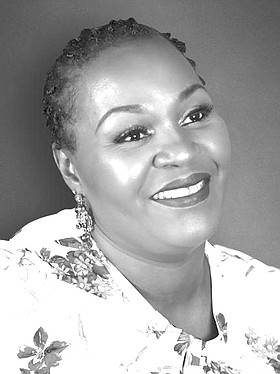 Stephanie Lavina Higgins
unknown - unknown
Funeral Service for Stephanie Lavina Higgins age 43 years and a resident of #107 Aberdeen Drive Freeport, Grand Bahama, will be held at 1:00 p.m. on Saturday 15th, September, 2018 at Calvary Temple Assemblies of God, Clive Avenue, Freeport. Officiating will be Rev. Peter Pinder assisted by Pastor Henry Cooper Jr. Interment will follow in the Pinder's Point Public Cemetery, Pinders Point, Grand Bahama.
Left to cherish her memories are her husband: Emmitt Higgins; children: Emmitt "Xavier", Emma, Emmile and Tiphanie; parents: Hosea and Joanna Lewis; father and mother in-law: Rev. Leroy and Phamie Higgins; brothers: Hosea Jr., Troy, Elvis and Jason Lewis; sisters: Rachel Baker, Betty Bartlett, Lavern and Pheren Saunders and Patrice; brothers in-law: Leroy Saunders, Dudson Higgins, Terrance Baker and Elton Saunders; sisters in-law: Shantel, Christin, Quetel and Delvina Lewis and Jackie Jackson; aunts and uncles: Cyril (Bernice), Collins Hield, Maliachi Hield (Rosie), Nathaniel Hield, Nesbitt Higgins (Berthamae), Allan, Felton Thompson and Rudolph Missick, Meldora, Margaret, Curlena Lewis, Blanche Mather, Lilian O'Brien, Merlene Hield, Rejoiner Carey; nieces and nephews: Troy Jr., Miles, Travon, Tivia, Tevin, Tyla, Tyrel, Giovannie, Zach, Azharia, D'Vonte, Jordan, Taylor, Jeremiah, Andrew, Nathan, Gabrielle, Joshua, Danielle, Deandra, Brandon and Brittany; godparents: Iris Cooper, Diana Russell and Henderson Lewis; godchildren: Anya Miller, Destiny and Danielle Cooper and Kenron Lamm; cousins: Alice (Rev. Hiram), Iris (Leroy), Pamela (Ricardo), Meoshi (Jermeko), Hon Iram Lewis (Heather), Deacon Joe (Daisy), Harvey ( Jackie), Mary, Lisa, Becky (Ricardo), Zorah, Sarah (Ted), Lashanna ( Thomas), Diana, Cherry, Alberta "Izzy", Lawanda ( Wayne), Barbara, Karen, Lashan (Ricardo), Doreen, Irene, Nathalie, Natanya (Angelo), Terell, Stacy, Shanique and Juanita, Minister Kenneth (Melony), Deacon Roberts (Clarissa), Anderson, Dan (Lorna), Pastor Teddy (Linda), Michael, Anderson (Dianne), Ossie (Anastacia), Nathaniel (Bianca), Zenfrick (Evelyn), Wallace (Gwenny), Gary (Mawanna), Cyril Jr., Garrick, Pastor Sidney (Minister Margo), Calvin , Stephenson, Dwight, Kevin, Devin, Gaston, Kellio and Tanya, Everson, Tammy, Alex, Sherry, Donna (David) and Errol, Clarence, Debbie and Ryan Heild; special friends: Zorah Lewis, Monalisa Dean -Adderley, Chakita Thompson, Betty Taylor, Natasha Jarrett, Janet Laing, Sarah Cooper, Claudine McIntosh, Nakila Farrington, Quinton Laroda, Venoila Nelson, Drumeco Archer, Tamika Woods, Desmond "Shakey" Hall, Coach Ravano Ferguson and Fast Track Club and Janet Forbes Dean; pastoral friends: Bishop Clifton and Apostle Dr. Carolyn Cooper, Pastor Henry Cooper, Apostle Ann and Tony Grant, Pastor Preston Cooper Jr., Pastor Freddie Laing, Bishop Edwin Pinder, Pastor Peddison Baillou, Pastor Wendel McIntosh and all other pastors especially from west Grand Bahama; other relatives and friends including: Jack Hayward Senior High Administration , staff and students, Thyra Johnson and Helen Russell, Hawksbill class of 1992, Zion Baptist church family, Invaders for Christ Family center, Agape House, Kingdom Worship center, althea Roberts, Jayella Mather, Pearl Williams, Larry Wilchcombe, Clarence and Michelle Reckley, Hon Peter Tunrquest (Deputy Prime Minister). Maurice Moore, Mable Russell, member of Kappa Alpha Psi Fraternity, family of the late Vera Poitier, Byron and Laytota rolle, Nathan, Kendal, Kevin and Elwood Higgins, Altamese Thompson, Finetta Taylor, Dr. Teo Cooper, nurses , doctors and staff and The Rand Memorial Hospital, Dr Farquharson and Dr. Kurling
Relatives and friends may pay their respects at Yager Funeral Home & Crematorium, Queen's Highway on Friday from 12:00 noon until 6:00 p.m. and at the church on Saturday from 11:30 a.m. until service time.