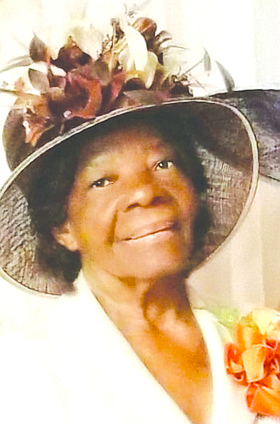 Clara E Cox Lewis
unknown - unknown
Funeral Service for the late Clara E. Cox Lewis aged 89 years of Margaret Lane, Garden Hills #3 and formerly of The Forest, Exuma will be held on Sunday September 23rd 2018 at 10:00 a.m. at Hillview S. D. A. Church, Tonquine Williams- Darling Highway. Officiating will be Pastor Michael D. Toote, Pastor Paul A. Scavella, Pastor Peter Joseph and Pastor Leonardo Rahming. Interment will follow in Lakeview Gardens, John .F. Kennedy Drive.
She was predeceased by her husband Joseph B. Lewis
Left to cherish her memories are: Her 9 Children: Dr. Nigel (Lorna) Lewis, Valderine (Eric) Sweeting, Pastor C. Melvin (Constance) Lewis, T. Milton (Verna) Lewis, Joseph (Cassandra), John (Sharon), Roger (Gertrude) Lewis, Dr. Joanne (Andrew) Lewis Simmons, Juanita Denise (Dominique) Lewis Johnson. 17 Grandchildren: Audley Lewis, Dr. Nicole (Andrew) Lewis Jones, Erica Sweeting (Alvin) Collie, Eric Sweeting Jr., Melanie, Melvin Jr. (Arianna) Lewis, Takara, Tameka, Joseph iv, Jodie, Jonnae, John LewisJr., Kellen Simmons, J.D., Anya, Ashley Lewis, Kheli and Kristin Johnson. 4 Great Grandchildren: Robert Lewis Jones, Aidan Collie, Melia Bridgewater and Milena Lewis. 2 Brothers: Mr. Forester Bowe, and Mr. Sidney Cox of Freeport Grand Bahama. 2 Brothers-in-law: Rev. John Lewis, and Pastor Alphonso Lewis. 6 Sisters-in-law: Deaconess Susan Russell, Deaconess Brenetta Evans, Doris, Loretta and Triphenia Lewis, Sonia Cox. Nieces and Nephews: Edney Knowles, Former Senator Rodney Moncur, Vanria Rolle, John, Leta, and Debra Cox, Christine Thompson, Paula Cox Rollier, Rochelle Hill, Glenroy, Hermese, Apollo, Freddie, Tommy, Theo, Gregory, Phyllis Bowe, Sidnell Cox, Sonja Cox Ford, Serena Cox Miller, Stacey Cox Knowles, Shantell Cox, Denise Cox Farquharson, Joel Lewis sr. Derron Lewis, Antionette Lewis Devaux, Charlton, Dale Riley, Meltese, Perlene Lewis Baker, Nemiah Lewis, Leotha Bain, Dr. Kirk Lewis. Other Relatives &Friends: Ruth Anderson and family, the Sweeting's family, the Maycock's family, the Curtis' family, the Cartwright family, the Harrison family, the Simmons family, The Dorsett's family, the Johnson's family. James Sands and family, Eric Rolle, Vernal Moss and family, Mr. Poitier and family, Charles Smith and family, Edwin Spencer and family, the Woodside, Dahl, Galanis families, Winsome Flowers, Ruth Walkes and family, Betty Moses and family, Roy Moncur and family, Stanley Major and family, Cecil Cartwright and family, Randolph Smith, the Haven family, Amos Flowers and family, Pastor Howard Barr and family, Sandra Darling and family, Mariletta Bethel and family, Helen Hall, Descendants of Mary Miller and Lorena Sands, Geneva Lewis and family, Arlington Wood and family, Marjorie Adderley and family, The Moore family, The Curling family, J. Anthony McKinney and family, John 'Timer' Turnquest, E.R. Hanna and family, Justin Sewell, Lewis & Longley, The Bahamas Bar Council, Staff of BTC @RND, Burton Rodgers, Dr. Stephanie Hutcherson, Dwain Wallace, Annette Longley, Justice Renae McKay, Staff of Universal Dental, Staff of Sea Horse Sailing, Staff of Lewis Orthopaedics, Pedro Llames and family (Miami Fl.), Eugene Dupuch Law School, The Bahamas Maritime Authority, The National Women's Advisory Council, Jacqueline Gibson and South Bahamas Conference Women's Ministries, the Jolly Girls, Estelle Cherenfant, Rufus Johnson Kendall Curtis, Stella Romer and Families, Paula Darville, Dency Moss, Special Thanks to: Caregivers Gina Moncur and Sandra Blake, Drs. John Carter, Kevin Moss, and Eugene Gray, Pastor Leonardo Rahming and family, Pastor Michael D. Toote and family, Pastor Eric Clarke and family, The Johnson Park Seventh-day Adventist Church family, the entire South Bahamas Conference of Seventh-day Adventist Church family, and other families and friends too numerous to mention.
Friends may pay their last respects at Bethel Brothers Morticians, #44 Nassau Street on Saturday from 10:00 a.m. to 6:00 p.m. and at the church on Sunday from 9:00 a.m. until service time.