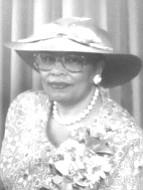 Helen Louise Mckenzie-Forbes
unknown - unknown
Funeral Service for the late Helen Louise Mckenzie-Forbes aged 78 years of #132 Bamboo Blvd and formerly of Driggs Hill; South Andros will be held on Saturday September 22nd 2018 at 10:00 a.m. at Christ The King Anglican Church, Ridgeland Park West. Officiating will be Fr. Colin Humes. Interment will follow in Woodlawn Gardens, Soldier Road.
She is survived by her : Children: Jonathan Forbes, Vanria Smith, Roy Forbes, Janice Arthur, Jillian Meeres, Edsel Armbrister and Leo Armbrister (Deceased) Daughters in Law Vandria Forbes and Lettia Johnson- Armbrister. Son in Laws Marvin Smith and Brandon Gibson. Grand Children: Valentina and Jamaal, Jermine (Deceased) Forbes, Charles Isaacs Jr Kadeem, Kyefer and Keaneirha Smith, Tessah, Dwayne and Dannard Arthur, Mequel Wells, Bronte McCartney Gibson, Brya McCartney Jade and Naveah Meeres, Ravon, Jasmine, Edsel Jr, Maisha, David and Rahki Armbrister, Javeen Smith. Great Grand Children: Marlina, Jayce Jayvier, Kaley, Xayah, Marc Anthony, Caden, Amari, Bryce, Amina and Bryden. Siblings: Adelbert McKenzie (Elsa), Inez Taylor, Dorothy Curtis, Rose Miller (William) Juanita Hamilton, Janet Simmons (Daniel) and Ivadell McKenzie. Aunts & Uncles: Doris McKenzie, Dame Margurite Pindling, Julia Armbrister, Sidney McKenzie and Priscilla Williams. Nieces and Nephews: Dario and Brenda Ferguson, Darrin Knowles (Shan), Troy Trevor and Dellarese McKenzie, Shira Newbold, Keith Jones, Clifford Darling Jr., Beverly Nairn, Andrea Thompson, Sharlene Hanna, Theresa McPhee, Anthony and Alexis Taylor; Leslie Jr, Monique McKenzie and Erica Barr, Nikita, Lynden, Anthea and Teran Curtis, Tanya Bullock, Monalisa Adderley, Dario and Jaimie Mckenzie and Kimberly Forbes. Sean Roshann Corri and Peter Miller; Ricardo Royal Jr and Adrian Hamilton Nicoya Rolle and Gail Bowleg; Damon Dames, Crystal Mercedes, Cherrell and Chernicia Stuart. Cont;d……Other Relatives and Friends including; Obie Pindling, Abdul Armbrister, Devon Williams, Selwyn Andy Gail and Kevin McKenzie, Janice Weech, Iva Simmons, Othneil McKenzie Cora McKenzie, Hillary Smith, Brenda McKenzie, Amos Flowers and Wanda Miller, Aribella Forbes, Sheila and Stephanie Forbes, Yvonne Williams, Ms Nunguez, Miss Sindi Johnson, Miss Katie Hall, Eldece Clarke and Family The Davis Family of Fox Hill, The Arthur Family of Freeport Grand Bahama, The Rahming Brothers, Mr. Innis, Dudly Siefert, Mary Jane Moxey and the Christ the King 7:am and 10:am choirs, Christ the King ACW, Rev'd Fr. I Ranfurly Brown, Rev'd Fr. Sebastian Campbell, Fr. James Palacious, Canon Curtis Robinson, Rev'd Willish Johnson, Archdeacon Kingsley Knowles, Dr Agreta Eneas and Staff, Maal's Barber Shop, Sophie's Unique Designs Dressmaking, Marilyn Munroe at Angie's Designs Staff South Side Cleaners, Staff Waffle House Staff Shipahoy Shipping Company The Staff at Bethel Brothers Morturary and numerous other relatives friends and neighbours.
Friends may pay their last respects at Bethel Brothers Morticians, #44 Nassau Street on Friday from 10:00 a.m. to 6:00 p.m. and at the church on Saturday from 9:00 a.m. until service time.