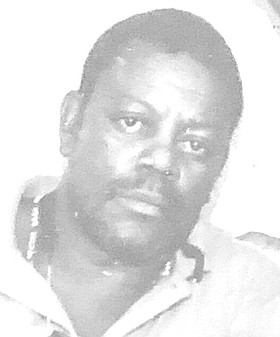 Alexander "FIRE" Krishna Marshall
unknown - unknown
Funeral service for Alexander Krishna "FIRE" Marshall, age 62 of #8 Burial Ground Corner, will be held on Saturday, April 13, 2018 at 3 p.m. at St. Agnes Anglican Church, Bail1ou Hill Road. Officiating will be Rev. Fr. I. Ranfurly Brown. Interment will follow in the Southern Cemetery, Cowpen and Spikenard Roads.
"Fire" was predeceased by his Father: Fredrick Marshall, Daughter: Pearl Marshall, Sisters: Melinda Marshall and Phyllis Hepburn
Left to cherish his memories are his Mother: Rosabelle Hepburn Bethell; Daughters: Mano Christine Marshall Grant; 8 Sisters: Rhondalee, Shari, Louise and Belinda Marshall, Nathalie Duncombe, Stephanie Solomon, Easterlyn Ferguson and Georgette Thompson; 6 Brothers: Fritzroy, Phillip, Trevor, Michael Marshall, Brent Stubbs and ASP Goran Bethell; 2 Aunts:- Shirley Gibson and Beryl Marshall Miller; 1 Uncle: Oswald Marshall Sr.; 8 Grand:-\ Clarence, Clarece, Trevor, Nikita, Mandingo Grant, Ervin Moxey and Armando Seymour; 7 Great Grandchildren: Arianna and Amirah Grant, Mario and Trillian Moxey, Trevor Grey, Christiano Thompson and Morgan Campbell; 16 Nieces: Shakeitha Dean (Gavin), La'trel Lowe, Diana Morley (Marco), Rosemae Brown, Kashara Marshall, Natalia Corduroy, Kera, Deandra & Gabrielle Duncombe, Alexandrea Rolle, Christine Rolle, Antonesha Thompson, Shakera Marshall, Brittney, Brentisha and Brenae Stubbs; 14 Nephews: Petty Officer Edward Marshall, Gregory McKay, Reuben Marshall, Dion & Shawn Bullard, Sgt. 3116 Kieron Rodgers, Edward & Johnathan Kemp, Sgt. 3127 Terell Stubbs, Cardinal & Nicholas Ferguson, Brent Stubbs Jr. and Sha'khryi Bethell; 1 Sister-In-Law:- Joan Stubbs; Numerous Relatives and Friends including: Wellington Smith, Dr. Ferriston Lockhart, Anthony Bowe Sr., Ethric Bowe (Linamae), Athma Bowe (Linda), Mark, Julius Laing, Leothyne Walkine, Bridgette Kemp, Toni, Abagail & Kelrah Marshall, Steven, Debbie, Gaynor, Clytis & Shelly Miller, Natasha, Trevor & Tino Woodside, Jennifer Marshall Mackey, Vasco Marshall, Eric Ferguson (Terry), Lisa Wohlleb, Wendy & Bianca Campbell, Brian Ferguson, Sidney & Roland Cartwright, Correctional Officer Ilena Lowe, Icealena, Kadean & Trevel Lowe, the Hepburn Family, the Moncur Family, the Simmons Family, the King Family, the Bucannhan Family, the Daxon Family, the Seymour Family, the Wallace Family, the Marshall Family, the Cooper Family, the Glass Family, the Strachan Family, the Josey Family, the James Family, the McKay Family, Louise Wilson & Family, Daphne Davis, Betty Brown & Family, Anishka Taylor & Family, Ms. Zelma & Family, Karen Russell & Family, the Roads & Park Family, the Burial Ground Corner Family, the McCollough Corner Family, the Mason Addition Family, the Saxons & One Family Junkanoo Family, the Lily & the Valley Corner Family.
THERE WILL BE NO VIEWING.
Relatives and friends may pay their respects by signing the condolence book in the Blessed Redeemer Chapel at Ferguson's Funeral Directors, 7th Terrace Collins Avenue, on Friday from 10a.m.- 5p.m. and at the church on Saturday from 2 p.m. until service time.