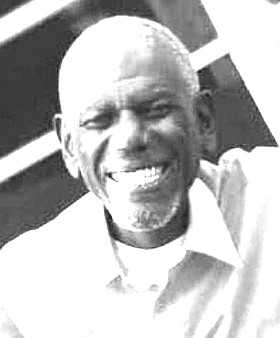 Don Roberts Bowe
unknown - unknown
Funeral Service for Don Roberts Bowe age 55 of Martin Street will be held on Saturday August 17, 2019 at 1:30 pm at Evangelical Assembly Church of God in Christ, Baillou Hill Road and Fleming Street. Officiating will be Rev. Dr. Patrick V. Smith assisted by Rev. Nelson Brown and elder Stephen Sands. Interment will follow in Old Trail Cemetery, Abundant Life Road.
Left to cherish his memories are: 

Mother: Barbara Bowe-Pinder

Stepfather: Rolly Pinder

Stepmother: Exrella Roberts

Son: Donald Gray

Brothers: Anthony Penn, Kirkland Bowe, Carlton Robinson, Dave Lindsey, Silvan Adderley, Lennox Morgan, Donnasio, Dario, Krishna and Christopher Roberts 

Sisters: Carla Coakley, Suelynn Stuart-Higgins, Stacey Forbes, Raquel Strachan, Dionne Heath, Deidre Bullard and Dellarese Roberts. 

Brothers-in-law: Mario Coakley, Timothy Heath, Jamal Bullard and Dominic Strachan

Sisters-in-law: Thia Robinson, Sarah Bowe, Stephanie Bowe, Erica Roberts, Therez Roberts and Charmaine Roberts. 

Nephews: Livingston, Anthony Jr., Kirkland Jr., Ahmad, Sujahri, Dianza, Dave Jr., Silvan Jr., Tamicko, Mario Jr., Lasheano, Donovan, Denzel, Don-Allen, Davon, Frederick, Ramesh, Logan, Mateos, Dylan, Akaree, Devon, Dario Jr. and Daki. 

Nieces: Anthonette, Lashantia, Diamond, Carlrita, Charlize, Retisha, Silvanya, Sileah, Lendisha, Lenique, LaCarldra, Domonique, Moniqua, Lakishna, Lashantè, Deonte, Timia, Rajesh, Raashi, Kiyara and Rachael. 

Uncles: Carl Curry, Earl and Phillip Bowe

Aunts: Rennia Balfour, Joan Pinder and Naomi & Cheryl Bowe

Grandnephews: Kellan, Dario, Nykarii, Ryoku, Rahiem, Kirkland 3rd

Grandnieces: Jasmine, Adrienne, Annalise, Davashanique, Charmiah, D'Zaria, D'Yor, Cherish, Leniyah, K'Lyn

Cousins: Susan, Noel, Darnell, Lance, Delvin, Lakeisha, Carl, Peaches, Desmond, John, Clinton, Pamela, Marvin, Juiette, Maureen, Charmaine, Darwin, Charnae and Emery. 

Other relatives and friends including: 
Mildred Rolle & Family, Val Darling & Family, Gloria, Sabrina, Marika & Family, Jappy Forbes & Family, Rita and the Four Seasons family, Zandra and the Martin Street Family, John Stuart & Family, Reverend Smith and the Evangelic Assembly Family, Naomi Rolle & Family, The West Street Family, The Bain and Grant's Town Family, Member of Parliament for the Bain and Grants Town Travis Robinson.
Viewing will be held in the Legacy Suite of Vaughn O. Jones Memorial Center, Mt. Royal Ave. and Talbot Street on Friday from 12:00 noon to 5:00 pm and on Saturday at the Church from 12:30 pm until service time.