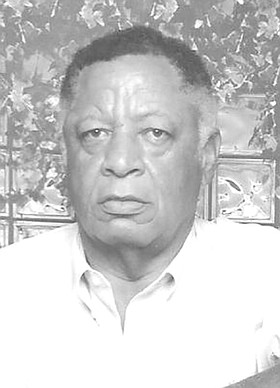 Leroy Candel Knowles
unknown - unknown
Funeral service for
Leroy Candel Knowles, (ELEUTHERA) 74
a resident of Rock Sound, Eleuthera, will be held at St. Luke's Anglican Church, Rock Sound, Eleuthera on Saturday, August 17, 2019 at 10:00 a.m.  Officiating will be Fr. Bradley Miller, assisted by Rev. Chitan Thompson. Cremation follows.
He is survived by His Wife Prudence, Five Children: Catherine Knowles-Stubbs, Cavin (Fontella), Carl, Corey (Shakira) and Crystal Knowles. Grandchildren: Hershal, Kedrique, Nathaniel, Jayden, Faith, Ianna, Charity, Kayson and Imani. Adopted Grandchild: Alexander Williams Jr. Sisters: Lady Clara "Shirley" (His Excellency, The Hon. Cornelius A. Smith), Evelyn (Christopher) Deal, Althea Gibson, Lillian Nixon. Brothers: Ronald and William Knowles. In laws: Rose (Micheal) Nairn, David, Charles & Eardley (Carolyn) Hepburn, Uncle: Donald (Ancil) Knowles Aunts In Law: Ethel Knowles & Olivia Symonette. Nieces and Nephews: Cornelius (Charlene), Alvin (Rochelle) & Cornelia Smith, Debbie Knowles-Carter, Brigette & Cecil W. (Princess) Knowles, Samantha Knowles-Cornish, Randy(Khalia), Ryan, Ray & Remia Knowles, Edwin, Andy & Ghia Scavella, Delvin Higgs, Chaquita Nixon, Desiree (Franklyn) Moncur, Nicolette Anderson, Nia (Brad) Cooper, Howard & Latanya Knowles, Judy (Paul) Simmons, Sharon Johnson, Shakira Sands, Larry Crane, Carol Bennet, Christopher (Krystal) & Craig (Melisa) Lewis, Vernice (Jacquelin) Joseph, Devon, Delano & Delmar Hepburn, Thelja & Conrad Hepburn, Lashayne (Terrance) Johnson, Keegan (Janell) Culmer, Chaz & Shaquille Hepburn, Jason & Bria Nairn Cousins: Ernestine Brown & family, Avis Pyfrom & family, Alvene (Terry) Sands & family, Dennet (Terry) Ingraham, Robert (Yvonne), Clifford (Valerie), Micheal (Carol) & Tommy Sands, Tony, Carliemae, Garth & Erma Sands & family, Edmond & Cleveland Symonette, Sharlene Symonette-Carr, Sandra Roberts, Steven (Monique), Marcus, Una & Edna Symonette, Ida Symonette, Patrica Saunders, Margret Johnson, Edgar & Anslom Symonette, Clarisa, Marsha, Netta, Norman, Jeff, Rodger & Anthony Symonette, Jesse Hinsey, Joan, Donald & Brian Carey, Clara (Ivan) McPhee, Lolita Penn, Loretta Mackey, Gerena Albury, Genette Butler, Roston, Cleveland, Frederick, William, Glen, Talmage & Anderson Knowles, Clarissa Seymour, Elizabeth Carey, Lillian Russell, William Fox, Ricardo Russell, David (Kelly) Howard (Ruthie), Donald & Charles Knowles, Clarissa (Christopher) Hanna, Peter (Barbara), Howard & John Noris Carey, Irene (John) Carey, Marsha (James) Balfour, Sylvia Carey, Miriam (Rostan) Sweeting, Zelma Carey, Natalie (William) Bastian, Delphene Carey, Gertrude Colebrooke Special friends: Cedric (Winnifred), Frank (Marinette), Cyril (Enid) & Robert Hall & families, Cyril Taylor, Patrick Maynard. Friends: Dr. Sidney Smith & The Rock Sound Community Clinic, Dr. Robin Roberts, Dr Warna Roberts, Nurse Khristine Wring, Nurse Bianca Edwards, Nurse Regina Ingraham, Fr. Bradley Miller, Fr. Addison Turnquest, George Fernander, Junior Symonette, Evan & Shelia Gibson, Bettylou Knowles, Sammy & Kathleen Culmer & family, Errol & Hazal Sands & family, Genesta Sands, Robert Sands, Gurth Knowles, Kendricka Kemp, Michelle Bailey, Olive Sterling Johnson, Tracey Adderley, Kerri Hepburn, Marissa LaFleur, Jacqueline McKenzie, Dominque (Claudine) Bain & family, Robert & Christopher Hall, Samantha Stubbs, Edna Barrow, Margarita, Jule & Mary Culmer, Keith Saunders, Sheena Darling, Phillipa Dean & family, Camille Sands, Tamika Cooper, Tenielle Weir, Lakiesha Ferguson, Shonique Sweeting, The Prayer Group of St. Gregory's Anglican Church, Fountain of Life Church, St. Luke's Anglican Church, the entire communities of North, Central and South Eleuthera, other friends and family too numerous to mention.
Friends may pay their last respects at Demeritte's Funeral Home, Market Street, from 3-5:00 p.m. on Wednesday, on Friday in Eleuthera from 12-6:00 p.m. & on Saturday at the church from 9:00 a.m. until service time.