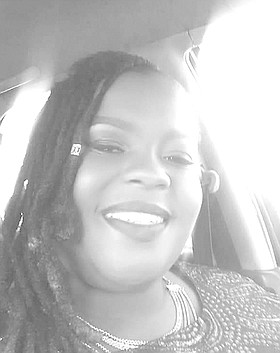 Melissa Mona Dean
unknown - unknown
Funeral Service for Melissa Mona Dean Age. 36yrs. of #5 Coral Road, will be held on Saturday, August 17th, 2019 at 1:00 pm at New Light Ministries, Faith Ave. South. Officiating will be Rev. Antonio O. Beckford Sr., Assisted by Other Minsters of Religion. Interment will follow in the Western Cemetery, Nassau Street.
She is survived by her Children: Cordero Thurston, Alisa Dean, Zhion Wells and Brinae Henry, Mother: Bridgette Smith, Father: Glen Dean, adopted father: Stephen Hepburn, grandmother: Leona Greenslade, Special Friend: Brian Henry, Sisters: Shacara and Lashaunda Hepburn Serena Williams, Leading Woman Marine Atiya Coakley (RBDF), Deandra and Christina Murphy, Cpl2892 Glendera Dean Gomez (RBPF) and Ginea Dean Brothers: Cpl. 2999 Glen Dean (RBPF), Clarence Rahming III, Aunts: Monique Greenslade, Helen Thompson Calabash Bay Andros, Sharon Lockhart Coakley, Garnell Miller, Deborah Russell Cedar Harbour Abaco, Kenva Gibson Freeport, Dianna Rahming and Evelyn Dean. Uncles: Walter Russell Cedar Harbour Abaco, Dario Gibson, Deon Coakley,AlfredDean, Oral Dean and Willard Dean. Nieces and Nephews: Chrishara Hepburn, A'Mez Adderley, Raegan Murphy, AkielLightfoot, Bond Munnings, grand aunts and uncles: Dorothy King, Veronica Bonimy, Doreen Clarke, Pernella Pratt, Shirley Thompson, Elain Forbes, Clinton & William Thompson. Cousins: Jamie Smith, Tavette Adderley, Tanisha Kelly, Charlezand Charles Greenslade, Renaldo and Robertha Wright, Valarie, Burns Rosalee, Wendy Ambrose, Brendamae, Tanya, Armaly, Sonia, Charmaine ,Katrina, Shania, Mya, Marchello, Marcaio, Jaelyn, Maleah, Latasha Charles, Oriea Forbes, Scharra Russell, Waldez Russell, Leonardo and Lamont Coakley, Chaves Miller, Kenton, OJ, Otishka & Darielle Gibson, Kwanie Kaysa Young, Donnell and Darecka Cox, Shenique and Sharelle Charlow, Ghakelia, Hiemika and Shavon, Godfathers: James Smith and McCarlton Dermeritte. Other relatives and friends: Thurston family, Denica and family, Nicky and family, Tasha and family, Cordell Thurston, Shirvin Coakley, Dean family, Hepburn family The  Barry, Ethel Pratt, Christina Taylor and family, Francess Corroll and family, Carnetta Rahming and family and all the Super Value locations. 
Viewing will be held in the Legacy Suite of Vaughn O. Jones Memorial Center, Mt. Royal Ave and Talbot Street on Friday from 12:00 noon to 5:00 pm and on Saturday at the Church from 12:00 noon until service time.