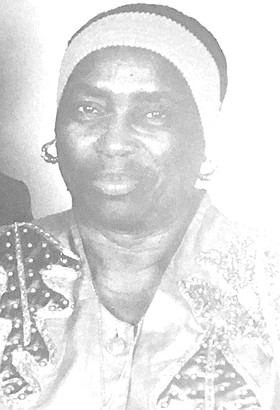 Ermyntrude "Trudy" Miller
unknown - unknown
Funeral Service for Ermyntrude "Trudy" Miller 90 of Warren Street. , Oakes Field and formerly of Ragged Island who died on Friday 1st February 2019 . Will be held on Saturday 16th of February 2019. at St. Francis Xavier Cathedral, West Street, officiating will be Monsignor Alfred Culmer assisted by Monsignor Simeon Roberts. Interment will follow in St. Joseph's Cemetery, Boyd Road,
She is survived by her children: Altheamease Richardson (Andrew), Judy Miller, Rudolph Miller (pre deceased) (Jennifer), Ava Armstrong (Maurice), Michael Ramsey (Sabrina), Berkley Miller (Sandra), Margo Rose, Portia Miller, Katie Gresham, Vaughn Miller Sr. (Sandra), Valerio Miller (Tammy) 
 
Grandchildren: Antino & Andrico Richardson, Andrell Dean (Elkeno), Julian Richardson, Renaldo Miller (Caranikka), Rudia Thompson (Stephen), Joshua Miller, Tamika Carter (Antwan), Maurice Armstrong Jr., Ariell Armstrong-Ingraham (Audley), Jamoga Ramsey, Tenille Brown, Ray Rose II (Shontay), Rayvaughn Rose, Krispin Jones (Kevin), Ventina & Maritza Turnquest, Joleise Gresham, Indera Harding (Renaldo), Vaughn Miller Jr, Valentino Williams (Krizia), Gennera Miller, Zaverio Miller (Aniqua), Valeria Miller, Michaela Derival (Ed), Lyndel Richardson, Reece Hyler, Carlos Doughty 
 
Great Grandchildren: Ahmad, Ahmon, Azea, A'hdon, Amya, Andrico Jr. & Andre Richardson, Elkeah, Elkeno & Elkenzo Dean, Kairo Richardson, Renauldae, & Renikkay Miller, Sagenyjah, Sahajah, Saffyjah Douglas, Au-Mirkal Jackson, T'mauri Armstrong, Autumn Ingraham, Tenille Brown Jr., Tyrese Brown, Ray Rose III, Raygen & Ryan Rose, Amir Thompson, Karlito Major, Kymani Doughty, Aiyanna Harding, Kayden & Kaylee Williams, Freddria McKay, Nova Brown & Zethan Miller 
 
Sisters In law: Carmen McPhee, Elizabeth Miller 
Brothers In Law: Frank & Chris Miller 
Nieces: Coralee Forbes, Marcell (Monique)Beckford 
Nephews: Joshua Bruno, Danny Williams, Patrick Forbes 
Cousins: Malvena Lockart & Family, Zelma Williams & Family 
Host of other relatives and friends including: Agatha Delancey, Brenda Ferguson, Jeanie & Denise Scavella, Shawn Thomas & Family, Christopher Pinder, Cecil Richardson, Anthony Seymour (Farmer Brown), Philip Burrows (Chimey), Wilfred Minnis & Family, The Richardson Family, Barbara Grazette, Arlene Strachan, BJ Percentie, Claudette Higgs, Mark Dillet & Family, Mr. Leonard Culmer & Family, Willie McCartney & Family, Fritz Lane Family, Warren Street Family, Carla Kelly & Family, St. Josephs Parish & Family, Carol Rolle, Marcia Steele, Barbara Simpson, Bridgette Burrows, Bronell Humes & Crystal Demeritte, April Neely & Family. 

Viewing will be held in the Legacy Suite of Vaughn O. Jones Memorial Center 103 Mt. Royal Avenue and Talbot Street , on Friday from 11:00 a.m. to 5:00 p. m. and Saturday at the Cathedral from 10:00 a.m. until service time .