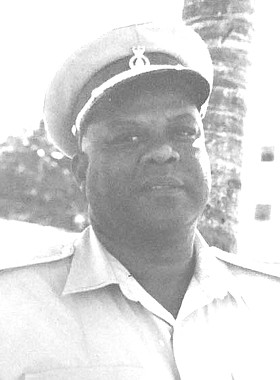 Retired Sgt. Kenneth Douglas Thompson, BDCS
unknown - unknown
Semi-Military Funeral Service for the late Retired Sgt. Kenneth Douglas Thompson, BDCS age 76 affectionately called "Sir K." "Bobby" age 75 years of Plumbago Drive, Fox Hill will be held on Friday, February 15th, 2019 at 11:00 a.m. at Macedonia Baptist Church, Bernard Road, Fox Hill. Officiating will be Apostle Leon Wallace assisted by Reverend Hartman A. Nixon. Interment will follow in Macedonia's Church Cemetery.
Precious memories will remain in the hearts of his loving Wife: Jocelyn Thompson; Children: Natika Thompson, Ken Thompson, Kayla Thompson, Keisha Thompson and Kenva Cooper; Adopted Daughter: Carol Cunningham; Grandchildren: Nathan Thompson, Ashton Johnson, Daijah Sr., D'Maine Jr. and Kailey Cooper; Adopted Grandchild: Richard Cunningham Jr.; Sons-In-Law: Richard Thompson and D'Maine Cooper; Sisters-In-Law: Betty Thompson, Verneka Thompson, Eva Edgecombe and Sheila Fernander; Brother-in-law: Christopher Fernander; Nieces: Maria Ferguson, Linda Riley, Jacqueline Chambers, Santina Brown, Eugenie Smith, Renee Davis of Baltimore, Edna Campbell, Terry Demeritte, Portia Jones of Texas, Evangelist Shiley Williamson, Sherry Albury, Laura Curry, Marsha Pratt, Sheena, Marva, Cordel and Sheneal Thompson, Monique Ferguson, Deborah Hall, Bonnie Ramsey-McDonald, Candy Outten, Laverne Mahoric, Judith, Lorna, Laurie and Tracy Newbold, Lanita Edgecombe, Samantha Clarke, Anya & Erica McIntosh and Hawanya Symonette; Nephews: Bradley Allen, Sterling Nottage, Tony Davis of Baltimore, Ricardo, Winston, Marlon, Barry, Elvardo & Carlas Thompson, Terry Arthur Jr. & Bernard Colebrooke of Miami Florida, Eris & Stanley Lightbourne, Joseph Ramsey, Robert Thompson of Grand Bahama, Fredrick, Andre & Tony Dames, Percival Ferguson, Eric Pratt, Gregory Edgecombe, Troy & Marco Newbold and Demond Fernander. A host of cousins, nieces, nephews, relatives and friends including: Ms. Mary his Care-giver, Elizabeth Butler & Family, Stacy Neely, Jestina Cartwright, Renardo Dawkins, Stafford Demeritte & Family, Agnes Cash, Joanna Green, Deon & Family, The Riley Family, The Ferguson Family, The Thompson Family, The Davis Family, The Dames & Dawkins Families, The Lightbourne Family, The McKinney Family, The Demeritte Family, Mitzie & Family, Mrs. Marina Rolle & Family, Patricia Clarke & Family, Pastor Patricia Rolle & Family, Geneuive Paul & Family, Jenny Rolle & Family, Doan Davis & Family, Lulamae Greeves & Family, Fred Ramsey & Family, Rev. Hartman and Mrs. Nixon, The Macedonia Baptist Church Family, Father Noel Clarke and St. Anselm's Catholic Parish Family, St. Augustine's College Family, Acting Commissioner Charles Murphy and the entire Bahamas Department of Corrections HMP and The Fox Hill Community at large.
Viewing will be held in the Serenity Suite at Restview Memorial Mortuary and Crematorium Ltd., Robinson and Soldier Roads on Thursday (TODAY)from 10:00 a.m. to 6:00 p.m. and at the church on Friday from 9:30 a.m. until service time.