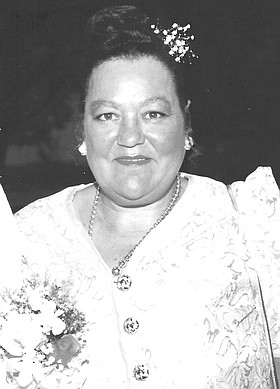 ALDA CYNTHIA KNOWLES
unknown - unknown
ALDA CYNTHIA KNOWLES, 69
Of McKenzie's, Long Island

Funeral Service for Alda Cynthia Knowles, age 69, of McKenzie's, Long Island will be on Saturday January 19, 2019 at 10:00 a.m. at St. John's Anglican Church, Buckley's, Long Island. Officiating will be The Venerable Fr. Keith Cartwright, assisted by Catechist Maxwell Darville. Interment will follow in St. John's Anglican Church Cemetery, Buckley's, Long Island.
She is survived by her Husband: George "Jimmy" Knowles; Children: Kevin (Jannette), Edward "Eddie" (Crystal) Knowles, and Santina (Anselm) Chea; Grandchildren: Christina, Ashanti, Rebecca, Edward Jr. Kisho and Aiko Knowles and Abigayl Chea; Brothers: Laurin, Lindy, Wesley and Earle "Dutchie" Knowles; Sisters: Gloria Darville, Naomi 'Cora' Knowles and Louise Cartwright; Brothers-in-law: Patrick Darville, Mark Knowles and Leonard Cartwright; Sisters-in-law: Lillith (Sue), Catherine, and Angela Knowles; Uncle: Ivan Knowles; Aunts: Jane, Alma and Isabel Knowles; Nephews: Mark, Neil, Ian, David, Don, Stefan, Scott, Jude, Nelson, Clarence, Christopher, Fernando, Clyde, Antonie, Andrew, Jevon and Dane Knowles, George, Darryl and Gerard Darville and Clint Cartwright; Nieces: Colleen McKinney, Crystal Cartwright, Kate Knowles, Dale Morley, Lynn Marcello, Perpetua Roberts, Maris Thompson, Daphne Knowles, Glenda Whylly, Sharlene Rodriguez, Lorraine Malone, Sandra Knowles, Melanie Darville Knowles, Lillian Forsythe, Phyllis Darville, Simone Fernander, Ava Knowles, Dawn Simmons and Tanya Cartwright. Other Relatives and Friends including: Miriam, Idella, Ruth, Janet, Bernard, Lewelyn, Levi, Catechist Maxwell and Adeline Knowles, Kathleen Cartwright, Barbara Knowles, Mr. Raymond Chea and the entire Chea family, Anthony and Ambrosine Ingraham, Bella, Elvie, Julita Knowles, Hillary Knowles, Lisa, Shan, Ethlyn Cartwright, Samuel & Jenny Knowles, Urban 'Strawberry' Knowles, Patty, Gwendolyn, Irene, Esther, Josephine, Eric, Angie, Mildred, Barbara, Paula, Paul, Mildred, Predensa, Keith, Jess, Martha, Gloria, Robert, Madeline, Ivy, Percy, Douglas, Dorothy, Jessima, Roy "Champ", Brice, Pamela, Bernadette, Craig, Debbie, Una, Bobby, Ruth, Janice, Marsha, George, Charlton, Marjorie, Jerome, Mag, Jackie, Herbie, Cherry, Jacob, Marilyn, Sylvia, Dwayne and Elvis, Chester, Sharon, Jennifer, Carmel, Miriam, Anne, Wade, Michael & John, Joyce, Ramona, Arlene, Patrice, Helen, Deon, Karen, Derek, Chris, Clyde and Keith Knowles, Mr. Maurice Minnis and the staff of Clarence Town Packing House and the entire McKenzie, Cartwright's and Mangrove Bush Community.
Viewing will be held at St. John's Anglican Church, Buckley's, Long Island on Friday from 5:00 p.m. until 8:00 p.m. and on Saturday from 9:00 a.m. until service time.
Arrangements by Vaughn O. Jones Memorial Center, Mt. Royal Ave. and Talbot St. Nassau, N.P. The Bahamas.