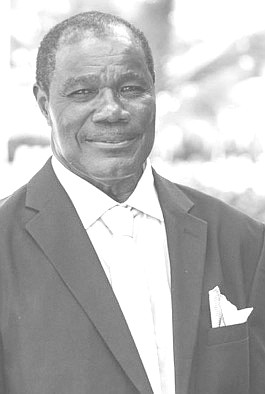 Hubell David Duncombe
unknown - unknown
Funeral Service for the late Hubell David Duncombe aged 68 years of Melvern Road, Yellow Elder will be held on Saturday July 6th 2019 at 11:00 a.m. at Southside Ministries, Carmichael Road. Officiating will be Apostle Clifford Smith assisted by other ministers of the Gospel. Interment will follow in Lakeview Memorial Gardens, John F. Kennedy Drive.
Cherished memories will always linger in the hearts of his loving wife Shirley Ann Duncombe; Children: Hubell, Charlene, Diandra Duncombe and Natasha Rolle; Grandchildren: Shaquan and Shaquell Carey, David Jr, Alicia and Isaiah Duncombe, Ethan Rolle and  Zammire Woodside; Great-grand: Trace Carey; Brother: Stephen, Cacil Kenneth and Terrance Duncombe; Sister: Armenthe Smith, Drucilla and Alberta Duncombe; Son-in law: Ian Rolle; Brother-in law: Vincent Walkes and George Ingraham; Sister-in law: Merle Ingraham, Pearline Bethel, Judy, Rose and Christine Duncombe; Aunts:  Althea Duncombe and Ancille Duvalier; Nephews: Perry, Rocky, Clarence and Denzel Smith, Kevin, Arnold, Leonardo, Jason, Terrence and Jeffrey Duncombe, Philip Duncombe, Christopher Peterson, Bretram Evans, Ronald Brown, Marvin Bethel, Walter Gray and Frank Roach; Nieces: Natasha, Racquel, Dorinda and Shamika Duncombe, Decinna Evans, Carla Gray, Sabrika Stubbs, Shakara Bethel Kate Peterson, Agatha and Heathermae Smith, Tiffany Rolle; Niece-in law: Ruth, Sheryl, Dianna  and Shena; Other relatives and friends: Mr. Torrick and D'shantae Rolle and family, Denrika Miller, Kayden, Leecha, Brandon Brown, Neville Woodside, Mr. and Mrs. Wells and Family, Mr. Brian Reckley, Dr Bain, Rita Rolle, Mr. Carey and Family, Mr. Allen, Iantonique, Alicia, Ahmad Duncombe, Rev Howard and Thelma Williamson, Robinson Morris Church Family, Ettamae Bowe and Family, Milya Yallop, Jermaine Allen, Caleb Burrows, Southside Christian Church Int'l Church Family, Tiffany Poiter and Family. Carol Roberts and Family, The Knowles family, Marylane Marshall and Family, Marita Ferguson, Eva Bethel, Mckennzie Family, Mcphee Family, Leola Martin and Family, Kerry Rolle and Family, Annemae and Family, Cash Family, Musgrove Family, Marvin Burrows and Family, Southland Church Of God Church Family, St Peters Baptist Evangelistic Church Family, Lyford Cay Club, The One Family Group and Community, The entire Yellow Elder Community, Male Medical 1, Staff of PMH and numerous other relatives to many to mention.
 
Friends may pay their last respects at Bethel Brothers Morticians & Crematorium #44 Nassau Street on Friday from 10:00 a.m. to 6:00 p.m. and at the Church on Saturday from 10:00 a.m. until service time.