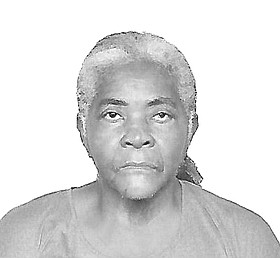 Velma "Baps" Zelrita Pinder
unknown - unknown
Funeral service for Velma "Baps" Zelrita Pinder age 68 years and a resident of # 68 Jumbay Drive, Freeport and formerly of McLean's Town, Grand Bahama, will be held at Jubilee Cathedral, Cathedral Boulevard Freeport, Grand Bahama on Saturday, July 13th 2019, at 10:00 am. Officiating will be Bishop Godfrey Williams. Interment will follow at The McLean's Town Public Cemetery.
predeceased by life partner: Dudley Byfield; parents: Obed and Edith Pinder; step-mother: Jenny Pinder; adopted parents: Joseph and Gwendolyn "Tita" Pinder.

Left to cherish her memories are her adopted step-mother: Lovely Pinder; children: Quincy Hall Sr., Dorothea Colebrooke, Caroline Byfield, Miriam Byfield, and Donald Byfiled; adopted daughter: Candy Johnson; grandchildren: Quiniqua Hall, Quincy Hall Jr., Quintin Hall, Aaron Dean, Lashaun Colebrooke Jr., Mireya Evans, Dorinique Colebrooke and Alvin Byfield;  adopted grandchildren: Likeira, Lincoln III, Lynden , Lynnae Johnson; adopted great grandchild: Taniah Johnson;  sisters: Joyce Russell, Florina Laing, Eunice "Polly" Newbold, Rosemary Hield, Joanne McIntosh, Evangelist Euna Cooper, and Deaconess Donna Whyte; brothers: Obed Pinder Jr. Ted Pinder, Howard "Jim" Pinder; adopted siblings: Violette Reckley, Curlane Laing, and Lorraine Thomas; step siblings: Kirk, Jerry, Janet, Tesha, Barry and Christopher; adopted step siblings: Cynthia, Genice; daughters-in-law: Michelle Hall and Stela Byfield; son-in-law: Lashaun Colebrooke Sr.; adopted son-in-law: Lincoln Johnson II; brothers-in-law: Amos Russell, George Newbold, Malacai Hield, Isaiah McIntosh, Bertram Cooper, Dennis Whyte; sisters-in-law: Cilvar Pinder, Angela Pinder, and Ann Pinder, nieces: Chrisann, Lauramae, Sharon (Joseph), Gwendolyn, Varnett, Lydia, Marcia (Simeon), Donnera, Hanna, Unetha, Jennifer, Patricia, Rubyann, Portia (Bradley), Brenda (Lawrence), Lisa (Kevin) Rolle, Tina, Georgina (Donald), Natasha, Patricia (Emeka), Kaylah, Cherish (Jason), Rochann (Emmanuel), Tedreika, Thekeitha, Tyeisha (O'Dawn); nephews: Dwight (Barbara), Kevin (Deandra), Devin, Sylvester, Larry, (Eloise), Hubert (Orchid), (Pauline), Cleveland (Caroline), Philip Sr. (Remelda), Greg, Theodore (Brandee), Bjorn, Akino, Leslie (Vernae), Byron, Obie (Kamika ), Timothy (Melissa), Glenroy (Shareika), Joseph; adopted nieces and nephews: Valance Sr., Rashad, Claudine, Vanessa, Audra, Ricky, Ann, Linda, Harvey, Troy, Tracey, Traniska, Shaun; grandnieces: Alphanique, Melissa Hopewood, Simone, Fredrieka Smith (Carrington), Khadeisha, Shaquel, Tiffany, Alandria (Howard Jr.), Sasha, Simehia (Dramaine) Major, Simeka, Jessica, Beyonce, Bernica (Andre), Lowrenda, Donnel, Timor, Glennika, Glendria, Glennae, Trinity, Gem, Natishka, Patrishka, Larika, Jade, Torie, Lala, Danasjah, Breanna, Dwinique, Branique, Alisha, Jasmine, Taheri, Kadash, grandnephews: Christano, Geronimo (Gretchen), Dominique (Kanan), Unesto, Simeon Jr., Donald Jr., Malacai, Glenroy Jr., Nathenial (Sasha), George, Larry Jr., Desmond, Theodore Jr., Kevondre, Deondre, Dwight Jr., Philip Jr. (Baronette), Asantae, Marcus, Ramon, Lynden, Talbot, Devante, Devardo, Patrick, Justin, uncle: Rev. David Pinder Sr. (Neicy); godchildren: Delsina McIntosh, Diane Lewis; special friends: Sis Vera "Ola" Rolle, Ms. Eloise Brown, and Ms. Francina Levarity; numerous grand nieces and nephews and a host of other relatives & friends including: Carmen Byfield-Pittman and family, Bishop Godfrey Williams and family, Bishop Kermit Saunders and family, Mable Russell, The Hall Family, The Tanis and Whyte Family, Barbara Hepburn and Family, Albertha Forbes and Family, Yasmine Neely and Family, Blanch Mather and Family, Pastor Harrison Pinder and Family, Sherrell Wright and Family, Lamon and Chenier Kerr, Staff of Island Seas Resort, Anastasia Morris and Family, Samantha, Keishan, Lavanda, Tamara Rolle, Jasmine and Pearl Hepburn, The family of the late Leonard Lightbourne, The family of the late Jimmy Lightbourne, The family of the late Maude Robin, The family of the late Lela Thomas, The family of the late Stephen Pinder, The family of the late Virgina Carey, The family of the late Eunice Russell, The family of the late Omar Laing, The family of the late Earnest Pritchard, and Nilda Rolle-Pinder.
Relatives and friends may pay their respects at Yager Funeral Home & Crematorium, Queen's Highway on Friday from 12:00 noon until 6:00 p.m. and at the church on Saturday from 9:00 a.m. until service time.