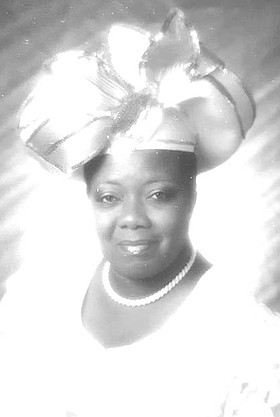 PAULA "Dolly" MAE BETHELL
unknown - unknown
Funeral Service for the late PAULA MAE BETHELL affectionately called "Dolly" age 73 years of Joan's Heights West will be held on Saturday, June 8th, 2019 at 10:00 a.m. at Salem Union Baptist Church, Taylor Street. Officiating will be Rev. Warren Anderson, Reverend Othniel Humes and Rev. Dr. Victor Cooper. Interment will follow in Woodlawn Gardens, Soldier Road.
Left to cherish her loving memories are her Matriarch and Mother: Agnes Pinder; Daughters: Althea Anderson (son in law - Pastor Warren Anderson), Christine Bethell, Shanequia Bethell, Sharese Hanna (son in law - Lieutenant Commander Michael Hanna Sr., RBDF), and Anastacia Bethell; Brothers: Ivan Cleare Sr. (sister in law – Dr. Brendamae Cleare), and Maxwell Vernon Pinder (Patricia Taylor); Sisters: Helen Harris (brother in law – Joseph Harris), Alvera Russell, Irene Mott (brother in law– Christopher Mott), and Diane Hepburn; Grandchildren: Alithea Anderson, Wardia Anderson, , Chrishanti Flowers (Alexander Forbes II), Irvin Armbrister (Garnel Johnson), James Armbrister, George Armbrister, Garshea Bethell, Britney Bethell, Shayn-Agnes Bethell, Michael Hanna Jr., Micquel Hanna, Mickyle Hanna, Shavez Miller, Charltonique, Charlton, Charlisa, L'Khia, and Shaniah Curtis, Jen Rolle, Crystal Rolle, Jestina Bethell, Lorraine Minnis, Eddison and Darren Fernander and Glenroy Bethell; Stepson: Charlton Curtis (Oralee Curtis); Uncle: James Fernander; Aunt: Dorrine Campbell; Great granddaughters: Tekannah Rolle, Angelina Gordon-Mingo, Jade Rolle, Janae Minnis & Jaylin Minnis, Patrickar, Zamoun, Annika, Edeana and Amanda Fernander & Michaela Bethel, Kiara Johnson, Shantae Forbes, Atarah Armbrister; Zaria Forbes;Great grandsons: Edvardo, Darren Jr., Eddison Jr. and Kenron Fernander, Jonathan Rolle Jr. & Cohen Gordon-Mingo, Chrishawn Forbes, Christian Forbes, Alexander Forbes III; Nieces and Nephews: Inae Cleare, Ivan Cleare, Ian Cleare, Giovanny Pinder, Whitney Pinder, Karen Bodie, Arlene Russell, Bodkin Russell, Cheavon Russell, Patrice Brown, Sophia Gibson, Harriette, Amanda and Charlene Strachan, Bradley and Raynaldo Strachan, Vernessa Pinder, Veronica Pinder, Shavonne Dean, Nicolette Pinder, Destiny Pinder, Lakeisha Hepburn, Sherrell Walker, Najana Pinder, Kim White, Crystal Mott, Cobrien Davis, Antonio Hepburn (Neice In Law – Brunia Hepburn), Anthony Hepburn (Ashnique Hepburn), Antwan Hepburn, Kayja Pinder, Robert Farrington, Kevin and Keith Stubbs, Bernice Culmer, Beryl Rahming, Valencia Fernander-Rolle, Monique Miller, Mary Ellen Fernander, Prince Fernander, Arthur Fernander, Samuel Fernander. Karla Bootle, Deirdre Armstrong, Dominique Thompson, Dr. Felix Bethell, Laverne Miller, ADonna Morton, Anthony Bethell, Kevin Bethell, Keith Bethell, Dr. Yvette Johnson and Dr. Willis Johnson, Wayne Bethell, Darmien Bethell (Lexus) Daxton Bethell, Stanley Bethell II;Grandnieces and Grandnephews: Davien Williams, Deunte Rose, Bronte Russell, Kadijah Daniels, Keishaun Thompson, Jaevon Russell, Dejon Russell, Shandia Ferguson, Dwaynique, Mantinique, Pedricka and Dwayneisha Saunders, Dwayne Saunders, Bradley Strachan Jr., Marcus Thompson, Javison Javeroe, Javard and JcCoy Brown, Alkeo Pinder, Harry Pinder, Tyese Pinder, Keenan Pinder, Neveah Pinder, Makinsy Pinder, Anthonique Hepburn, Nekeeba Walker, Tiano Williams, Darrien Rolle, Oneisha Walker, Tyeisha Hepburn, Dylan Deveaux, Asia Ferguson, Chryst Mott, Joquan Storr, Kionna Dean, Xynde Ferguson, Nijah Smith, Davina Whyley, Clarissa Moss, Kimia Moss; Other Family Members and Friends: The children of the late Winnis Bethell, James, Hugh, Peter and Lyric Campbell, Stanely Bruce Bethell III, Michael Bethell, Alfred, Charles, Carl and Michael Fernander, Garnell Dean, Vernita Roxbury, Patrice Bullard, Ester Dillette, Reverend Dr. Ivan F. Butler, Reverend Dr. Victor Cooper, Mrs.P amela Armally, Mrs. Bessley Gray, Ms. Eugynelle Nixon, Wendalee and Paulette Belle, Mr. Lenard Thompson, Dr Olga Clarke and Family, Mildred Hanna, Patrick Wilson, Jacqueline Wilson, Ivy Wilson, and Maxine Missick, Lavern Cleare, Mr and Mrs Allen, Mr. and Mrs. Harim and Vera Smith, , Reverends Randy and Jacqueline Frasier; Special Thanks to: Caregiver Celion and Nell, The Staff, Friends and Family of the Dialysis Units of PMH and Collins Avenue, Dr. Frederick Smith, Dr. Delton Farquharson, Dr. Adrian Sawyer, Nurses Johnson, Marshall, Reckley and Young, Doctors and Nurses of the ICU, Friends and Family of the Court of Appeal, Pastor Cy Russell and Lady Russell and the Members of Golden Gates Church of Christ, Mt Carey Union Baptist Church, Elder Terry Sears & Missionary Michelle Sears, NAD IT&E, Nassau Agency Ltd., Abbott Laboratories, The Staff of Physio Care, Commodore Tellis Bethel, RBDF, Staff of The Ministry of Youth, Sports and Culture, Staff of Dominoes South Beach, College of The Bahamas Nursing Class of 1992, Marylyn Dames and Diane Frazier.
Viewing will be held in the Irenic Suite at Restview Memorial Mortuary and Crematorium Ltd., Robinson and Soldier Roads on Thursday (TODAY) from 10:00 a.m. to 6:00 p.m. and at the church on Saturday from 8:30 a.m. until service time.