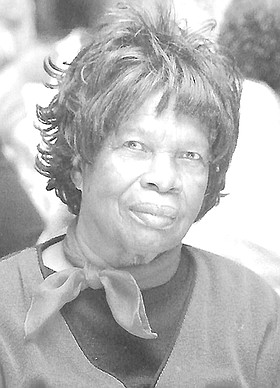 Louise Mather
unknown - unknown
Funeral service for Louise Mather age 85 years and a resident of Lewis Yard, Grand Bahama, will be held at St Vincent De Paul Catholic Church, Hunter's, Grand Bahama on Saturday, June 15th 2019, at 10:00 am. Officiating will be Fr. David Cooper assisted by Fr. Oswald Ferguson and Deacon Donald Duncombe. Interment will follow at Hunters Public Cemetery.
Predeceased by her husband: Elmore Mather.
Left of her fond memories are her sons: Richard Shepherd and Fred Christopher Mather; daughters: Alice (Nathaniel) Hield, Laura Forbes, Irene Shepherd, Shanna Mather; step children: Viola, Coreen and Elvis Mather, Florine Edden; grandchildren: Garvin (Lauren) Hield, Nigel (Olgine) Hield, Natalie Hield, Davano (Jynda) Bain, Rodney Bain, Philicia Brown, Lincoln Forbes, Ireanda (Stephano) Bevans, Niska Shepherd, Richard Shepherd Jr, Andre (Phylicia) Napier, Anton Shepherd, Christopher Smith and Kristiva Mather; great grandchildren: Nathan, Nigel Jr and Nathaniel Hield, Ayden Fox, Camryn and Jadyn Bain, Stephano Jr and Shannia Bevans, Avion and Amari Wildgoose; step grandchildren: Mychael Mckie, Alex and Sammie Rolle, Erica Edden and Nephretia Alcgene, Demetrius and Lawanda Mather; brother: Edward (Winifred) Lewis; sister -in-law: Pearline Lewis; nieces: Dorothy (Fletcher) Lewis, Diane (Peter) Allen, Claudette Lewis, Shawn, Cherry, Tanya, Aisha, Barbara, Mary and Josephine Mader; nephews: Lundy, Trevease and Matthias Lewis, Dudley Mather; god children: Karen Bain and Harold Russell; cousins: Oswald and Lillian Williams, Joyce Russell, Geneva Lewis, Geneva Laing, Verlean Bain, Artist Brown, Rosamae Mcintosh, Granville (Garnell) Lewis, the Family of the Late Ruth Russell, Floramae Lewis, George Lewis, Thaddeus Lewis, Saralee Cole, Leonard Lewis, Nathaniel Lewis (Michelle), Christine Turnquest (Kendal), Elrona Mackey, Jeneith Lewis, Catherine Williams, Hosea Lewis, Cyril Lewis, Monica Edgecombe, Helen Lewis, Vincent (Marilyn) McIntosh, Wheatly (Mary) Grant, Tommy Lewis (USA), Pat Bowleg (USA), Camille and Willene of Florida; special friends: Ivan Hepburn and Christine Gibbs; other relatives and friends including: Rodney Bain Sr, Francine Grant and Family, Karen Parker, Shane Faustin, Nicholas Williams, Cleveland and Adrian Simmons and Family, Nurse Anthea Pinder and Family, David and Sherlene Shepherd, Mrs. Rosalie Miller and Family Ella and Raymond Grand and Family, Ardell Johnson and Family, Linda Grant, Danzella McPhee, Coreen Rolle and Family, Glenda McIntosh. Blanch Mader and Family, Freeport Primary School and Support Staff, Zorbas Family, Freda Seymour and Family, Jones Family, Russell Family, Rand Memorial Hospital, especially the Emergency Room, Medical and Surgical wards. Cleo Russell and Family, Advilda Grant and Family, Maydone Russell and Family, Rosalie Robinson and Family, Rejoina Rolle and Family, Althea Lewis and Family. The Eucharistic Ministers, Communities of Mack Town, Hunters, Lewis Yard and Pinder's Point.
Relatives and friends may pay their respects at Yager Funeral Home & Crematorium, Queen's Highway on Friday from 12:00 noon until 6:00 p.m. and at the church on Saturday from 9:00 a.m. until service time.