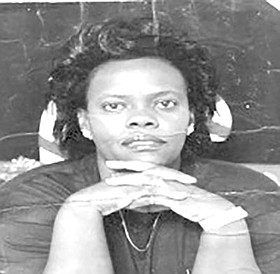 Eulease Ella Knowles-Halls
unknown - unknown
Funeral Service
For
The Late
Eulease Ella Knowles-Halls
Age: 69 Yrs.
Of Coconut Grove and formerly of Simms, Long Island, will be held at First Baptist Church, Market St. and Coconut Grove on Saturday 16th March, 2019 at 11:00 a.m. Officiating will be Rev. Dianna Francis, assisted by Pastor David Sweeting and Rev. Ben Pratt. Interment will follow in the Old Trail Cemetery, Old Trail Road.
Left to cherish fond memories are: Five (5) Children: Loretta Melvern Knowles, Hazel Olive Strachan, Eugene Knowles and Corrine Smith and Shandica (Pre deceased).
Seventeen Grandchildren (17): Dania, Derick, Thomas, Stevetta, crystal, Jade, Jennifer, Felicia, Georgeanne, Janelle, Jodi, Erslin, Princess, Cory, Shawna, Gegi, Hector and Kentisha Clarke.
Thirteen Great-grandchildren (13): Deonta, Daton, Terez, Sophay, Ajalon, jamel, jaden Michaela, Jacori, Corranique, Leonique, Gregory and Philip Jr.
Two Sisters (2): Mary Hair of Fort Pierce and Mary Knowles; Nine (9) Brothers: Itheal (deceased), Bradley, Delvin, Franklyn (deceased), Alfred, Theophilus, Rev. Dr. Joseph Knowles, Ellis and Alonzo Knowles.
Four Adopted Brothers : Patrick Bodie, Wendell Knowles, Bernard Rolle and Jason Gardiner; Adopted Sister: Rosalee Bowe; Aunt: Bernice Robinson; Daughter-In-Law: Mekell Knowles; Son-In-Law: Gregory Smith; Sister-In-Law: Martha Knowles, Patrice Knowles, Emily, Silvia, Beatrice, Brendalee Knowles (Deceased), Rena and Marilyn Knowles;
Nieces and Nephews: Usene, Dencil, Raymon, Marcus, Terrick, Brandon, Darrius, Ryan, Tamico, Doland, Mark, Bradley Jr., Roses, Sylvestor, Austin, Graig of New York, Jemaine, Balwin, John, Jarod, Kenneth and Samuel of Fort Pierce, Florida, Patrice, Marilyn, Arimentha, Nina, Dency, Indira, Michelle, Faline, Elkera, Brenell, Crystal, Andria, Samantha, Karen of Fort Pierce, Florida, Don, Geraldene and Shela of Fort Pierce, Florida, Coleen, Krisina Welkendy Knowles, Cherica Mertil, Sharice Rose, Sherice Neily.
Eighty Nine Great Grand Nieces and Nephews; Twenty Great-Great Grand Nieces and Nephews;
Cousins: Prince Rolle, Aremintha, Sandra, Marilyn, Peggy, Diann, Leo, Felix, Wesly, Larry, Gary Rolle of Germany and Family, Charles Linda, Hazel, Rosemary, Judith, Ewing of the USA and Family, Vernice, Ingrid, Cedrick, James of the USA and Family Lillimae, Terricita, Vernamae, Harry Jr. Charles, Derick, Relatives of the late Eulamae Rolle, Harcourt Smith and Wellington, Ruth and Bodie, Tyrone Romer, Neka, Owen, Terrance and Charlotte Bridgewater of the USA ,Bradley Bodie, Vaida, Glen Shon Wallace, Tiffany and Sophia Rolle. Harold Viola, Leo, Genius, Virginia Emmerine, Shorna, Frank and the Rev. Alvin Gray, Doralease, Dorothy Knowles, Ellamae Knowles, Patricia Thurston, Oriel Knowles of Freeport, Rosalee Bowe and Family, Joyclyn Knowles, Treva, Sam Gray, Ricardo Gray, Rev. Hillon Pinder, Rev. Jane Pinder, Roger Linder Green, Isadora Hepburn. Meriel Pinder and Sarah Adderley, Ednal and Ruthmae, Keith Lundy and Family, Orman Thurston and Family Caluese Gray, Nathaniel, Malachai, Samuel, Samuel Gray Rev. Kathleen Butler, Ellamae Brennen and Family, Urban Knowles and Family, Delma Knowles and Family, The Family of Eulamae Rolle, Family of Mario Simms, Timothy Knowles, The Miller Family, Owen Neil and The Scrub Hill Family, Gerald and Prescilla Taylor Family, The Adderley Family, The Charltons, Garvin Cleare Family, The Smith Family;
Other Relatives and Friends including: Cyril Fountain and Family, Helen Smith and Family, Ashwood Charlton and Family, Nurse Inez Spence, Patricia Lang, Willis Harding and Family, Felton Cox and Family, The McPhee Family, The Ministry of Education Staff, The Learning Resources Section of the Ministry of Education; Ministers of the Gospel: Rev. Urban Knowles, Rev Scofield Miller, Rev. Alvin Gary, Sis. Gwendolyn Pinder, Rev. Allen Dixon, Rev. Dianna Francis and the First Baptist Family. Rev. Joseph Knowles and the Mt. Teos Baptist Family, Rev. Ben Pratt, Rev. Daniel Sweeting. Special Thank you to Sister Sister Breast Cancer, Oncology Clinic, Medical Clinic, A&E Staff the whole district of Long Island North and South, The Entire Grove Family and many other relatives and Friends too numerous to mention.


Friends may pay their respects at Rest On Funeral Chapel Ltd., located on Mount Royal Ave. & Kenwood St. on Friday 15th March from 10:00 a.m. to 5:00 p.m. and at the Church on Saturday from 10:00 a.m. until service time.