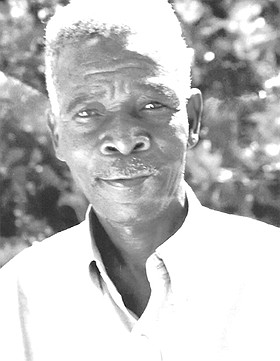 Linkie Fraser
unknown - unknown
Funeral Service for Mr. Linkie Fraser, age 75 years, a resident of White's Subdivision off Kemp Road, will be held on Saturday March 16th, 2019, 11:00 a.m., at New Lively Hope Baptist Church, Jerome Avenue and Chesapeake Road. Officiating will be Rev. Dr. A. Shelton Higgs, assisted by other Ministers of the Gospel. Interment will follow in the Lakeview Memorial Gardens, John F. Kennedy Drive and Gladstone Road.
Cherished memories will forever linger in the hearts of his Loving Wife of 34 years: Zola Fraser; Sons: Perry, Nat, Dwayne, Marcus, Darren, Darrell, Duran & Dezron Fraser; Daughters: Everlinda Adderley, Neketa Rolle, Wendy, Damara & Demetria Fraser; Grandchildren: Sgt. 2896 Devaughn, Perez, Jessica, Justin, Renaldo, Natorin, Natori, Shaniya, Amaris, Myles, D'carlo, Zkhari, Maddison, Ava Fraser, Sgt. 3132 Jamal Sherman, Nacara, Deandra, Shanice, Elvis, Tenique, Tara Rolle, Renaldo Capron, Griffith & Jontae' Wilson, Garfield & Garbriell Pratt, Wayde White & Llyam Butler; Great-Grand Children: Devaughn Jr., D'vaughntai, Cionne, and D'Avae Fraser, Joshua, Neyaeh Clarke, Tuniqua Tyrek King, & Levi Knowles; Brothers: Dereck Sweeting, Valence, Warren, Garth, Ernest, and Audley and Zip Fraser & Ricardo Moncur. Sisters: Paulamae Miller, Dianne Gibson, Cynthia and Donna Sweeting, Patricia Taylor, Astrid Fraser, Edith Brown, & Veronica Pratt; Daughters-in-law: Murriel, Janet, Susan and Carlene Murphy Fraser; One Son-in-law: Malchus Adderley; Granddaughter-in-law: Abbigail Fraser; Numerous Nieces and Nephews: Danly, Brad, Anthony and Bradly Miller, Stephano & Dino Gibson, Derecko and Derecia Sweeting, Donnavan Adderley, Shurn Seymour, Latario and Matthew Miller, Dino McClure, Malachi and Yvonne Mortimer, Vonell Gibson, Kivonne Coleby, Devita Bethel, Sade Butler, Gabriella, Theria, Lavardo & Larenzo Poitier Sr., Anthony, Melissa, Cookie, Everette, Deon, Shawn, Sharmaine, Allie, Leann, Ernesta, Marcie, Ashten, Lauryn, Tiffany, Delano & Alexander Taylor, Paulette, Dr. Darren, Alexandre, Dr. Theresa, Necoda, Lawrence Jr. & Larenzo Poitier Jr.; Brother-in-law: Lawrence Poitier Sr.; Sister-in-laws: Anne Sweeting, Sherylln Butler, Feancer Poitier, Veronica & Debrah Fraser; Other Relatives and Friends: Desmond & Judy Thompson & The Entire Family, Jean Curry, Jacquelin Major & Family, Katie Brown, Allan Stuart & Family, Brenda Delancey & Kids, The Whites Family, The Knowles Family, Meadows Family, Grays Family, Strachan's Family, Robert Moxey, Anthony Pinder, Lucy, Betty & Prince, Dolly Rolle and Family, Tracy & Mama, Eva and Vernessa, Garfield Pratt, Lloyd Butler, Molere & Vernie Curry and Family, James (Jim) Rolle, Sherman McDonald, Denise "Bowe" Williams, Judy Taylor-Brown and Family, Marco and M.J., Pedro Minus, Robert, Enola & Mavis Lightbourn, Paul & Joan Major & Family, Judy Spence & Family, Alice Deveaux & Family, Ruth Rolle & Family, Louise Gray & Family, Hilad Fifi & Family, New Lively Hope Baptist Church Family, Maxine Brown & Family, Elsa Wallace & Family, Judy Fox & Family, Johnson Family, Edna Sands & Family, Ula White & Family, Mother Lucy Sands, The Late Leon Stuart Family, The Late Is Strachan Family, Shelly Miller, Deangelo Young, Rhonda Brown, Shelia Bain, Dr. Darren & Theresa Donaldson. "Heartfelt Thank You" is extended to the Odyssey Family and to the Staff at Doctor's Hospital, and many more too numerous to mention.
Relatives and friends may pay their respects at Cedar Crest Funeral Home and Crematorium Ltd, Robinson and Baillou Hill Roads, on Friday from 12:00 noon to 6:00 p.m., and at the church on Saturday from 10:00 a.m., until service time.