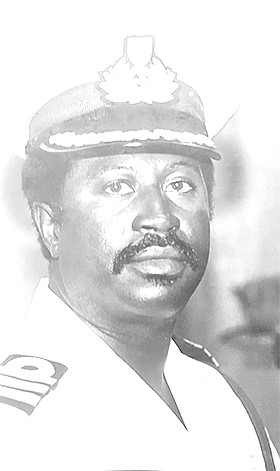 Retired Senior Lt. Commander Elder Amos Cephas Rolle M.B.E., P.S.C., J.P.
unknown - unknown
Full Military Funeral Service for
Retired Senior Lt. Commander
Elder Amos Cephas Rolle M.B.E., P.S.C., J.P. 
age 78 years of the Royal Bahamas Defence Force of Coral Harbour, South Bailey Drive and formerly of Mount Thompson, Exuma will be held on Friday March 15th, 2019 at 10:30 a.m., at William Thompson Auditorium, Jean Street, Nassau, Bahamas. Officiating will be Rev. Dr. Glendon E. Rolle Pastor of Zion Yamacraw Baptist Church assisted by Rev. Prince O. Bodie Chaplin of The Royal Bahamas Defence Force and other Ministers of the gospel. Interment will follow in Eastern Cemetery, Dowdeswell Street.
Left to cherish his memories is his beautiful, kind, and loving Wife Rev. Pauline Cox-Rolle. Children: Kerry, Kathy, Anthea Rolle-Culmer, Nadina, Jason, and Yonae, Mother Adeline Rolle. Grandchildren: Torrese, Terenda, Tiqueta, Topez, Justin Culmer, Javaughn Culmer, Dejah Laing, K'atre Wells, T'akaree Wells, Damia Brennen, Jayla-Marie Rolle. Great-grand children: Elijah Miller, Mykayla Symonette, Aliyanna Culmer, Siblings & In-laws: Ivan & Clementine Rolle, Stafford Jr. & Judith Rolle, Lessiah LLB Esq & Nurse Melony Rolle, Rev. Levi & Nurse Laura Rolle, Benjamin & Linda Rolle, Dr. Clarise Ingraham, Newton & Alicia 'Penny' Thompson, Gladys, Sabrina, Bridget Yvette, Mielke and Shamone Rolle, Kenneth, Shamese, Tameka, Konica, Bradley and Renaldo Rolle, Joan Rolle, Clarisse Williams, Deborah & Vincent Hamilton, Apostle Claudine Smith, Barry Cox, Bishop Lestor & Vanessa Cox, Prophetess Patrice and Apostle Dion Smith, Gina James, Dr. Linda Moxey-Brown. Nieces & Nephews: Felix Rolle, Gary Vincent Lord Rolle & Lady Diane Rolle, Michelle Mckenzie, Gary Rolle II Petty Officer of The Royal Bahamas Defence Force, Glendina and Rev. Dr. Gledon E. Rolle LLB, Lynden, Alveras, Jameco, Gio, Dwayne, Tanzania, Mr. and Mrs. Annual Lloyd, Faedora, Mildred, Isadora, Annie Lloyd and Rev. Betty Turnquest and Sheryl  and Bert Pinder of Grand Bahama, Holland Sr. & family, Chief Petty Officer Captain Lincoln Rolle of The Royal Bahamas Defence Force, Damiko Rolle, Patricia Hamilton, Violet Brown, Yvette Rolle, Reshimah and Diego, Superintendent Daniels of The Royal Bahamas Police Force, Freeport, Grand Bahama and family,  Verbilee Clarke and family, Darrol Weir Assistant Superintendent of Police of The Royal Bahamas Police Force Freeport, Monique Weir and family, Arlington, Norma, Irene and Urella Clarke and family of Freeport, Grand Bahama, Eugene, Amos, Shirlean, Virginia, Ruby,  Steven, Sandy, Vanessa, Vadalia, Cranston, Ryan, Melissa, Joshua, Perez, Levi Jr.,  Renaldo, Tamara,  Decarna, Bianca, Dr. Nekisha, Duran, Benjamin, Darius, Chernenka, Julius & Charlayne, Eforma, Everett Gerrahan, Lynika, Sinisha, Sinte, Shakantala, Rupert, Michael, Michelle, Francina Rolle & family, Monique, Hilary, Matthew, Diondra, Jasmine, Charisa, Joshua S., Edison, Davon Williams & family, Juliette, Clifford, Romardo, Julien, Romus, Bryan Jr. & family, Brittney Smith & Family. Cousins: Aunt Lydia King-Rolle and family,  Edison Brice, Godfrey, Bessie, Beverley, Shelia, Pastor Orthnel, Mervin, Renamae, Cindy,  Jermaine, Bernie, Wendy, Lizzy Rolle & family, Rev. Heuther Rolle Pastor of Salem Union Baptist Church and family, Rev. Garth Rolle, Elsworth Rolle and family, Elder Pedro Rolle and the entire comunity of Mt. Thompson Commonage,  Renona Rolle & family, Tiffany Newton, Jennifer Newton, Wade Newton, Jared Newton, Rev. Anthony Newton, Elaine Johnson & family, Shirlene James, Special loved ones: Jill Mortimer, David Cartwright, Devonn Brennen. Special acknowledgement: Mother Shirley Greene & family, Kirklyn Barr & family, Apostle Mary Nairn, Kendalee Deveaux & family, Commodore Tellis Bethel of The Royal Bahamas Defence Force & family, Rev. Prince Bodie Chaplin of The Royal Bahamas Defence Force, The Royal Bahamas Defense Force family, Commodore Davie Rolle & family, Honourable Philip Brave Davis & family, Honourable I. Chester Cooper & family, Mr. Anthony Ferguson Commissioner of the Royal Bahamas Police Force, Progressive Liberal Party Family, Saturday Roundtable Group, Bishop Wenith Davis & Zion South Beach Baptist Church family, Zion Yamacraw Baptist Church Family Pastor Rev. Dr. Glendon E. Rolle, Rev. Howard & Patricia Smith, Rev. David and Sabrina Duncombe, Rev. Hilton Bullard, Rev. Larry Austin, Rev. Tyrone Brooks,  Minister Darrel Rolle & family, Rev. Bernard & Angela Rolle, Rev. Oswald Poitier & family, Richard Demeritte & family, Pastor Alfred Stubbs & family, Mt. Thompson, Exuma Family, Sandals Resort & Spa.
Friends may pay their last respects at Zion Baptist Church Yamacraw Hill, Nassau, Bahamas on Thursday 14th. March, between the hours of 9:30 am and 5:30 pm and at William Thompson Auditorium, James Street on Friday 15th. March 2019 from 9:00 am until funeral service time.
Funeral Arrangements are being entrusted to House of Paradise Mortuary.