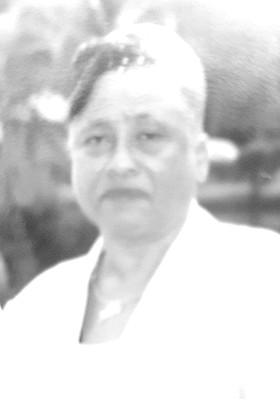 Shirley Mae Smith
unknown - unknown
Funeral Service for Shirley Mae Smith age 80 of Lady Slipper Ave., Garden Hills Estates No.2 who died on February 24, 2019 will be held on Saturday March 16, 2019 at 10:00 a.m. at St. George's Anglican Church, Montrose Ave. Officiating will be Rev. Fr. Scott Brennen. Interment will follow in Woodlawn Gardens, Soldier Road.
Left to cherish the memories of this loving angel are her Children: Patrick & Archie Strachan, Elder Janet Munroe, Dianna Moss, Alice Roker, Vanessa Stubbs and Charles Moss Sr.; Grand Children, Julian Jr., Alisha, Jonathan & Joshua Munroe, Shayne Jr., & Kareem Roker , Nadia & Courtney Smith, Archie Jr., Archeria and Ashley Strachan Shakila Price, Mario Stubbs, Charles Jr., Chad & Crystal Moss, Dominic Adams, Chery Adams-Archer and Louis Adams III; Great-Grand Children, Saree, Payton, Andre & Kayia Baker, Shakan Seymour, Faith & Mario II Stubbs, Geo Jr. and Keisha Archer; Daughters-in-Law, Lorraine Strachan (Deceased), Dedrie Smith, Elaine Strachan and Shanique Moss; Sons-in-Law, Overseer Julian Munroe Sr., Mario Stubbs Sr. and Shayne Roker Sr.; Brother, Anthony Bain; Sister, Sheila McQuay; Uncle, Chirika Mingo, Elvin Fox (Deceased); Nephew, Cleon McQuay Sr.; Nieces, Tamica , Kaylin Stuart, Maria McQuay; Other Relatives and Special Friends including, Ralph, Elvis, Fay, Blossom, Sherry Carey & Family of Tarpum Bay, Eleuthera, Elvin Fox & Family of The Bight, Long Island, Julia, Godfrey, Gilbert, Bain & Family, Anthony & Dot & Family, George, Rubin, Pricilla & Family, Bahamas Alliance of Independence Churches, PMH – Business Office Family, Airport Authority Family, Ministry of Youth Sport & Culture Family, Charles McCartney & Family, Christian Burrows-Williams, Leonard & Gloria Knowles, Herbert & Beula H. Arnette, Hugh & Wendell Clarke, Ray Minus Sr., The Bahamas Boxing Commission, Charles Thompson Sr., The Communities of Ludlow Street West, Culmersville & Gardens Hills, The Department of Housing, The Rotary Club of West Nassau, Providence Lodge, Prescolla King, Garth King & Family, Petrona Strachan & Family, Paul Glinton, Nat Glinton, Phillip, Barry, Tyrone, Niki, Dede, David 'Heshmon' Rahming, Kimberley, The Zonicles, The Clarkes and The Bridgewaters Families, Sammy, Cheryl, Samuel Wilkinson Jr., Richard & Ruth Demeritte, The Amateur Boxing Federation, Dorothea Davis, Peggy Burrows, The Cat Island Sailing Club, Vernon Burrows, Samuel Brennen Sr. and Audrey & Mavis Darling.
Viewing will be held in the Legacy Suite of Vaughn O. Jones Memorial Center, Mt. Royal Ave. and Talbot Street on Friday from 12:00 noon to 5:00 p.m. and on Saturday at the Church from 9:00 a.m. to service time.