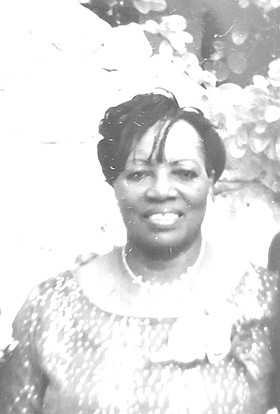 Leona Viola Hepburn
unknown - unknown
Funeral service for
Leona Viola Hepburn, 76
a resident of McKinney Ave. Stapledon Gardens will be held at The Church of The Most Holy Trinity, Trinity Way, Stapledon Gardens, on Saturday, March 23, 2019 at 12:00 noon.  Officiating will be The Venerable Mark Lindsay-Fox, assisted by Rev'd. Fr. Roderick Bain, Rev'd Fr. John Kabiga, Rev'd. Fr. Dwight Rolle & Other Clergy. Interment follows in Lakeview Memorial Gardens, John F. Kennedy Drive.
Leona will be missed and fondly remembered by Children: Franz Hepburn, Yvette Hepburn; Adopted Daughter: Anishka Knowles; Sisters: Edna Smith, Vera Pinder; Brothers-in-law: Sidney Smith Sr., Wellington Hepburn; Sister-in-law: Priscilla Jarrett; Son-in-law: Edwin Thompson; Daughter-in-law: Micah Hepburn; Grandchildren: Stephen, Brandon, Reginald and Gabrielle Gibson, Kemuel Hepburn III and Clayton Panza; Aunts: Inez, Sarah and Fay Watkins Uncles: Ed, Livingston and Thomas Watkins; Nieces: Patrice Wilchcombe, Anne Rolle; Nephews: Brian, Joel, Rodger and Sidney Smith, Vaughan Pinder; Relatives and Friends: Clara Williams, Vernice Allen, Lydia Grant, Anne Parker, Carolyn Williams, Anishka Smith, Rhonda Smith, Donna Smith, Richard Smith, Nesia Rolle, Patranella Wilchcombe, Patricia Miller, Barry Wilchcome Jr., Eleanor Jarrett, June Penn, Christine Jarrett, Joslyn and Carl Jarrett, Jennifer Braynen, Fr. Dwight & Rochelle Rolle and family, Claudia Knowles, Denise Rolle, Altamese Hepburn, Mearlita Hepburn, Phipahtua Rolle, Lasheca Ferguson, D'Adroun Dames, Alice Hunt, Carolyn Hanna, Edmund & Cynthia Stubbs, Lillian Cooper, Sherolyn Sears, Joann Cooper-Stubbs, Stephanie Varence & family, Deborah and Toi Johnson, Shirley Bonamy, Lillian Newbold, Marcella Mallory, Joan C. Culmer & family, Coolie Osoria & family, Archdeacon Mark Lindsay-Fox & family, Cassie Cooper, Marie Cooper, Melverna Wong, Yvonne Benjamin, Carl & Merlease Bethel, Rodney & Frances Williams, Ransford & Rosemary Saunders, Jacqueline Hart & family, Florinda Storr & family, Sir Arthur & Lady Foulkes, High Commissioner Ellison Greenslade & Mrs Greenslade, The Young and Restless Club, Frederica Cartwright, Janet Hall, Antoinette Glinton, Margaret Lightbourn, Ryan Ferguson, CCC War Room Conquerors, Ernestine Sherman, Jan Smith & Family, Agnes Burrows, Genevieve Strachan, Fr. Roderick Bain & family, Fr. John & Lois Kabiga, Fr. I. Ranfurly Brown, Betty Laing, Paula Bowleg and the Prayer Ministry, Antoine Wallace, Holy Trinity Senior Choir, Demetrius Delancy, The Diocesan Chorale, Sheila Narine, The Voices of Trinity Choir, Evette Roach, Judy Burrows, Stanley Rolle, Dorothy Davis, Carol Kemp, Charles & Veronica Adderley, Rose Braynen, Ana Young, Carmetta Belle, Management and Staff of Going Places Travel, Bernadette Ellis, Valerie Smith & family, Management and Staff Public Health Authority, Doctors and Nurses at PMH. A host of other relatives and friends too numerous to mention.
Friends may pay their last respects at Demeritte's Funeral Home, Market Street, from 12-6:00 p.m. on Friday & on Saturday at the church from 11:00 a.m. until service time.