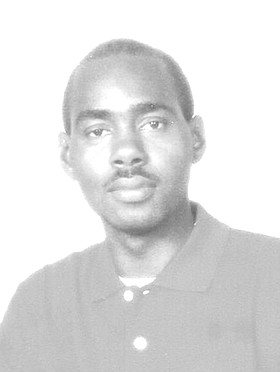 Minister Quinton Enoch Octivius Johnson
unknown - unknown
Funeral service for
Minister  Quinton Enoch Octivius Johnson, 47
a resident of Turner Drive, Carmichael Road & formerly of James' Cistern, Eleuthera, will be held at Wesley Methodist Church, BCMC, James' Cistern, Eleuthera, on Saturday, March 23, 2019 at 11:00 a.m.  Officiating will be Rev. I. Carla R., Culmer, assisted by Pastor Deacon Elmena Bethel, Bishop Theophilus Rolle, Apostle Dr. C. Clifford Smith III & Pastor Patrick Smith. Interment follows in James' Cistern Public Cemetery, Eleuthera.
Cherish and fond memories held by his friends, colleagues and ministry partners; Wife: Natasha Johnson; Daughter: Rhona Johnson; Brother: Minister Warren E. Johnson, B.Sci, Bio.; Adopted Brothers: Venil and Elvis Johnson, Brennon Mayne; Step Mother: Jennifer Johnson; Step Brothers: Elvardo, Levardo and Elloit, Step Sisters: Kamitzeo & Angle Gilbert; Father & Mother-in-law: Eddison & Marjorie Joffre; Sisters-in-law: Shachay & Amanda Joffre, Shantell & Trevor Mackey; Brothers-in-law: Jerome & Wayne Silvera, Vincent & Eddison Jr. Joffre, Omar McFarline; Uncles & Aunts: Eleazar & the late Tina Johnson, William Rufust & Margaret (Chris) Johnson, Margaret Theresa & Stevenson Jay Swain, Anne Renee & Jon Burrows, Sr., Richard (lIon Heart) & Esterlene Johnson, Sharon & Commodore Clifford (Butch) Scavella, Cheryl (Cherz) & Peter Fox. Rosemary & The late Garnet Thompson, Lisa & Thomas for & Milton Johnson (Cocoa Beach Florida), Father Berkley & Jane Smith & family, Peter & Ema Whyte & Family, Judy Gardiner & Family, Rudy & Janet Gardiner & family, Norman Gardiner & Family; Grand Uncles & Aunts: Cyril & Eloise Johnson & Family, Sylvia Johnson & Family, Charlie John; Nieces: Tanisha & Jada Silvera, Jaden, Mya, Willow Silvera, Tallan & Titus Mackey; Cousins: Percival & Shelia Pennerman, Agartha & Julian Pennerman, Vernal & Latisha Johnson, Claudia & Edmond McDavis, Jr., Meredith Miller, Raphael & Dagmar Johnson, Jason & Charlene Johnson, Abigail & Antoine Neely, Christen & Sherkita Johnson, Shirley Janette Swain, Sarah Jane Swain, Stevenson John Swain, Stevenson Joseph Swain (deceased), Jon Burrows, Jr., Asia Burrows, Jermaine Johnson, Bentley Johnson, Richee' Johnson, Aszarria Scavella, De'Atra Scavella. Nico & Pantera Mack and family, Elonye McDavis, Amber Johnson, Aaron Johnson, Alejandro Miller, Jaden Johnson, Summer Rae Johnson, Aiden Johnson. Faith & Dr. Alphaeus Allick & family, Khalila Armbrister & family, Keandro & Franco Moncur (Tamara), Agnes Gibbs & family, Frances Johnson & family, Elaine Johnson & family, Charles Wallace & family, Marguerite Major & family, Kirk & Zala Johnson & family, Margaret Rose Rolle & family, Gloriamae Finley and family, Marilyn Darville & Family, Rex & Elizabeth Johnson & family, Donna & Daryle Davis & family, Denise & Miska Clarke & family, Aaron Otis Pinder & family, Brennen Mayne & Family, Frankie Mayne & Family, John Sr. & Ruby Thompson & family, Maisie Pinder & family, Rhonda & Byron Rolle & Family, Apostle Orlando Thompson & Pastor Clearice & Family, Quincy Thompson & Family, Therese Gardiner, Demico, Samuel and Fredrick Gardiner of Atlanta Georgia; God Brothers & Sisters: Gregory Rolle & family, Melda Ambrister & family, Sonya, Claudette Whyms, Raquel Mackey, Ezekiel, Jeremiah Whyte, Daniel, Lamono, Roscoe, Bradley Johnson; God Children: Valencia and Jeffrey Bethel, Anishka Johnson, Terez Ingrahan, Tarae, Tamyia, & Miranda Smith & family; Other relatives & friends:  Leona Johnson & family, Geraline, Doyle, Alphemia & the late Samuel Johnson Clan, The Medical Doctors & staff of the Renal House, Apostle, Dr. C. Clifford Smith III & Pastor, Dr. Judy L. Smith and the entire Southside Christian Church Int'l family, Sandra Leadon, Austin, Samantha Harvey, Elder Tallace Maycock, Valen Coakley, Carolyn Bethel, Cherlyn Munnings, Andrew Richardson, Minister Dwayne & Diann Williamson, Mr. Hiram Smith, Mr. Poietire,  Billy & Brenda Stubbs & family, Prince & Lula Petty & family, The Methodist family, BCMC & MCCA,The Johnson's & Bethel's family Reunion, the Community of James's Cistern, other relatives & friends too numerous to Mention.
Friends may pay their last respects at Demeritte's Funeral Home, Market Street, from 3-6:00 p.m. on Thursday & on Friday at the church in Eleuthera from 5:00 p.m. until service time on Saturday.