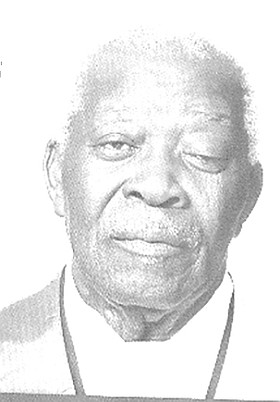 Retired Cpl 445 Lionel "Sleepy" Henry Strachan
unknown - unknown
Full Military Service for
Retired Cpl 445 Lionel Henry "Sleepy" Strachan, 74
a resident of Constitution Drive, will be held at St. Barnabas Anglican Church, 
Baillou Hill & Wulff Roads, on Friday, March 22, 2019 at 11:00 a.m.  Officiating will be Canon Basil Tynes, assisted by Fr. Donald Kerr & Fr. Stephen Davies. Interment follows in Lakeview Memorial Gardens, John F. Kennedy Drive.
He will be greatly missed by many including (7) DAUGHTERS: Aretha & Lionda (Lee) Strachan, Monique Martin, Shaneka Sturrup, Esther Mae Gibson, SandraMae Strachan, & Lynn-Keisha Kelly; (1) ADOPTED DAUGHTER: Monique Bethel; (1) SON: Lenroy Kelly; (2) BROTHERS: Alfred Dean & Zephaniah Strachan (Arthurs Town, Cat Island); (11) GRAND DAUGHTERS: Rakeesha, Latoya & Ava Strachan, Rachel & Nomay Sturrup, Kendriquea (Kenny) Strachan, Christy Clarke, Michaela, Deanka, Ashley & Whitney; (10) GRAND SONS: Ezekiel Taylor, Leander, Thomas, Emmanuel & David Sturrup, Malik Kelly, Desmond Clarke, Duran, Michael & Dion.; (3) ADOPTED GRAND SONS: Alfred Smith Jr., Isaiah Butler & Glenroy Rolle; (22) GREAT GRAND CHILDREN: Devon Campbell Jr., Toriano-Hezekiah Strachan, Keishell, Maliky, Duran Jr., Paiden, Gaida, Lamelo, Randino, Randia, Madison-Jayne, Eric, Ericka, Aaron, Erickan, Nicole, Nico, Anna, Ranelle, Kayla, Michael Jr. & Deante; FATHER & MOTHER –IN- LAW: Isaac & Deborah Bain; (7) SISTERS–IN-LAW: Rita Strachan (Arthurs Town, Cat Island), Deanna Hayes (Tampa, Florida), Amelia Love, Hilda, Justina, Kendra, & Patrice Bain; (7) BROTHERS–IN-LAW: Barry, Alexander, Gerald Sr., Andrew Sr., & Noel Bain, Preston Hayes (Tampa, Florida) & Kable Love; (1) GODCHILD: Berrando Mackey; NUMEROUS NIECES & NEPHEWS INCLUDING: Samantha Dean-Hill & Wesley Hayes (Tampa, Florida), Chaquita Taylor, Ashley & Stephen Love, Cadedra Bain, Alsaida  Newchurch, Wendy Ambrose, Marsha, Erica & Prince A. Dean, Clarabelle & Ernest Sands, Wilfred Strachan, Tony & Shantell Farrington, Edward Sawyer, LindaMae Grey, Kera, Lanario, Rico, Edwarda & Raymond Strachan, Edith McKenzie & Brian Gibson; NUMEROUS GRAND & GREATGRAND NIECES & NEPHEWS; SPECIAL FRIENDS INCLUDING: World Chaplin of the Spanish American Association Apostle Elect Bishop Prophet Dr. Lawrence Rolle (J.P.), Linda R. Strachan. The Hon. Phillip Brave Davis, Chief Petty Officer Shawn R. Rolle (R.B.D.F.), Sgt. Adrian Curry-K9 Unit (R.B.P.F.), Samuel E. Rodgers Sr., Stacey Williams (Exuma), Jeff Ambrose, Israel (slim) Clarke, Winfield W. Brown, Rev. Alphonso Newry & Willard Dean; HOST OF OTHER RELATIVES AND FRIENDS INCLUDING: Rev. Lady Macarla Rolle & Family, The Great International Deliverance Praying Ministries Inc. Family, Commissioner Ferguson, Officers & Members of the Royal Bahamas Police Force, Airport Authority, Canon Basil Tynes, Officers & Members of St. Barnabas Anglican Church, Bain Family, Romer Family, Bernadette Mackey, Dean Family, Stubbs Family, Vernita Thompson (Cat Island), Farrington Family, Strachan Family, Tanya Penn, Mother Vernice Forbes, Our Lady's of the Holy Souls Catholic Church. Millicent Fernander & Family, Mr. & Mrs. Watkins & Family, Stephanie Adams, Bahamas First & NUA Insurance Agencies, Passport Office, Sandilands Rehabilitation Centre, Carlton E. Frances School, University of the Bahamas Prof. E. Yildirim & Students of Com.150 Sec. #1, Dr. Newbold & Students of Psy.105 Sec. #1 especially Green Group & Lecturer Deidre Moss & Students of Coun.100 Sec.#22, King Family, Lecturer & Students of Land Law Class 2019 & Mrs. Lunn & Students of Sign Language Class 2019 at St. Cecilia Catholic Church, The Communities of Zion Hill, Dumfries & Arthurs Town, Cat Island, The Community of Garden Hills #3, Doctors & Nurses of Fleming Street Clinic & Doctors & Nurses of A&E Trauma & Chest Rooms at the Princess Margaret Hospital. The Family apologizes for any names that we may have missed, we appreciate you and all that you have done during this time.
Friends may pay their last respects at Paul Farquharson Center, East Street Headquarters, on Thursday from 12-5:00 p.m. & on Friday at the church from 10:00 a.m. until service time.