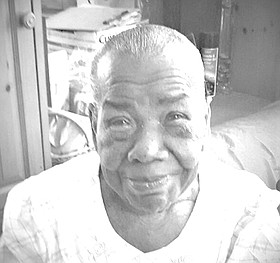 Veronica Adelaide Mortimer
unknown - unknown
Funeral service for
Veronica Adelaide Mortimer, 93
a resident of Baygeranium Ave & formerly of Mortimer's, Long Island, will be held at Our Lady of the Holy Souls Catholic Church, Deveaux Street, on Saturday, March 23, 2018 at 11:00 a.m.  Officiating will be Fr. David Cooper, assisted by Fr. Johnathan Duka & Deacon Maxwell Johnson. Interment follows in Catholic Cemetery, Tyler Street.
Veronica the Matriarch of the family was predeceased by all of her brothers Jenkin, William, Alfred, Whittey , Walter, and sisters Muriel, Vera, Ellen and Ena leaving her as the only survivor and also two of her sons;  George Munroe and Richard Dean.
 
Her living survivors are her Sons: Charles Miller (Sheena Rolle), Deacon Stephen (Minister Carolyn), Burleigh (Indianna), Theodore and Fr. David Cooper;  daughters: Cecelia Munroe, Deborah and Cynthia Cooper and Wanda Farquharson (Paul Jr); her Cousin: Violet Beneby; sister-in-law: Alice Mortimer; loyal friends: Livingston Cooper and  Agnes Knowles; Grandsons:  Janero, Trez , Nathaniel, Calvin, Ramon, Francis, Robert  Gerard (Pre-deceased); Granddaughters: Charita, Stevana, Sabrinna, Ghia, Cicely and Sean, Stancia, Zephyrita  Elsine (pre-deceased); Greatgrands: Trimico, Jullian, Keno, Aisha, Christen, Josef, Sian, Judah Kera Sasha Devaughn Zaria Elizabeth Benjamin Katie; Nieces with special mention to Karen, Dellarese, Betty, Ruthamae, Naomi, Linda and grand nieces; Nephews with special mention to  Malachi, Peter, Joseph and Andrew and grandnephews; Adopted Children: Sister Newbold,  Rupert Miller, Paula Hanna, Mary Capron,  Delsine Douglas, Beulahmae Folwer, Solely and family, Claudette Rolle, Judith Major, Makeba Bain, Denise Cooper, Valarie Rolle, Veronica Taylor, Lilamae Thompson and family, Donna Johnson and Family, the family of the late Mildred Deveaux, the family of the late Rupert and Cynthia Butler; Friends: Faye Kerr, Veronica Daniels and Family (Eleuthera),  The Priests of the Archdiocese, Winnie, Paul and Sharon Farquharson, Janice Major, Audrey Rolle, Sherma Caulder,  Kenda Cooper and Family, Yvonne Cooper and Family, The Mortimers, Majors, Deans, , Watsons, Turnquest, Cartwrights, Newmans, Taylors and entire community of South End Long Island, The Plantol Street Community,  Our Lady's Parish, Holy Family Community, Pastor Ellis and Shavon Peete Jr and Family Pastor Denie Fountain Minister Michael Forbes, Minister Jamiero Pierre, Evangelist Tazz Whitney, Deacon Richard Fountain, Deacon Aulrik Dean, Deaconess Rudina Fountain and Deaconess Stephanie Rolle of Spirit of Life Church Ministry The Antiquities Monuments and Museum Corporation, The Clifton Heritage National Park Community, The Community of the 17th Bahamas Scout Group of Our Lady's,  The Pinewood Garden Community, St. Francis and Joseph School Community, Xavier's Lower School Community Richard Fountain and Family,  Kenda Cooper and Family, Yvonne Cooper and Family, Pastor Godfrey R Williams and the Jubilee Church Family, Fritz and Melanie Dareus.
Friends may pay their last respects at Demeritte's Funeral Home, Market Street, from 12-6:00 p.m. on Friday & on Saturday at the church from 10:0 a.m. until service time.