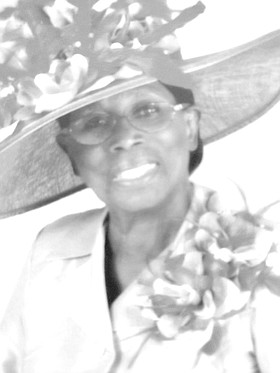 Coinett Martin
unknown - unknown
Funeral Service for the late Coinett Martin age 86 years of #29 Soursop Street Pinewood Gardens will be held on Saturday May 11 2019 at Lively Stone Church of God, Knowles Drive off Harold Road at 11:00a.m. Officiating will be___ assisted by other ministers of the gospel. Interment will follow in Lakeview Memorial Gardens.
LEFT TO CHERISH HER PRECIOUS MEMORIES:
SON: CLARENCE OUTTEN
DAUGHTERS: ESTHERLETTA BOWLEG, SHARLENE GAITOR, SHERRYLEE OUTTEN ALLEYNE, DOROTHYMAE OUTTEN, AND CECILIA MACKEY
GRANDCHILDREN: MARILYN OUTTEN NORTH, CRYSTAL BLACK, KAREN MORTIMER, ESTHER OUTTEN, NATASHA, DENISE AND TAMANIKA BOWLEG, TAMEKIEO JOHNSON, SHARLISA FLOWERS, SHARLEZEER GAITOR, SHARELL, CHANTISE, ANISKA AND CLARISSA OUTTEN, KENDICA BROWN, STERLING N L ALBURY, RICARDO, OMAR, NOEL, LAMONT, JAMAAL, CLARENCE "CJ" AND REAGAN OUTTEN, NATHANIAL BOWLEG, DAMIANAND BJON BROWN, TERRANCE, TERAN, AND TREVOR GAITOR, STEPHAN STRACHAN, SANTEKO, DERIO, SANCHEZ AND KANYE MACKEY,
GREAT~GRAND CHILDREN: KAYNEISHA, LAKEISHA, KENTARELL,ATHENA, SHANIKAH, DASHANEA, CHRISTIAN, NATHAYLA, KENDACE BUTCHER, ATHENA, ATONISHA, AALEEAHA, ROEMEKA, CLARIQUE, CLARNELL, SHANIECE, WHITNEY, BRITANNY, ALIA, ISHIA, SHAVAUGHN, DUVANYA, T'VAUGHYA, STEFFA, CAMERON, TERENCE JR, RASHAD, SHARAD, DAVID, ANTHON JR, KENNETH, KEITHEN, DEINA, ZHIVARGO, SANTANO, JANNO, SHANTON, DEJORN, DENIECO, DEANGELO, DEQUIA, DAMIAN JR, ROBERT, DEVONTE, DUGALJR, NAKITO, ROSCOE JR, BJORN JR, NATHANIEL JR, AND TEVIN….
GREAT~GREAT GRAND CHILDREN: D'AJEE, OTIS, PEYTON, SANTANA, SURVIVOR, KAYSHANNA, CHARLIESA, ANTON, AND SAGE….
BROTHERS: LEVITCUS WALLACE, RALPH WALLACE OF DETROIT MICHIGAN, AND DOCTOR HORIZAL SIMMONS. SISTERS: MADELINE SIMMONS
NEEPHEWS: JAMES, PEDRO, PERRY, ANDY AND RANDY SANDS, AUDLEY SEARS, TYRONE, GEORGE, GODFREY, JEFFERY AND GREGORY GARDINER, ROOSEVELT, JAMES AND EDRINE OUTTEN OF TURKS & CAICOS, PATRICK LIVINGSTONE, BASIL, ALFRED AND WILCOTT MILLER, TROY WALLACE, CHRISTOPHER, BENTON AND ELTON.
NIECES: ROSE SEARS, STACEY BAKER, VIOLA, LOVERN, GARDINE OUTTEN AND BETTY GARDINER OF TURKS & CAICOS
LANA FERNANDER, LAVAYGHN, SHARON, ROSE WILLIAMS, WENDY, SANDRA, GLORIA, DONALLY, CARLAN, PATRICIA, ELGA, VETA, RUBY, CHANTEL, SHELLEIGH, SHAWN, GARREN, BETTY….
GRAND NIECES & NEPHEWS: DELINSHA, LASHANDA, DONEKA, DAMIAN, AUDERIO, GREA, BRIANNADO, RASHAD JEFFERY JR, TAMEKA, JEFFERNICE, PATRELL, BRAXTON, CANDERIA MILLER, ORDISHEA, RASANDA, PRESHA, SHAMAR, JAMELIA, NURSE KELSHA ROBERTS, THEUS, SHANARI, TREVAR, THEANICKA, NEKA L. DUNCOMBE, CHANNECE, CHRISTOPHER, ANEJO, SHAQUILLA, KIZIAH, DEVONIQUE, TANARI, NADJA….
SON~IN~LAW: DOCTOR KENNETH L ALLEYNE
DAUGHTER ~IN~ LAW SILVIA (SIL) OUTTEN OF MOORES
ISLAND, ABACO….
ADOPTED DAUGHTERS & SONS: DAPHANE CARTWRIGHT, VIRGINIA KING, VERNICE BUTLER, WENDY KNOWLES, ROSEMARY MCPHEE, LYCETTA ADDERLEY, DR. NEVILLENE MCPHEE, KEVA MAJOR, CHARMINE GILBERT, DONNAVA DORSETT, DEBBIE DARLING, JANET ROLLE, THELMA SEYMOUR, ANDREA MCKINNEY, ROSE WILLIAMS, DENIECE DORSETT, DEE WILLIAMS…CHRISTOPHER LUNDY, LAVARDO NORTH, RICKY MILLER, BRIAN BAKER, LINCS SCAVELLA, AL AND PATRICK PAUL FAMILY
Relatives and friends may pay their last respect at Evergreen Mortuary located on Collins Ave & 5th Terrace on Friday from 1:00a.m. – 6:00p.m. and again at the Church from __ until service time.