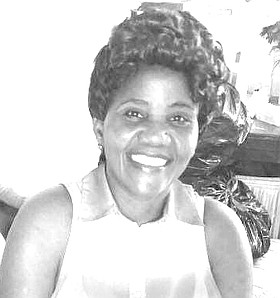 Cemoisile Etienne
unknown - unknown
Funeral service for
Cemoisile Etienne age 48
of United Christian Way and formerly of Limbe' Haiti will be held at Queen Of Peace Roman Catholic Church, Faith Avenue North Saturday May 18th, 2019 at 10:00 a.m. Officiating Fr. Wid Andy Beniste, SMM. Interment in Southern Cemetery, Spikenard Road, Nassau Bahamas.  
Service by: Rest On Funeral Chapel
Her Memory will forever live on in the Hearts of Her /Memwa li pral viv pou tout tan nan kè Mother:Norjilia Maxime; Father: Lucima Etienne; Daughter: Lovecie Etienne; Son: Hernely Joseph; Sister: Leone, Youseline , Ivose, Rosena Etienne; Brother: Miguel, Bitard Etienne ; Auntie: Desilia, Miterne, Madam Chrisostome; Uncle: Elicier, Tasius, Odima Maxime, Andre Etienne; Niece: Blondine, Yousna, Marise, Miguelda, Staelle; Nephew: Ashley, Fadensley; Cousin: Nanoune, Bounan, Nana, Julienne, Yanik, Masline, Fritz, Wilna, Francely; Other Relatives & Family Friends Including: Antoinette, Berlus, Iranor, Bernadin, George, Sasufise, Denis.
Relatives and friends may pay their respects on Friday May 17th, 2018 "Serenity Suite" Rest on Funeral Chapel #19 Montrose Avenue and Kenwood Street from 12:00 p.m. to 4:30 p.m. Saturday at the church from 9:00 a.m. to service time.