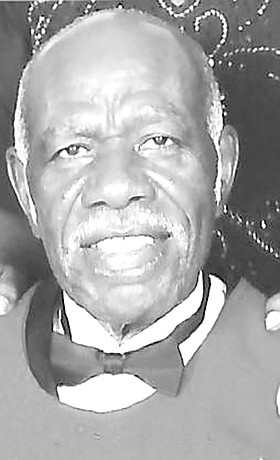 Rev. Levi Charlton
unknown - unknown
Funeral Service for Rev. Levi Charlton, age 82 years, a resident of Ruthland Avenue, South Beach, and formerly of Abraham's Bay, Mayaguana, will be held on Saturday May 18th, 2019, 10:00 a.m., at St. John's Native Baptist Cathedral, Meeting Street. Officiating will be Bishop Carrington Pinder, assisted by other Ministers of the Gospel. Interment will follow in the Church Cemetery, Meeting Street.
Left to cherish his memories and legacy are: Wife: Sylvia; Sons: Gregory and Charles (Patrice); Daughters: Jacintha and Sherilyn; Brother: Wellington Charlton; Sisters: Ivy Charlton and Marietta Mckinney; Step Children: Michelle (Keith) Stubbs, Anton Rahming, Ansel (Vernesia) Rahming and Alcott (Sonia) Rahming; Sisters in Law: Juletta Charlton, Gloria (Arthur) Dorsett, Shirley (Edward) Brown, Jenny Charlton, Cochena, Katie, and Johney Ann Deleveaux; Brother in law: Teavis Deleveaux; Grandchildren: Nia (Craig), Novida, Shericka Carlissa, Kenita, Tracy, Tashara, Kristy, Chade', Chakia, D'Angelo, Shermont, Deshawn, Kenaj, D'nardo Ansel Jr., Anes, Aneisha, Antereo, and Aalajah Rahming; Great Grands: Asia, Skyler, Claire, Demi, Kaylee, Marvin Jr., Justin, Kalen, Drew Alexander, De'aron, and Levi; Nephews/Nieces: Katherine (Darrel), Laketah, Wenderra (Nehemiah), Rico Montressor, Yannique, Virley (Angel), Pandora, Arthur, David ( Annika), Troy, Le Braun, Samana (Thavon) and Tonya; Cousins: Florence (Flo) Fowler, Edmund, Gail, Emily, Lionel, Reggie,,Burntle, Clyde, Heston, Floyd, Ronnie, Roslyn, Alfreda, Brunell, Valerie ,Melva Franka, doral, Hardy, Granville, Audrey, Albert, Hazel, Ethlyn, Norman, Lloyd, Claudy, Easlie, Judy, Lorraine, Nicola, Herbert, Thecla, Olga, Adena, Cora, Clinton, Rev Arthur Charlton, Emmaline (Liney) Moss, Rev Stanley Charlton, Katherine Mcphee, Elymas, Chris, shena, Sarah Minnis; Other Relatives and friends including but not limited to: Reginald Ferguson, Rev. Carrington Pinder, Officers and Members of St John's Native Baptist Church, Back to the Island Singers, Airport Fire Branch, Carl & Myrtle Scavella& family, Oral & Rose Gibson, Pearline Frazier, Harrison & Denise Moxey, Rochelle major, Charles & Deborah Zonicle,,Ruthamae Burrows, Joyce moxey, Portia Barnett,, Pastor Paul Scavella Officers & members of Centreville SDA Church, Dr. Albert Francios, Laura Rolle, Rev Shirley Evans and members of the Pinewood Urban renewal, Audley pearson, Rolle Butler Mckenzie, Bimini Community, Dr. Chea, Ruthland Ave crew : The Evans, Pearsons, Thompsons, davis, Mckenzie, Smith, Weech, Bonaby,.Lincoln & Angela Rolle ,Rena Brooks, Abraham's Bay, Mayaguana community, and the Oxford Ave Community, Staff at the South Beach Health, Sydney & Claranell Smith, Majors, Robers & Raeburn &Members of Sixty Plus Club, The Salvation Army, and countless relatives and friends.
Relatives and friends may pay their respects at Cedar Crest Funeral Home and Crematorium Ltd, Robinson and Baillou Hill Roads, on Friday from 12:00 noon to 6:00 p.m., and at the Cathedral on Saturday from 9:00 a.m., until service time.