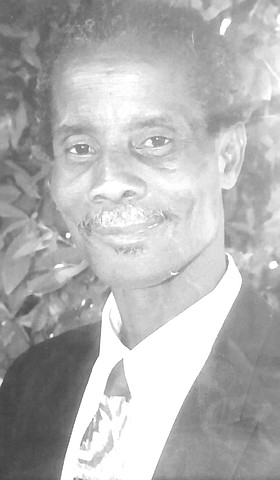 Reginald Adderley
unknown - unknown
Funeral service for the late Reginald Adderley affectionately called 'Reg' age 74 years of #31 Ferdinand Drive, Regency Park and formerly of Miller's, Long Island will be held on Sunday, May 26th, 2019 at 11:00 a.m. at Hillview Seventh-day Adventist Church, Tonique Darling Highway. Officiating will be Pastor Eric D. Clarke, assisted by Dr. Michael D. Toote, Pastor Peter Joseph and Elder Louis Rolle. Interment will follow in Woodlawn Gardens, Soldier Road.
Reginald will be deeply missed and cherished by his three daughters: Delicia Natasha, Ethelyn Sandy, and Zanilia 'Precious' Generva; two sons-in-law, Gentry Morris, Jr. and Brian Saady; four grandchildren, Gentry III, Giovanni, and Gabriel Morris and Santeche Knowles; four brothers, Neville, Alphonso, George and Charles; nine sisters-in-law, Helen, Vernita, and Yvonne Adderley, Rowena Smith, Maggie Turner, Mella Rolle, Eleanor Smith, Althimese, Sandra, and Doris Burrows; seven brothers-in-law, Vernon, Gerard, and Anthony Burrows, Roland Smith, Michael Turner, Cardnel Rolle, and Roy Smith; one aunt, Inell Adderley; numerous nieces and nephews including, Sophia, Nicole, DagSpencer, Shawn, Sharon, Joycelyn, Alphonso Jr., Marco, Kevin, Sharon, David, Renee, Georgette, Dellareece, Nerissa, Neysa, Camille, Jeremy, Kendranique, Latisha, Theodore, Gerard Jr., Gia, Gianna, Arnold, Millicent, Marvin, Latoya, Ranaldo, Nakia, Sir Vance, Michael, Shantell, Verneka, Adam, Alexa, and Ashley; cousins, Roosevelt, Una, Vivian, Dwight, Michael, Berkeley, Wesley, David, Tanya, and Johnell, and many other relatives and friends including Delores and Shavonne Adderley, Ivy Bowe, Beverley Robinson and family, Michael Pratt and family, Tyrone Adderley, Philip Humes, Arnold Clarke, Johnnie Taylor, Gwen Rolle, Iva Musgrove, Pastor Hugh Roach and family, Pastor Wilfred Adderley and family, Elder Ezra Fider and family, Dennis Henfield and family, Henry Moncur, caretakers: Mary Lubin, Josette Lami, and Sineus Louis; the Doctors and staff of the Gerontology Clinic, the Hillview S.D.A. Church family, the staff and membership of the South and North Bahamas Conferences of S.D.A. and the Regency Park community and many others too numerous to mention.
Viewing will be held in the Irenic Suite at Restview Memorial Mortuary and Crematorium Ltd., Robinson and Soldier Roads on Saturday from 9:00 a.m. to 5:00 p.m. and at the church on Sunday from 9:30 a.m. until service time.