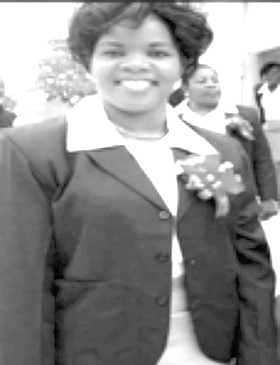 Viviane Oslain Morissette
unknown - unknown
Funeral Service for the Late
Viviane Oslain Morissette
Age: 43 years
A Resident of Burrows Cove Off Bernard Road Nassau Bahamas and formerly of Borgne, Haiti will be held on Saturday 9th November, 2019 at 1:00 p.m. at St.Bede's Roman Catholic Church, Sutton Street, Kemp Road,Nassau. Officiating will be Father Wid Andy Benniste. Assisted by Other Ministers of the Clergy. Interment will follow in Fox Hill Cemetery, Fox Hill Road.
She is pre-deceased by her Mother & Father: Maricuel Polycape & Oslin Morissette; Husband: Eardly Tassy; Children: Edniesha & Elijah Tassy; Sisters: Wesnada, Merline & Majone Morissette; Brothers: Rolex & Wiscervins Morissette; Aunts: Olivia, Ostanie & Rennet Polycape; Uncles: Dorson Morissette & Bernal Polycape; Niece: Makayla Tassy; Nephew: Mouzet Tassy; Cousins: Sensme, Lena, Hudson, Ariel, Robinson, Lisny, Jeany, Jean Pierre, Patrick, Renand, Rosemita, Edison, Emanni, Rosgelina, Freslin, Rosejenny, Osly & Findy, Richeard, Ligdgeny, Diana, Wendy, Niska, Gail, Kevely, Valdino; Mother-In-Law: July Gedeus; Father-In-Law: Adoma Tassy; Sisters-In-Law: Djouna, Shabeth & Roselene Tassy, Rosemond Lejis & Judeth Sensiven; Brother-In-Law: Andy Pierre; Cousins-In-Law: Guerby, Emmanuella & Michelnge Tassy; Close Friends: Wilson, Rosemond, Priest Roland Vilfort, Lamercie, Marcus, Sheena, Kayden, Vanessa & Valencia Blanc, Mauretta & Henroy, Jean & Carmeltia Francoeur, Mamouch & Malaysia Christain, Judeth Blanfort, Bazil Joseph, Vilson, Ronald & Family, Edette, Lavanette, Erna, Clerrise & Family, Appolon, Queen of Peace Family, Queen of Peace Grand Coral, ABB Family, Choelurs Unis Family, Claudine, Souverain, Daddy, Serge & Family, Jano Joseph, Choeur Dom Family, Joe & Family, Arawak Avenue & Family, Bernard Road & Family. Special Thanks To: Female Surgical 2 & Oncology; A Host Of Other Family & Friends Too Numerous To Mention!!!!!!!

Relatives and friends may pay their respects on Friday November 8th, 2019 at Rest on Funeral Chapel Ltd. #19 Kenwood Street and Mount Royal Avenue, Nassau from 12:00 p.m. to 5:00 p.m. And Saturday at the Church from 12:00 p.m. until service time.