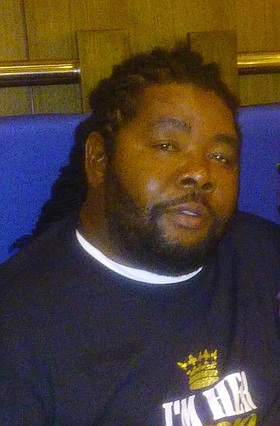 Wesley "Wess" Thor Wallace
unknown - unknown
Funeral service for the late Wesley Thor "Wess" Wallace age 40yrs of 2nd Street The Grove, Nassau will be held on Sunday November 24th, 2019 at 12:00 p.m. Hillview Seventh Day Adventist Church Tonique Williams Darling Highway. Officiating will be Pastor Michael Toote assisted by other Elders of the Church. Interment in Southern Cemetery, Spikenard & Cowpen Roads, Nassau Bahamas.
Wesley cherished and loving memories are held by his wife: Tamika Glinton-Wallace; Mother: Diane Gibson-Wallace; Daughter: Tanae Davis-Wallace; Stepdaughter: Alma Darville; Brothers: Lawrence, David (Katrina), Lester (Beulah), Craig (Valaria), Kasim (Melinda) Wallace, Terrel (Waydell) Carey Sr., Devon & Damian Glinton & Raynardo Hanna; Sisters: Dekera Glinton-Joseph, Eugena McKenzie & Pietra Hepburn; Uncles: Godfrey Sweeting, Lester Gibson (Jacksonville Fla.), Caleb Gibson & Lester Wallace (Eleuthera); Granduncles: John Gibson (Savannah Sound Eleuthera), Douglas Gibson (Exuma), Charles Gibson (Nassau); Aunts: Paulette Gibson Jean (Eleuthera), Marsha Gibson Nottage (Eleuthera), Nurse Floramae Carey (Nassau), Nina Sweeting (Tarpum Bay Eleuthera) & Geletta Gibson (Eleuthera) & Carnie Gibson (Nassau); Nieces and Grandnieces: Dyann, Samantha, Brena, Dellerese. Lakeshia, Kristen, Adaya, Kasonique, Kasidy, & Brenell Pageot Wallace, Tianna Carey & Alexandria Jewel Sherman, Nephews & Nieces: David Wallace Jr., Bradon, Lester Wallace Jr. Greg Wallace Jr., Tassi Wallace, Terrel Carey Jr., Codera & Adrika Williamson, Anthony & Raemond Pageot, Rashad Andrews, Christopher Brennen, Rajeem Rolle, Hadassah & Lorenzo Larrimore, Karonique, Chernelle, Jaedyn, Jatina, Zariah, Adrian 11, Selena, Pryia, Anthonya, Timothy, Oryan, Simeon, Tony, Samis, Pedro, Peter 3rd, Dakari, Daroi, O'Amari, Deija; Godmother: Winnifred Clarke (Eleuthera); Father-in-law: Lionel Glinton; Sisters-in-law: Dekera Glinton Joseph, Eugena Hepburn, Petra Hepburn, Jade Glinton, Monica Cleare, Melissa Cleare & Sabra Hanna; Aunts-in-law: Andrea Burton, Cherry Hepburn, Stephanie Outten, Icelyn Rolle, Loretta Lewis & Ikenna Johnson; Uncles -in-law: Earl Forbes, Irvin Johnson & Jabbarah Outten; Grand-mother-in-law: Henrietta Halie; Cousins: Marty Bishop (North Carolina), Shan Gibson (New York), Chanez Gibson & Nurse Chanea Gibson (Nassau), Anthony Wallace, RBDF Officer Bertrum Nottage, Lanardo & Nyiesh Nottage, Antwain (bookie), Antonio, Lyrone Gibson, Chavette Strachan, Rosette Carey, Beulah Petty, Catherina Kelly, Kandola Johnson, Angel Johnson, Denetrius Kelly, Michael Petty, Phillipa Kelly & Ajah Kelly, Carl & Ralph Gibson, Patricia Hepburn; Other relatives and friends: Margarette Gibson & Family, Annis Antrobus & Family, Claretta, Katie, Carlos, Michael & Claudius Culmer & Family, Danny Rankins & Family, Colin & Albertha Bullard, Henrietta & Spence Bethel & Family, William Hilton & Family, Tellia & Family, Fredrick Deleveaux & Family, The Community of Savannah Sound Eleuthera, Tabernacle of Prayer & Worship Family, Pastor Taylor & Family, Apostle Ann Collin & Family, Stephanie (Penny) Seymour & Family, Sherry Gibson & Family, Rupert Williamson & Family, Kennedy Rolle (Governors Harbour), Gwendolyn & Benjamin Belle & Family, Rhoda Bullard & Family, Tiffany, Tori, Alexus, Pamela & Robin Gibson & Family ( Jacksonville Fla.) Numerous other family and friends too many to mention but Includes his special friends: Carlene Johnson, Billy (BJ) & family, Dominic (lefty), Craig, Marco Simms & Family, Samson Paul, Humphrey Simmons & Family, Stanecio Toote (Buck) & Family, Darrion Ferguson & Family, Larry Wilson, Denise Cargill, Lillete Hanna, Kevin (Jam Jam) & Family, Ted & Family, Tim Hodge (Nassau Equallogical & Staff) & Bill Simmons Construction Company & Staff; Special Thanks to: Dr. Ekedede Magnus & Savannah Sound Eleuthera Local Government Association, Nassau Fill & Staff, Doctors Hospital ICU Nurses and Staff, Princess Margaret Hospital ICU Nurses and Staff, SLS Bahamas Front/Back House Associates, Dr. Tony Sperling, Dr. Bently Higgs & Raymond Shawn Mackey.
Viewing for relatives and friends will be held on Saturday November 23rd, 2019 at St. Ambrose Funeral Home, Arundel Street, Nassau Bahamas from 9:00 a.m. to 5:00 p.m. Sunday at the church from 11:00 a.m. until service time.